While the National Rifle Association has said it would support regulating bump stocks ― the device the Las Vegas shooter used to turn his semi-automatic firearms into automatic ones ― the gun lobby's executive director said Sunday that a push in Congress to ban the gun accessory would be useless.  
"We don't believe that bans have ever worked on anything," Chris Cox said on "Fox News Sunday." "What we have said is very clear: If something transforms a semi-automatic to function like a fully automatic, then it should be regulated differently." 
While any kind of broad gun control legislation faces virtually no chance of passage in the Republican-controlled Congress, lawmakers on both sides of the aisle are considering a narrow bill to ban bump stocks following the murders of 58 people in Las Vegas last Sunday ― the worst mass shooting in modern U.S. history. The bill might be largely symbolic, since bump stocks had been a relatively obscure and unpopular gun accessory. 
"I am willing to move forward with the Republicans on banning these bump stocks that ... subvert legislation that has been long on the books banning automatic weapons," Sen. Chris Murphy (D-Conn.) said on CNN's "State of the Union" Sunday. "I think you have to walk before you run.  And I do think this is an important moment."
Cox said the federal Bureau of Alcohol, Tobacco, Firearms, and Explosives should regulate bump stocks, since it's already illegal to convert a semi-automatic gun into an automatic one.
"The ATF needs to do their job, review these, and if there is [a need for] further regulation, then we will work on further regulation," he said. He did not offer specifics on what that "further regulation" should be.
The NRA released a statement last week maintaining its long-held position that "banning guns from law-abiding Americans, based on the criminal act of a madman, will do nothing to prevent future attacks."
The NRA's CEO, Wayne LaPierre ― who famously claimed after the 2012 massacre at the Sandy Hook Elementary School in Connecticut that "the only thing that stops a bad guy with a gun is a good guy with a gun" ― similarly argued on Sunday for protecting "the good guys with guns." 
"Accessibility is about accessibility for the good guys," he said on CBS's "Face the Nation." "That's what the Second Amendment" that protects the right to bear firearms "is all about."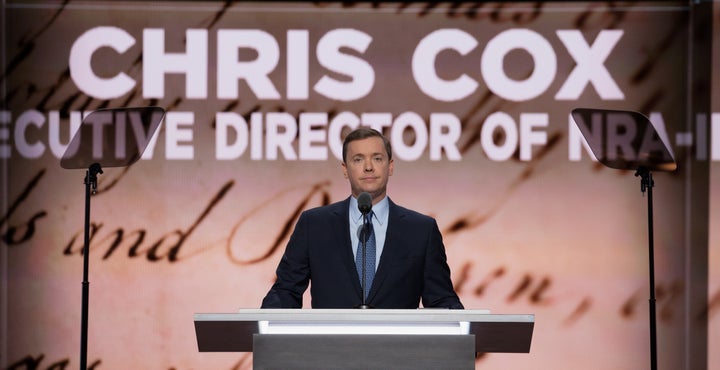 Proponents of stricter gun control note that gun ownership in American is higher per capita than for any other country in the world. Rep. Seth Moulton (D-Mass.), a former Marine, said it makes no sense for citizens to have military-style weapons. 
"I've seen the effects of gun violence firsthand in Iraq, and I know that it has no place at our schools, on our streets, at our concerts," he said on ABC's "This Week" Sunday. 
"You can have restrictions on guns under the Second Amendment," Moulton said as he debated the gun control issue with to Rep. Scott Taylor (R-Va.) on the talk show.
"I mean, a great way to protect your family's home, as you know as a [former] Navy SEAL, would be to have some land mines out in front and have some grenades stockpiled," Moulton said. "But we don't allow that in our community ... We don't allow families to own tanks. So we have reasonable restrictions that are perfectly respectful of the Second Amendment, and we know from experience that restrictions like this, that common-sense reforms will help."
Taylor said there should be "a high, very high bar" for restricting gun ownership rights.
Marina Fang contributed reporting.
REAL LIFE. REAL NEWS. REAL VOICES.
Help us tell more of the stories that matter from voices that too often remain unheard.
BEFORE YOU GO
PHOTO GALLERY
World Reacts To Las Vegas Mass Shooting