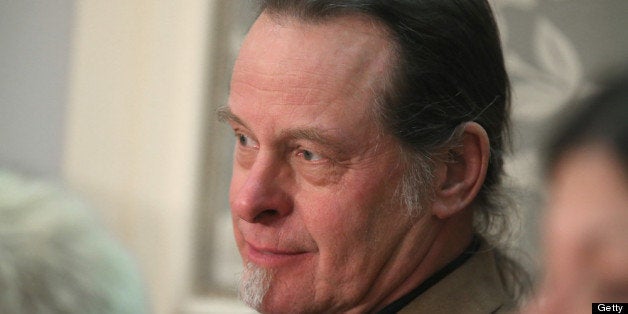 Why is it that National Rifle Association board member Ted Nugent gets away with joking about machine-gunning South Central Los Angeles residents from a helicopter, equating them with the feral hogs he likes to hunt in the same manner?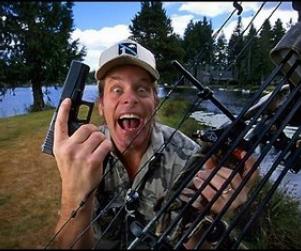 In a profile that appeared in the Washington Post's Sunday magazine last weekend, Nugent detailed how he befriended Texas governor Rick Perry while at the same time offering a policy solution to the state's feral hog problem:
Nugent says it was at his suggestion that Perry, dealing with feral hog populations that were destroying crops, signed a controversial law allowing private hunters to shoot the animals from helicopters. Nugent has been up more than once, using an automatic rifle and donating the meat to Hogs for a Cause, a Christian ministry that provides game meat to food pantries.
According to the article's author, "it's a story he loves to tell" and that he repeated during a paid appearance before an association of entrepreneurs in San Antonio:
"Lots of places have a hog problem," Nugent said. "In Texas, the hogs have a Ted problem." He described the giddy joy of shooting from the open copter with an M4 machine gun. "And four hours later I had 450 dead hogs," he said to loud applause. Then he added an afterthought that produced ample laughs: "And now if they would just take me to South Central. ... Okay! I kid."
Made infamous nationally by the 1992 riots that broke out after the Rodney King verdict, the New York Times characterized South Central as a "national symbol of rage in a poor black neighborhood." Today, the area is mostly Latino and is officially known as South Los Angeles.
That Ted Nugent is a ready source for controversial, often racist or sexist, quotes is nothing new and has been well documented. Equally evident is the Coulter-like pleasure he derives from the sputtering reactions that result from his inflammatory statements.
But shouldn't a board member of a $219 million organization that likes to present itself as representing mainstream America be held accountable for wistfully joking in barely coded language about machine gunning hundreds of black people, hunting them like feral pigs? If it was any other organization besides the National Rifle Association, wouldn't someone on the board say (and despite an abundance of white males, the NRA's board does have women and minorities), quite simply, enough is enough? If such comments wouldn't pass muster at the Food Network, shouldn't they raise concerns at, as the NRA likes to call itself, "America's longest-standing civil rights organization"?
Popular in the Community