WASHINGTON -- A GOP effort to jab Rep. Tammy Duckworth (D-Ill.), who is currently running for Senate, backfired spectacularly on Tuesday when the National Republican Senatorial Committee sent out a tweet accusing the combat veteran and double amputee of "not standing up for our veterans."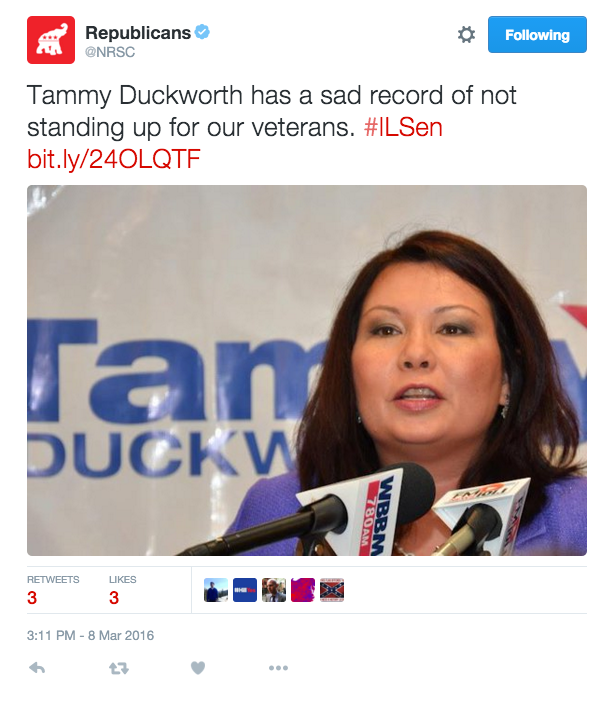 The posting caused an uproar on Twitter immediately, and the NRSC removed the tweet within 10 minutes. The website it linked to remains up, and criticizes Duckworth for her former role as director of the Illinois Department of Veterans Affairs.
Duckworth campaign spokesman Matt McGrath condemned the tweet and said its tone was typical of Duckworth's likely opponent, current Sen. Mark Kirk (R).
"Tasteless and dishonest, just like everything else to do with Mark Kirk's flailing campaign," McGrath told HuffPost in a statement. "Tammy has made fighting for Veterans her life's work, and will continue to so in the Senate."
But Kirk campaign spokesman Kevin Artl said Duckworth is going to trial in April on charges that she attempted to silence VA whistleblowers who were trying to stop the abuse and mistreatment of Illinois veterans. He said another set of VA whistleblowers alleged this week that Duckworth ignored their similar concerns.
"The simple truth is that her record on veteran's affairs is marked by failure and poor judgement that has put veterans at risk," Artl said in a statement.
Duckworth's camp has denied the latest allegations, claiming she "doggedly pursued" the whistleblowers' concerns after they were brought to her attention.
If Duckworth wins the Democratic nomination in next week's primary, it is predicted that she'll face off against Kirk in November.
An NRSC official said they "acknowledged the mistake and the tweet was deleted within minutes."
But NRSC spokeswoman Alleigh Marre repeated the criticism that Duckworth has a bad record when it comes to helping veterans.
"It would be great if reporters would pay as much attention to a deleted tweet as they should to Tammy Duckworth being sued by VA whistleblowers for ignoring claims of mistreatment and corruption," Marre said in a statement.
Democratic Senatorial Campaign Committee Executive Director Tom Lopach later struck back at the NRSC's treatment of Duckworth and reaction to the ensuing backlash.
"The NRSC's deeply offensive tweet about Tammy Duckworth was wrong, and their subsequent response was somehow even more appalling," he said in a statement. "Instead of taking responsibility and apologizing to Tammy, who lost both of her legs in service to this country, Republicans blamed the media. That's unacceptable and Tammy is owed an apology."
Jon Soltz, head of VoteVets, a progressive political action committee that has endorsed Duckworth, was equally appalled by the NRSC's response to the controversy.
"I can't think of a more horrible thing to say about someone who lost her legs in combat. Then, to double down and refuse to apologize?" Soltz said in a statement to HuffPost. "This is what happens when someone like Mark Kirk embraces Donald Trump-like tactics, and degrades her service to America. All respect for a wounded warrior like her is tossed aside. It's shameful and disgusting."
Duckworth lost both of her legs and suffered serious injuries to her right arm in 2004, when the U.S. Army helicopter she was co-piloting was struck by a rocket-propelled grenade over Baghdad.
Duckworth's right leg was gone in an instant, shredded in a flash of heat and a spray of shrapnel from a grenade. Her left leg was terribly injured, and her right arm was nearly severed.

The blast blew out the clear bubble at the bottom of the cockpit, destroyed the window above her head and severely damaged the helicopter's flight system stored behind her seat.
With that, Duckworth became the first female double amputee of the Iraq War. In 2010, she'd become the first disabled woman to be elected to the U.S. House of Representatives.
This article has been updated with a statement from the Democratic Senatorial Campaign Committee.
Before You Go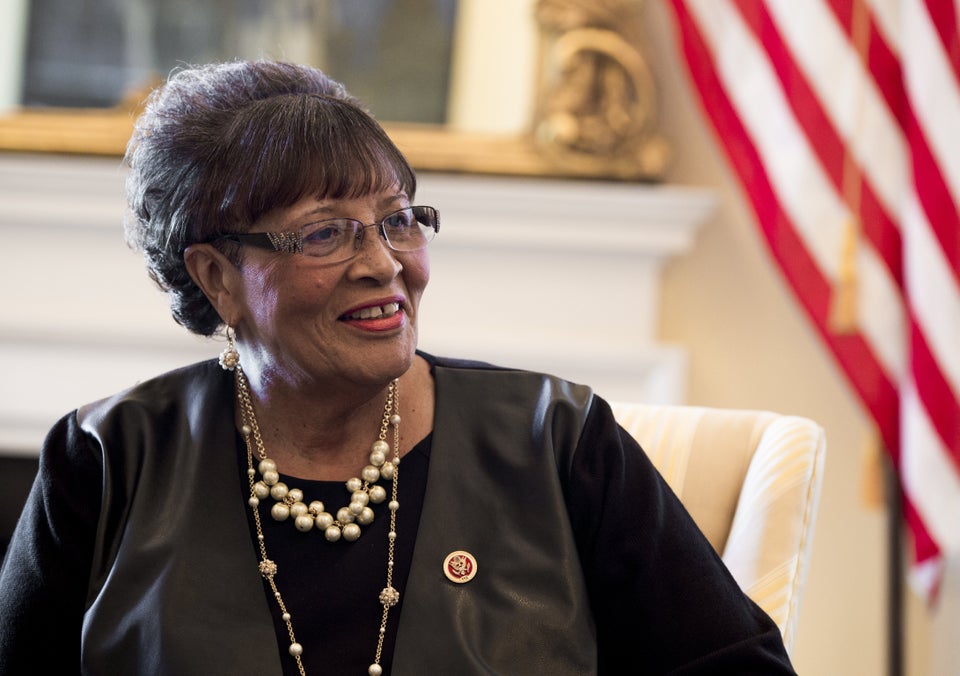 Women In Congress
Popular in the Community