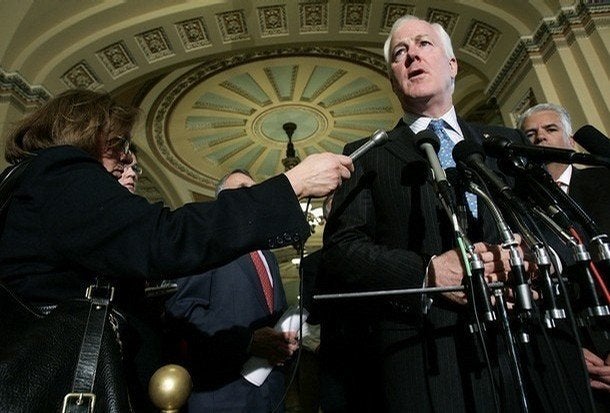 In the wake of the passage of health care reform, nearly the entire slate of Republican senatorial candidates seems ready to run on a repeal of the bill. But now, the lawmaker overseeing their election strategy is softening the message. Rather than promising to scrap the bill in its entirety, the GOP will pledge to just get rid of the more controversial parts.
In a brief chat with the Huffington Post on Tuesday, National Republican Senatorial Committee chair John Cornyn (R-Tex.) implicitly acknowledged that Republicans are content with allowing some elements of Obama's reform into law. And they'd generally ignore those elements when taking the fight to their Democrat opponents as November approaches.
"There is non-controversial stuff here like the preexisting conditions exclusion and those sorts of things," the Texas Republican said. "Now we are not interested in repealing that. And that is frankly a distraction."
What the GOP will work to repeal, Cornyn explained, are provisions that result in "tax increases on middle class families," language that forced "an increase in the premium costs for people who have insurance now" and the "cuts to Medicare" included in the legislation.
The remarks seemingly put Cornyn at odds with the head of all Senate Republicans, Mitch McConnell (R-Ky), who signaled on Tuesday that he would support a legislative effort by fellow Republican lawmakers to fully repeal the health care bill. Cornyn himself had previously suggested that he'd support a full repeal campaign as well.
The senator's comments on Tuesday also included a push to restore funds for Medicare Advantage -- an odd political moment, considering the GOP's self-promotion as the party that trims the fat off entitlement programs.
The passage of Obama's health care plan into law, indeed, has already had a drastic affect on the electoral landscape. Cornyn applauded the fact that the vast majority -- if not the entirety -- of Senate Republican candidates were on board the health care repeal effort.
"I haven't had to encourage them," he said. "A lot of them have taken the gauntlet up and I think their instincts are correct. But I think it has got to be a place of repealing the bad and replacing it with something better."
But it's not as if Senate Democrats are running scared from the bill. Party officials have long suspected that health care reform, once passed into law, would be a tricky subject for Republicans. And now that it's passed they seem to be enjoying the political fruits, aggressively using the GOP repeal campaign against them. In the hours after the House passed the bill on Sunday night, the Democratic Senatorial Campaign Committee took a lot of sharp jabs at GOP Senate candidates, asking whether they want to get rid of legislation that could drastically alter the state of health care coverage in their states.
"We absolutely intend to make sure Republicans will be in the very uncomfortable position of looking voters in the eye and making it clear they want to take affordable health care reform away from them," said Democratic Senatorial Campaign Committee spokesman Eric Schultz.
Approached outside the Senate chamber on Tuesday, Sen. Ben Cardin (D-Mary.) flashed a smile when asked how the party will respond to the Republican repeal effort.
"We will point out to small business owners who are about to get a credit, that repeal will take it away," he shot back. "We will talk to people who have high risk, or preexisting conditions, or who are poor and can get better insurance that that will be taken away from them. We will talk to seniors who have a chance of getting a $250 check this year, that their $250 will be taken away from them."

Popular in the Community