Most Americans think government surveillance that gathers up masses of telephone and Internet data goes "too far," a new HuffPost/YouGov poll shows. And 2 in 5 think the government has recorded their own phone calls or emails.
Fifty-nine percent of the survey's respondents said the programs that collect phone and Internet communications as a way to prevent terrorism collect too much information about Americans, while only 20 percent said the government strikes the right balance in deciding what data to collect. Six percent said the government doesn't go far enough in collecting that information.
The "goes too far" view was shared by 66 percent of Republicans, 63 percent of independents and a 48 percent plurality of Democrats.
Many Americans aren't even convinced that the surveillance programs do much to fight terrorism. A combined 43 percent said the phone and Internet data collection efforts are very likely (13 percent) or somewhat likely (30 percent) to have prevented a terrorist attack. But 47 percent said they were somewhat unlikely (23 percent) or very unlikely (24 percent) to have done so.
The poll was conducted after The Washington Post reported that most of the Internet communications intercepted and stored by the National Security Agency came from accounts belonging to ordinary citizens, including many Americans, who were not the intended targets of the surveillance. The Post report also found that the NSA's online surveillance had led directly to the capture of at least two terrorism suspects.
Forty-one percent of Americans in the new survey said the government is likely to have recorded their own emails or telephone calls. Only 18 percent said their communications haven't been recorded, while another 42 percent weren't sure.
Moreover, 57 percent think data collection programs that sweep in Americans' phone and Internet data are "an unnecessary intrusion into Americans' lives," while only 23 percent think those efforts are "justified as a way to combat terrorism."
And most would like to see more oversight on what kinds of data the government can gather. Only 18 percent said the federal courts and the rules put in place by Congress currently provide adequate oversight, while 58 percent said they do not.
The HuffPost/YouGov poll was conducted July 7-9 among 1,000 U.S. adults using a sample selected from YouGov's opt-in online panel to match the demographics and other characteristics of the adult U.S. population. Factors considered include age, race, gender, education, employment, income, marital status, number of children, voter registration, time and location of Internet access, interest in politics, religion and church attendance.
The Huffington Post has teamed up with YouGov to conduct daily opinion polls. You can learn more about this project and take part in YouGov's nationally representative opinion polling. Data from all HuffPost/YouGov polls can be found here.
Before You Go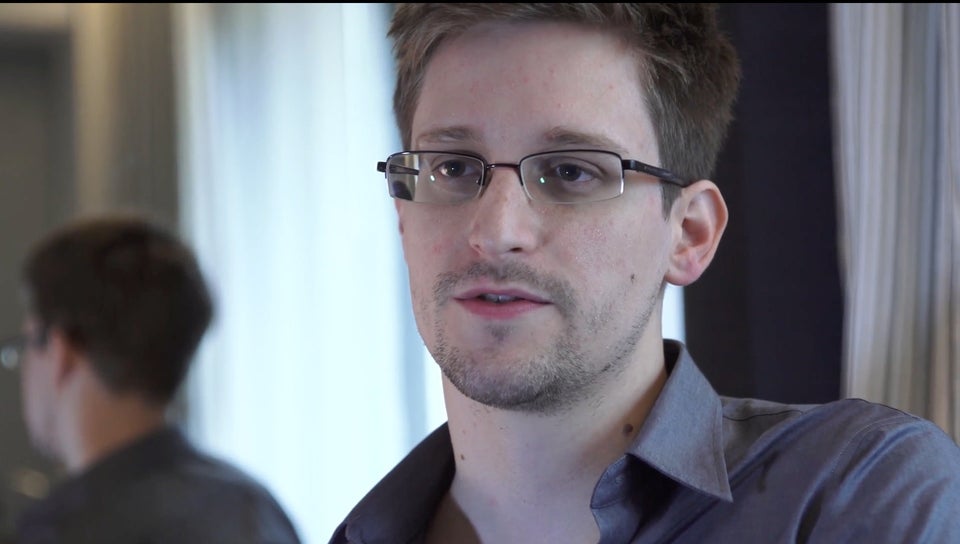 Edward Snowden
Popular in the Community