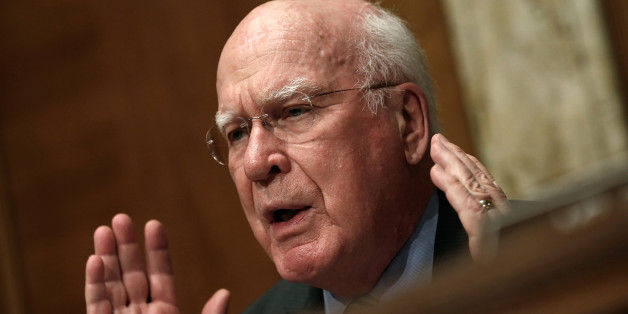 James Clapper became public enemy number one for civil liberties groups in 2013 when Edward Snowden's leaks revealed that he lied to Congress about the National Security Agency's domestic surveillance.
One year later, the embattled director of national intelligence is the unlikely bedfellow of the American Civil Liberties Union in backing an NSA reform bill that has divided civil liberties groups. The differing views on the bill reflect a more fundamental disagreement about how best to reform government surveillance practices after a decade of obfuscation.
The USA Freedom Act, sponsored by Sen. Patrick Leahy (D-Vt.), seeks to curb the NSA's bulk phone record collection program, one of the most controversial programs revealed by Snowden, a former agency contractor. Under Leahy's legislation, telephone providers, rather than the government, would store records detailing who Americans call and when. The government would only be able to ask phone companies for the data in a narrow set of circumstances.
"We cannot wait any longer, and we cannot defer action on this important issue until the next Congress," Leahy said in a Saturday statement. A long list of left- and libertarian-leaning groups ranging from the ACLU to the Council on American Islamic Relations to FreedomWorks, as well as a number of major tech companies, have endorsed the bill.
But a smaller band of privacy groups came out on Monday against the legislation.
"This bill is a fraud," charged whistleblower Mark Klein, who revealed AT&T's cooperation with the NSA in the early 2000s. "It's designed to look like things have been fixed when actually it doesn't do a damn thing."
Klein, other NSA whistleblowers, and groups including the Progressive Change Institute released a letter on Monday claiming that Leahy's legislation is shot through with loopholes.
While these critics acknowledge that Leahy's bill imposes stricter limits on the government than the gutted version of NSA reform that the House passed in May, they contend that there are still plenty of ways for the NSA to collect exactly what it wants.
Harry Pohlman, a professor of political science at Dickinson College, said that "the bill will stop bulk collection as defined by the government, but the government has a crazy definition of bulk collection."
Ambiguities in the bill, Pohlman claims, will still allow the government to collect call detail records in bulk, as long as they don't do so on a daily basis. Independent journalist Marcy Wheeler suspects that the government will still be able to collect equally invasive business records, such as Western Union's money transfer records, in bulk.
Yet supporters maintain that the bill is a step forward. "Even given those ambiguities, and given that there are a lot of things that need to be done down the line, on balance the bill still improves the existing state of affairs," said Neema Singh Guliani, a legislative counsel at the ACLU.
One crucial step the Leahy bill takes, Guliani said, is toward transparency. For a decade, the federal Foreign Intelligence Surveillance Court has secretly issued decisions dramatically expanding the scope of the NSA's domestic surveillance powers. The court's definition of what was "relevant" to a terrorism investigation, for example, was so elastic that it allowed the spy agency to hoover up nearly every domestic call record under the 2001 Patriot Act -- to the professed surprise of the bill's author.
Leahy's bill would force the special court to release summaries or redacted copies of major decisions, and it would also create a special advocate to argue, for the first time, the public's side of surveillance controversies.
Transparency, the pro-Leahy groups argue, would serve as a warning if the government once again starts to creatively re-interpret surveillance laws.
"If there is a misinterpretation, we have a better chance of knowing," said Guliani.
But even the ACLU admits there are still major gaps in Leahy's bill. It would do nothing, for instance, to end "backdoor searches" of foreigners' messages for Americans' communications. Nor would it limit the application of a Reagan-era executive order that supposedly concerns itself with surveillance conducted exclusively abroad, which a former State Department official recently claimed is being abused.
Staunch reform advocates on Capitol Hill are also concerned about these potential problems. For instance, Sen. Ron Wyden (D-Ore.) is holding back support for Leahy's bill until backdoor searches are addressed. If Leahy does expand his bill, however, he risks losing the Obama administration's support.
For the more suspicious civil liberties groups, the mere fact that Clapper and Attorney General Eric Holder support the bill raises alarms.
"I see nothing good coming out of this Congress," said Klein. "In the longer run there needs to be a movement of rebellion in the country. That was what you had in the '70s, which is why Congress made some attempts at reform, and actually attempt to jail some of Nixon's cronies who had violated the law."
But the many civil liberties groups who support Leahy's bill have more modest aims.
"We can't let the distrust of the NSA stand in the way of every single attempt to reform," said Guliani. "If we took the position that we could just never trust the government, then we would never have a bill."
REAL LIFE. REAL NEWS. REAL VOICES.
Help us tell more of the stories that matter from voices that too often remain unheard.
BEFORE YOU GO
PHOTO GALLERY
Edward Snowden