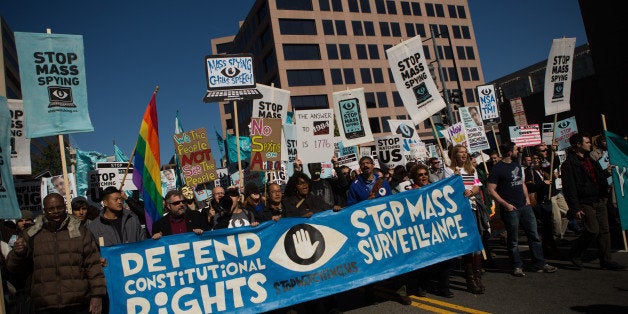 WASHINGTON -- Thousands rallied against the National Security Agency's domestic and international surveillance programs Saturday, marching from Union Station to the Capitol to call for an end to mass surveillance.
"We are witnessing an American moment, in which ordinary people -- from high schools to high office -- stand up to oppose a dangerous trend in government," said a statement from Edward Snowden, read aloud at the rally by a participant.
The former NSA employee who leaked information about government surveillance programs to the media ended his statement by saying, "It is time for reform. Elections are coming, and we're watching you."
The march was organized by the Stop Watching Us coalition and drew on the support of more than 100 public advocacy groups. They included the American Civil Liberties Union, Demand Progress and the Council on American–Islamic Relations.
Demonstrators came from across the United States. Some wore tape across their mouths and masks, and dressed up as cameras. Others carried signs plastered with images of Snowden, and a giant blue and white parachute that read "constitutional rights not NSA mass spying." Groups of protesters chanted slogans like, "They say wiretap, we say fight back," and "Hey hey, ho ho, the NSA has got to go." One person dressed up as Obama, held an "Obamacam" and posed in front of a model drone.
David Busey, 69, came from Pennsylvania to support the cause. He's been to many rallies for different causes, but it was his first time with such a large group in Washington.
"'I'm here to join with a lot of other people -- which I'm thankful to be able to do -- saying that the government needs to quit collecting information that is not going to be used to prosecute individuals," Busey said. "The government shouldn't be doing this to us. It should be our friend and not [be] treating us like criminals when we're not criminals."
"I hope that everybody takes note of my sign," he added, hoisting a large placard above his head that read: "National security is the root password of the U.S. Constitution."
Craig Aaron, head of the group Free Press, also pointed out that the fight went beyond partisanship. "This isn't about right and left -- it's about right and wrong."
Elise Power, 62, from Pittsburgh witnessed this firsthand when a man in a tea party hat introduced himself to Power, a self-described progressive, she said.
"I got a picture with him," Power said. "We agreed that we were both here for a similar reason, even though we have drastically different ideas about politics, we both care about this issue. And that was eye-opening to me. I don't think there are too many of his gang here today, but I'm kind of glad that he is."
Others like Debra Sweet, director of advocacy group The World Can't Wait, were hoping to promote something larger than anti-NSA protesters. She brought a model drone to the rally.
"It's somewhat of a libertarian crowd, and there's some right-wingers here," she said. "And we wanted to bring the message into this crowd that we are against the U.S. spying on everyone -- whole populations -- for the purpose of keeping down dissent and protest ... our main point today is American lives are not more important than anyone else's lives. And it takes mass action by the people to stop these dirty secret wars."
The event, which followed new revelations by Snowden that the U.S. monitored the phone of German Chancellor Angela Merkel and leaders in 35 countries, provided a chance for protesters to express their frustration with all surveillance -- including international surveillance.
Power, who also carried a sign with Merkel mentioned on one side, had this to say about surveillance:
"I quoted Mrs. Merkel because when I heard the story about her, I was shocked and embarrassed for my country," she said. "When Obama was elected, there was a lot of hope in Europe. People thought that he was a really good guy and that things were going to be different, and that he had really good values about things like this. And, I'm so ashamed that it's come to this. It's terrible."
Support HuffPost
The Stakes Have Never Been Higher
Before You Go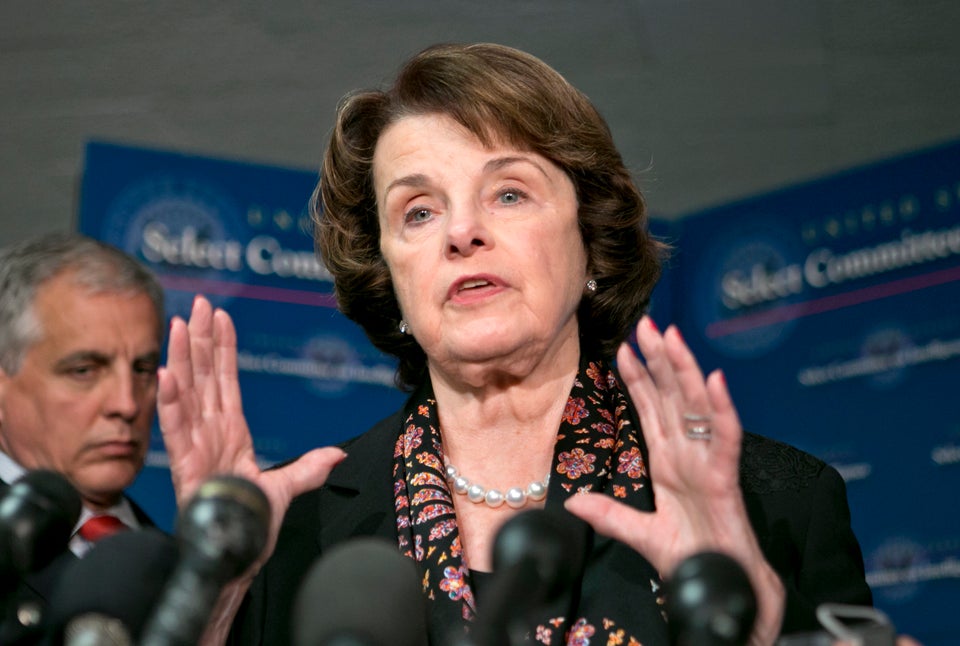 Politicians React To NSA Collecting Phone Records
Popular in the Community