A long time ago, in a decade that now seems far, far away, the year was 2001, the month December, and "Star Wars" fans were just starting to hear rumors that the pop band *NSYNC might make a cameo within the upcoming, "Episode II: Attack of the Clones."
It was a period of civil war, misinformation was spread and almost as soon as the whole battle between fans and the George Lucas had flared up, the "Star Wars" universe attempted to say bye, bye, bye to the boy band.
After all these years, still curious about the secret plans of the Lucas empire, The Huffington Post reached out to two ex-Jedi warriors for help -- Joey Fatone and his brother, Steven -- who confirmed their involvement, alongside *NSYNC members, JC Chasez and Chris Kirkpatrick.
Pursued by Lucas and film producer Rick McCallum's daughters' wishes for *NSYNC to be involved with their fathers' new movie (according to the Fatone brothers), the band members were offered roles while on a short break from their PopOdyssey tour. Lance Bass and Justin Timberlake were too tired and weary, but the rest of the band rushed to Industrial Light & Magic to film their parts as Jedi Knights.
Lucasfilm eventually announced *NSYNC would not be in "Attack of the Clones," but given new evidence, it appears the band may actually have survived this epic journey and are part of the "Star Wars" canon after all. Below, HuffPost details what it was like for *NSYNC to film their parts and presents the case for the band's ultimate survival in the galaxy ...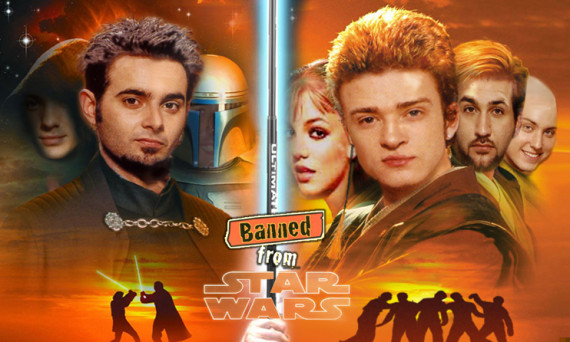 Chasez, Kirkpatrick and the Fatone brothers were given Jedi robes, shoes and Padawan braids, which were glued to the tops of their hair. "We all had the Jedi garb, the brown and tan robes," explained Steven. "This is freaking cool," Joey thought as he transitioned into a Jedi and the band was given lightsabers.
*NSYNC fully shot two different scenes that were later cut from "Attack of the Clones." The more involved footage featured them fighting droids in the climactic Geonosis battle.
"They kind of paired us off, it was actually me and my brother that were kind of fighting back-to-back for the big arena scene," said Joey. "They basically said, 'Pretend like you're fighting droids.'" Joey explained that there wasn't much direction given and they all just tried to figure out "what the hell [they] were doing," since they were essentially swinging at nothing.
The other scene included Ewan McGregor's Obi-Wan Kenobi and a hovering Yoda. The two were filmed walking down a corridor as *NSYNC was supposed to just be standing there casually, talking amongst themselves. "A couple of Jedis hanging out," as Joey said.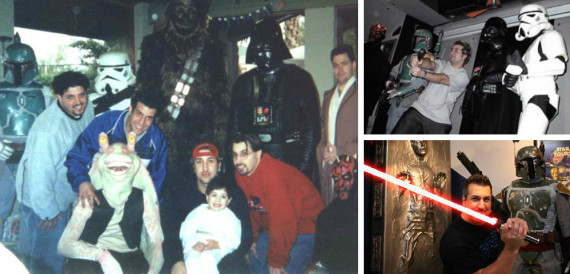 Steven described filming their Geonosis parts in "a gargantuan big, big green screen room" in one of the sound stages. The band members were given a stick with a "rubber, little lightsaber" according to Steven, and were told they could "do any kind of style you want, because later on we'll react the droids to what you did."
They were each shot for about 10 to 15 minutes and got really into being Jedis, but apparently had a problem with keeping their mouths shut. Joey said that his brother in particular would not stop saying, "vroom, vroom, vroom, shh, shh," as he swung the lightsaber around.
"I'm like, Steve, what the hell are you doing," Joey said. "You're making the lightsaber noises. Don't do that, because you can see your face on the screen." Joey thought it was "one of the funniest things" because it's what you do as a kid, but even when they were becoming actual Jedis, "it was like total jackasses doing this."
Steven's recollection of filming the scene is even more detailed. "Here I am, big fat fuck Jedi Knight trying to be all cool, and I scissor kick, and the next thing you know -- I shit on myself," he told HuffPost. "It was pretty embarrassing."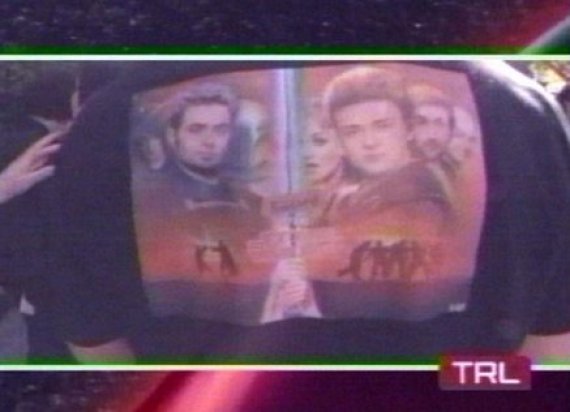 Although all the members in the band were fans, Joey's fandom exceeds even most diehards. Joey's house used to have a whole section devoted to "Star Wars" where he featured collectible rings, big porcelain dolls and all sorts of memorabilia. He was born the same year the first movie was released, 1977, and grew up playing with the toys along with his brother. Like many kids, he pretended he was a real Jedi.
So when the band was able to become actual Jedis, only to be cut out afterwards, they were a bit disappointed. Steven created a Photoshopped image of the band -- along with Britney Spears, Justin Timberlake's girlfriend at the time, as Padmé Amidala -- joking about how they were "Banned from 'Star Wars.'" Joey later wore a shirt with this image to George Lucas' premiere for "Revenge of the Sith" and confronted the creator, who he'd previously met on set and backstage at *NSYNC concerts.
Joey jokingly asked Lucas what the deal had been and said, "I don't want to get into it, but what the fuck? What the hell happened?"
"The whole thing felt surreal for us," Joey said about the filming experience. "Because of the fact that we were such huge 'Star Wars' fans, to be able to do something like that was pretty amazing."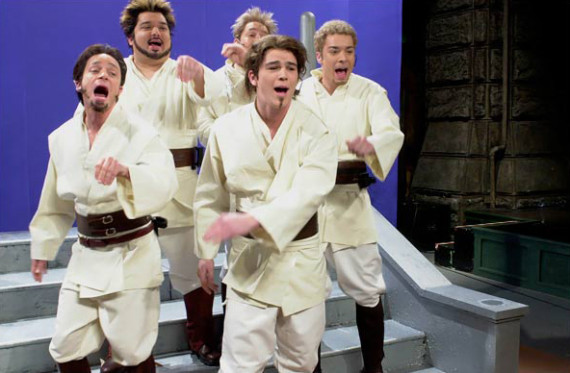 "There is a mixture of two things," Steven said as he explained the band's theories as to why they were cut from the final film. The first, according to Steven, is that the entire "Star Wars" community blew up about Lucas inserting *NSYNC into their universe. Although it was mostly just rumors whether *NYSNC had actually shot footage at the time, the backlash led to "Saturday Night Live" making a parody of the event.
Another possible issue is that *NSYNC were members of SAG due to the amount of television work they had done. SAG requires payment for doing work as an extra and since the band had agreed not to be paid, the footage had to be cut.
Joey said that they had signed an agreement where they'd given their rights away for the footage, since they didn't care about payment and just wanted to be Jedis. "They just didn't want to have to deal with it, so they just basically cut the scene out," said Joey.
Since he wasn't a member of the band, and therefore also not a part of SAG, Steven tried to convince Lucas backstage at a No Doubt concert (Steven works as a video director for tours and filmed his brother's band) to get himself back in the movie. Lucas' daughter was a big fan of No Doubt along with *NSYNC, so Steven had a few moments to talk. Unfortunately, "he just kind of chuckled and then [they] just laughed it off and that was the end."
HuffPost discovered, from its various conversations with the Fatone brothers, that Joey was supposed to have a very specific set of characteristics in his role as a Jedi Knight. Here is what Joey's part was supposed to involve:
• Fighting droids in the background of the Geonosis battle• Blue lightsaber• Shaved head with mohawk• Heavier set body compared to other extras• Lack of sword fighting skills and practice
Through combing the frames of the Geonosis battle, we found a very short moment that features a Jedi that answers these characteristics. You can see it above.
Lucasfilm would not comment after repeated attempts for a statement, nor would over a dozen current and ex-employees of Lucasfilm speak on record. The Fatone family reviewed the footage and agreed that it does appear to be Joey, though that is not an official confirmation.
But one can hope, given the nature of the Geonosis battle scene where scores of tiny Jedis are scattered in the background fighting droids, that the band's movements would be used. After all, commissioning re-shoots is pricey.
Regardless of whether or not the members of *NSYNC are true Jedis within the "Star Wars" universe, the Fatones certainly valued their time in a galaxy far, far away. "I wish I was able to have some sort of footage of that to be like, 'This is what I really did, I'm not lying, it happened,'" Joey mused. But he's still excited he'll be able to share this experience with his kids and their kids. It's a true Jedi Knight's tale.
Before You Go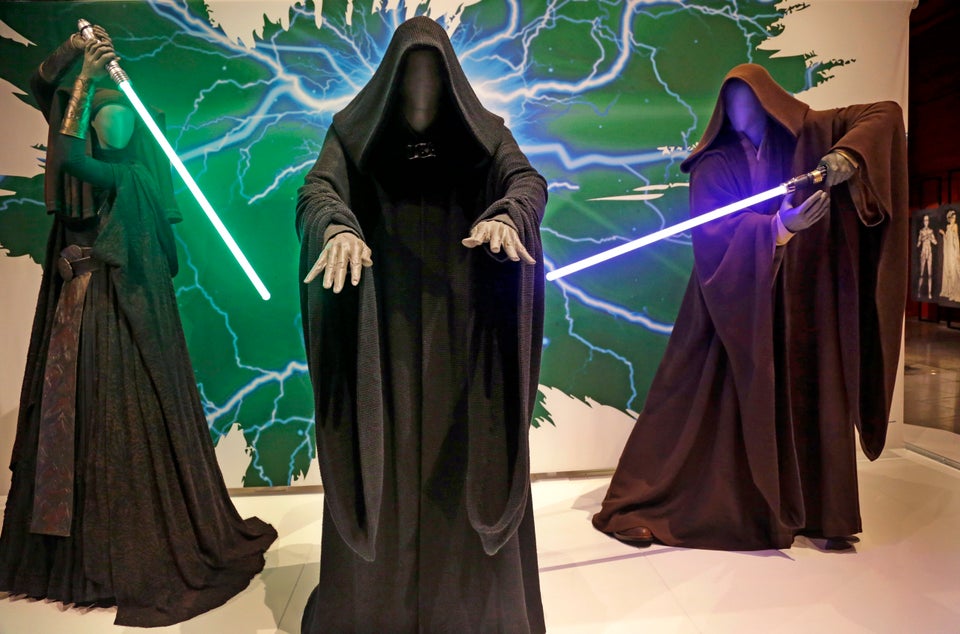 The Costumes of Star Wars
Popular in the Community