The sky is still twilight blue above the streets of Aberdeen at 21:00 this time of year and as you walk the city's edge on the beach of the North Sea the winds pick up with a chilly bluster. Of course, that's just for this minute. In a half hour it may be a gentle warm caress, or you'll be pelted with hail and sleet mercilessly. Locals like to say that this northern Scottish seaside city has 4 seasons in one day. During one Street Art tour that we gave for 350 Aberdeenians on the day before Easter, we cycled through those seasons, twice.
This is Nuart, the festival begun in Stavanger, Norway in 2001 by loveable bad boy and (some would argue) curatorial visionary Martyn Reed which invites Street Artists from around the world to partake in thoughtful aesthetic excursions on the street and in public space.
The cumulative success of Nuart's indoor/outdoor programs is now well recorded and looked to as a model. Remarkably they have risen despite tensions that occur when commingling frameworks of illegality and institutional acceptance; including a relatively new academic rigor that is now investigating the family of practices called Urban Art, their absorption into the commercial market as contemporary art, the badass anti-establishment musings of jilted outcasts who want nothing of it, and a somewhat romantic notion of communicating with the public in a meaningful dialogue.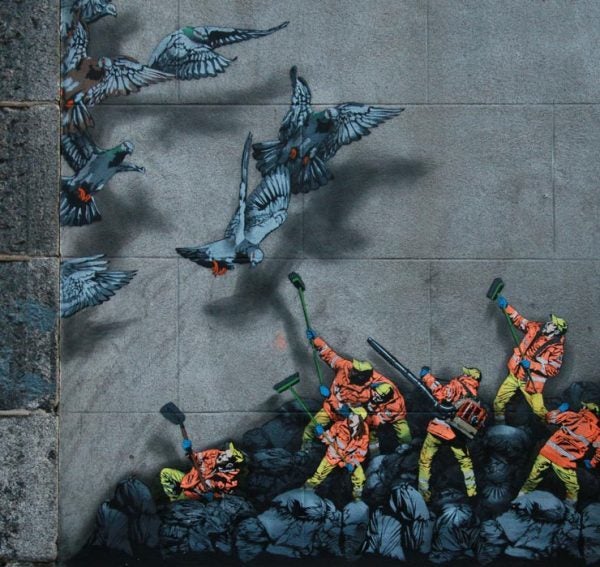 Ah, but this is the bumpy, potholed, slimy street along which counter-culture becomes culture and the marginalized becomes the mainstream – producing a modicum of nausea for all involved. While not explicitly aiming for legitimacy on these fronts, the Nuart Festival has gradually metamorphosed into a standard by which some others are judged, with reason.
Now for the first time Nuart exports its hard won and uniquely prickly formula in a perhaps more reserved manner to this new, old city which lies 500 kilometers across the North Sea in Scotland.
This is the stirring, storied North Sea known globally for the black oil lurking beneath it, and the two cities of Stavanger and Aberdeen have both been impacted greatly by the plunge of world-wide petroleum prices since the end of the last decade; a downturn described by London's Telegraph as "vicious".  We may have stumbled upon evidence of this during one of our walking tours when we remarked on the large number of people there who were interested in seeing the new artworks and one woman cracked with some sarcasm, "that's because none of us has jobs."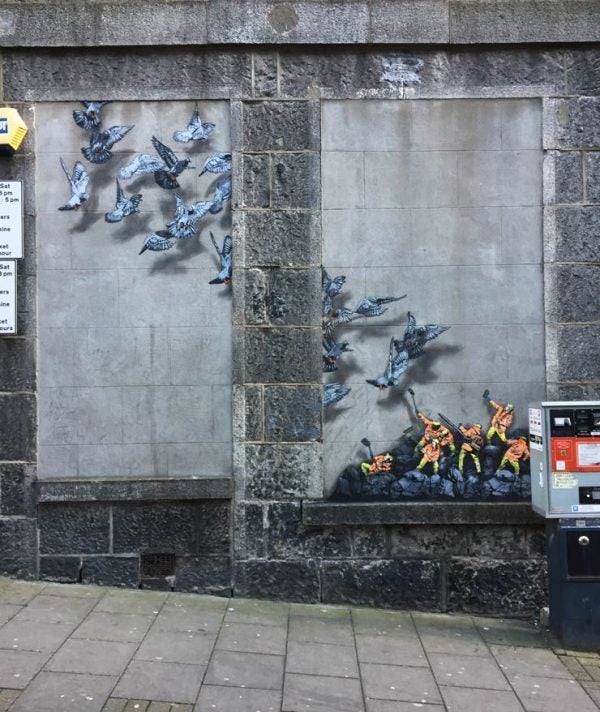 And here we are with eleven international artists to ease the grayness of this historic and granite city by the sea where daffodils cover the meadow in Union Terrace Gardens and single malt whisky eases the sight of iron leg fetters in the 17th century prison museum called Tolbooth.
When it comes to Nuart Aberdeen the people whom we met are nearly exuberant in their responses, even awestruck by the appearance of this new art in their city. With the introduction of aerosol, brush paint, wheat-paste, stencils, miniature sculpture, and poetry to street walls, it is as if a hidden pent-up desire for art in the public sector has burst open, a geyser if you will.
"I think there are quite a lot of places now in Aberdeen that are quite plain. It's like there are a lot of empty canvasses. It's good to see something be done with them," says Mark, who's touring the new pieces through the streets with Julia, who's originally from the capital Edinburgh. Map in hand, the couple appears to be about 30 and they say that while they've seen work like this in other cities, they're glad to see something more youthful now appearing here in a historical seaport that boasts soaring, turreted and spired cathedrals and narrow stone streets.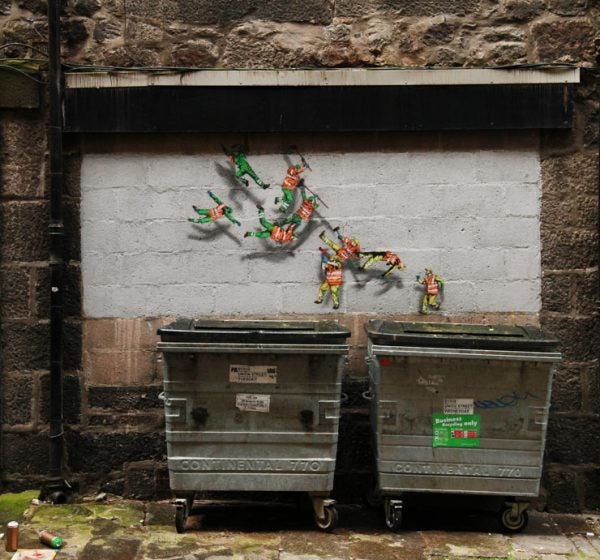 "I've been to Leipzig lots of times and there's lots of sides of buildings," says Mark, "they're similar in size to these, with lots of murals in the city center, and it really kind of brightens the place up, makes it a lot more lively."
"Welcome to a city investing it its city and its culture," says Councilor George Adam, the Lord Provost, a prestigious post and an ancient office with its roots in the 13th century. During a reception with other members of the Aberdeen City Council and the local business improvement district (BID) named "Aberdeen Inspired," Mr. Adams says that he is excited by Nuart and has received a lot of positive feedback as well.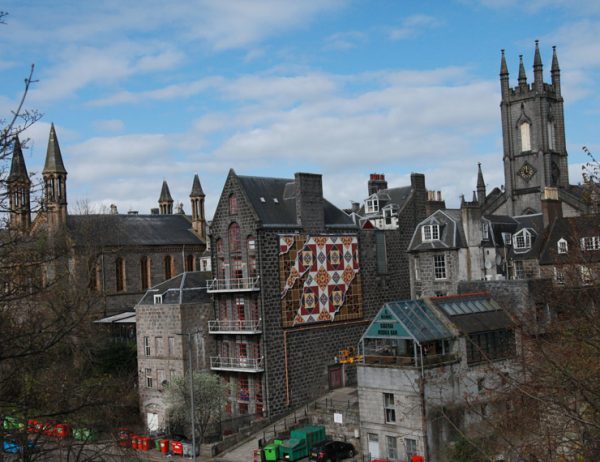 Indeed, the reception from youth, middle aged and senior patrons at our 14 short-video film lecture and the sold-out screening of the premiere of "Finding Bansky" at the independent art theater Belmont Filmhouse was ardent, enthusiastic and full of inquiries afterward. The walking tours had more people than anyone had predicted, with a few people using canes and others pushed in strollers. It would appear that the worldwide Street Art phenomena had seemed frustratingly out of reach for some of the young people, who have been fascinated by it from afar. Seeing these works by international artists here in their city was like a jolt of electricity.
During an entertaining slide show by festival participant Julian De Casabianca at the Lecture Theatre at the Anatomy Museum Thursday night, the steeply angled seats held a full capacity crowd, with many sitting on the floor and steps. The somewhat inebriated and raucous artists and students in their twenties hooted and hollered and pounded on desks during the 50 minute lecture which included mobsters, murder, the Holocaust, stolen artworks, and Street Art – specifically the museum art images which De Casabianca has been wheat-pasting on public streets for all to see for the last decade or so called "The Outings Project."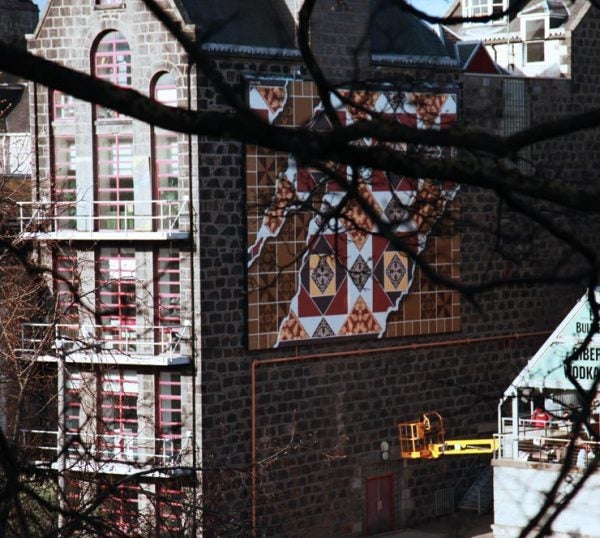 Martin Reed's curation of the program is wise and the selections are contextual from the perspective that Nuart Aberdeen 2017 presents an array of disciplines from a solid thoughtful selection of perspectives, each attached to the history of graffiti and Street Art from their unique evolution of practices – as well as to the culture of Aberdeen.
Germany's Herakut dominates one concave wall of Aberdeen Market overlooking "The Green" with their improvisational blending of illustration style portraiture, textual flourish, and symbols germane to the city. De Casabianca chose images form the Aberdeen Art Gallery of two children – haunting in a narrow street known by local folklore for ghosts of children who were sold as slaves to America in previous centuries.
Belgium's Jaune peppers doorways and electrical boxes with multi-layer stencils of fluorescent-vested municipal workers in humorous scenarios. These are partnered in scale by small grey-suited and somber businessmen by Spain's Isaac Cordal, which are hidden before your eyes and camouflage into the daily city until you discover one standing on a ledge, balancing on an electrical line, or sitting atop a CCTV camera.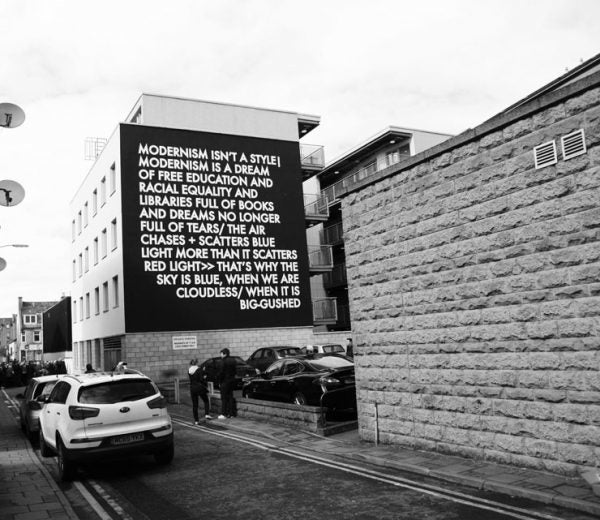 Norway's Martin Whatson has perhaps the most obvious reference to the locality, with a golfing figure swiping into a plume of colorful graffiti tags. With Donald Trump's golf course only minutes away, the piece raises an immediate association with a guy who is heartily disliked here. The Street Artist named Add Fuel create an enormous tile-patterned wall that refers to local motifs and decorative artisans on a wall that can be seen easily by pedestrians looking from Aberdeen's Union Bridge the largest single-span granite arch in the world. Italy's Alice Pasquini brings imagery of the harbor into her figurative pieces and Norway's Nipper works directly with local artists to compile gifts of art posted on clipboards around the city.
This is not to say that Reed is running from possible controversial material or opinion: Poland stencilist M-City is without doubt critiquing the oil industry with his oil barrels flying through the sky and tankers in the sea, the UK poet Robert Montgomery's piece addresses topics like the definition of modernism, race, and social equality, and Australia's Fintan Magee's very large mural diptych obliquely references rising sea levels and man made environmental degradation.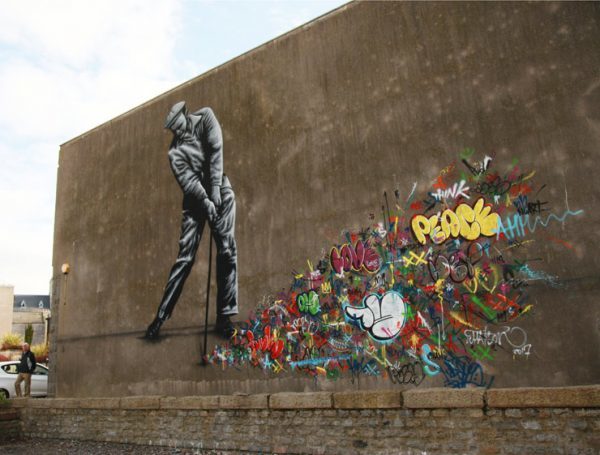 In review of the successful event and the relatively young history of the Street Art movement as one that is continually in motion, a few points come to mind as worth mentioning: The first is the ongoing discussion of illegal graffiti and Street Art culture giving way to legal mural festivals that have as their aim some form of business improvement and/or gentrification in a city, particularly when a city previously persecuted and derided the organic and illegal artists who began the scene.
This situation is not specific to Aberdeen, but the concern probably will come up in conversations (including during panel discussions at Nuart) and at the very least it is an irony that art practices once reviled or verboten are now to some extent embraced as worthwhile because they can be economically advantageous. These are not direct relationships, but close ones certainly.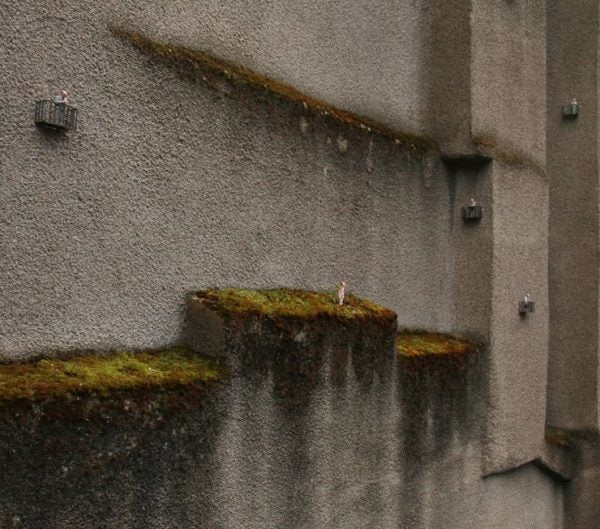 Similarly there have been a few so-called Street Art festivals in recent years where the primary driver is commercial brand-building and while they give opportunities to artists they somehow cheapen the dialogue between people. It is always ironic, if inevitable, when a subculture becomes more closely associated with mainstream culture, sometimes specifically because of its cache as being rebellious. The trick here would be to accommodate the activist voices in the program, and clearly Nuart aims to do so with panache.
An argument could be made that counters the quick-on-the-draw "selling out" charge that says true rebels are somehow abandoning their values by working for "the man". From our perspective, we're happy when artists are working, are treated fairly, and when people get to enjoy their work. Even in this second least affordable city in Scotland  where artist spaces are at a premium if not scarce altogether, it is a good development to see art on the walls outside and a public dialogue facilitated by art.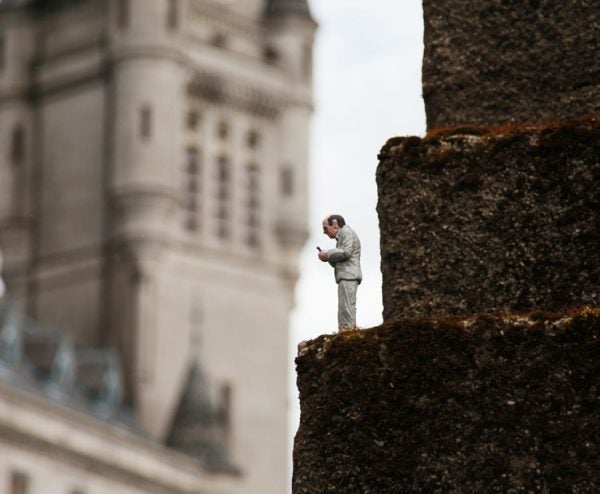 This mural initiative will invariably jump-start two outcomes. One will be a renewed interest in the zone in which the art appears, driving foot traffic and, if all goes according to plan, new business initiatives and increased interest in the arts in general.
Secondly, it will spur an uptick in locally grown Street Art. We already witnessed it mushrooming overnight on surfaces during the days we were in the city and were pleased to learn of many local artists who have been looking for opportunities for exposure in addition to this one and last years' "Painted Doors" project, which was spearheaded by Aberdeen artist Mary Butterworth. As this local scene continues to coalesce in public space, one hopes that the city will challenge itself to find healthy and proactive ways to support this organic scene as well.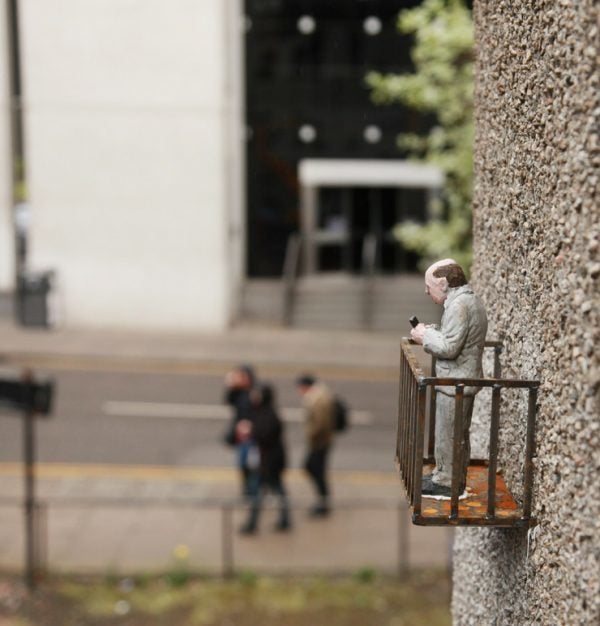 Overall, the first year of Nuart Aberdeen has been hands-down successful by many standards, and talk of a 2018 program has already started popping up in discussions online and elsewhere. From what we could see and hear, the city is longing for more.
"We want you all back! You showed us what can be done!" says Dr. Fiona-Jane Brown, the author of "Hidden Aberdeen" and founder of Graft Theater Company in her comment on Facebook to the Nuart team.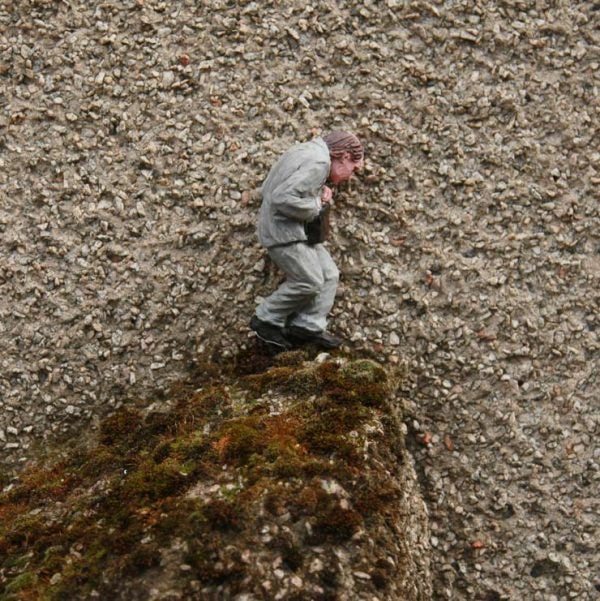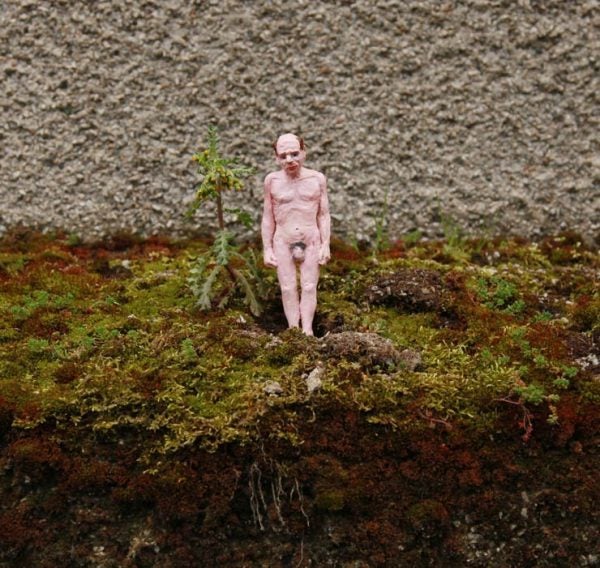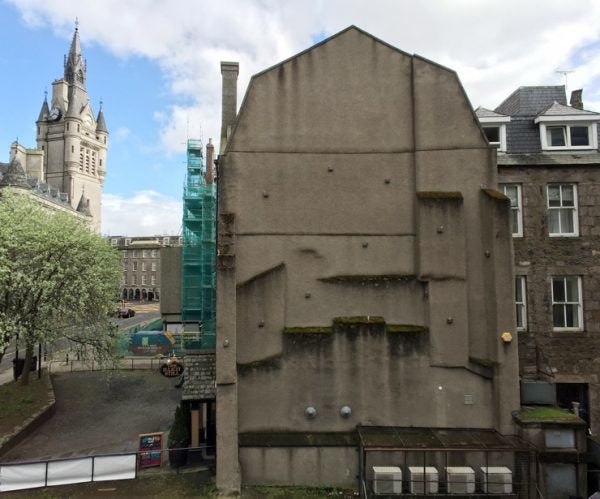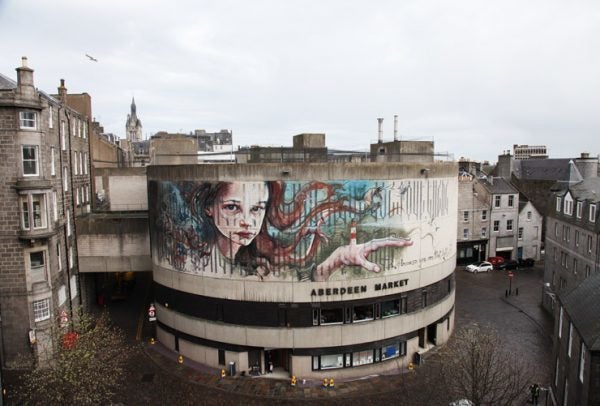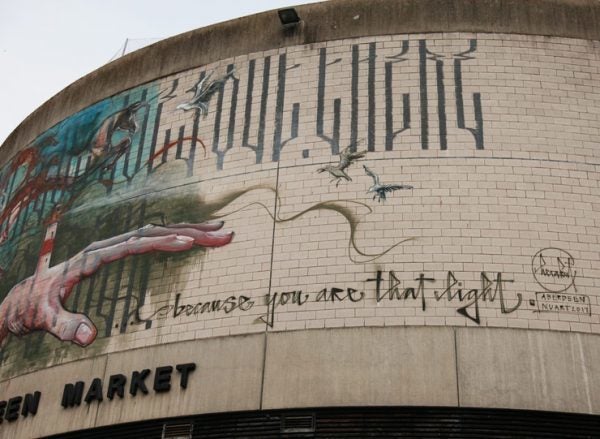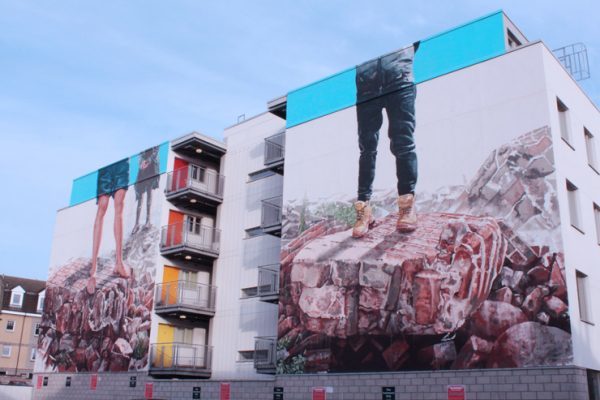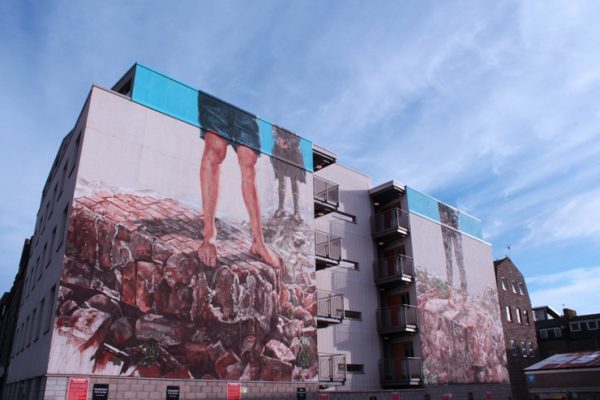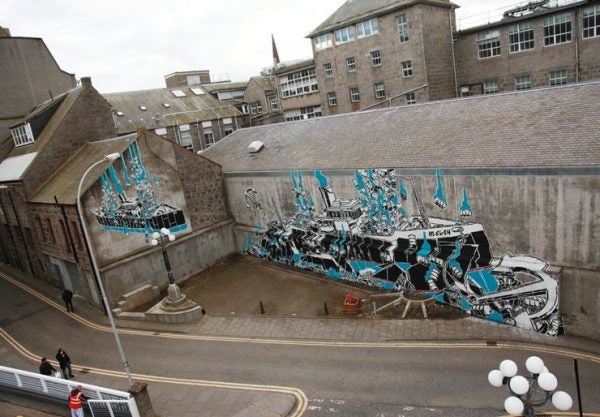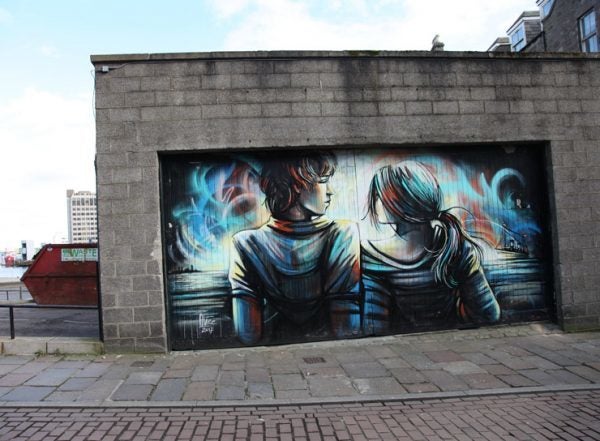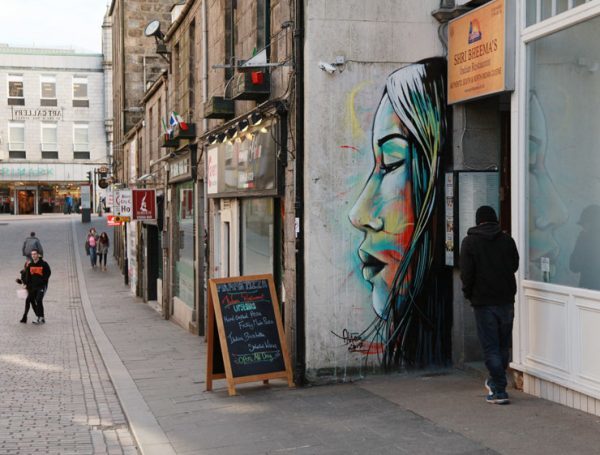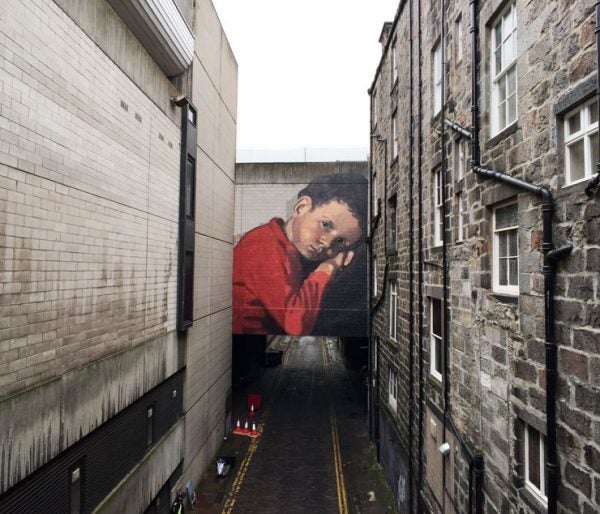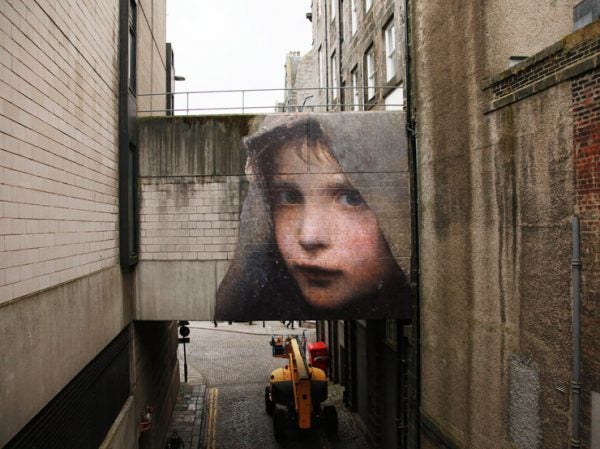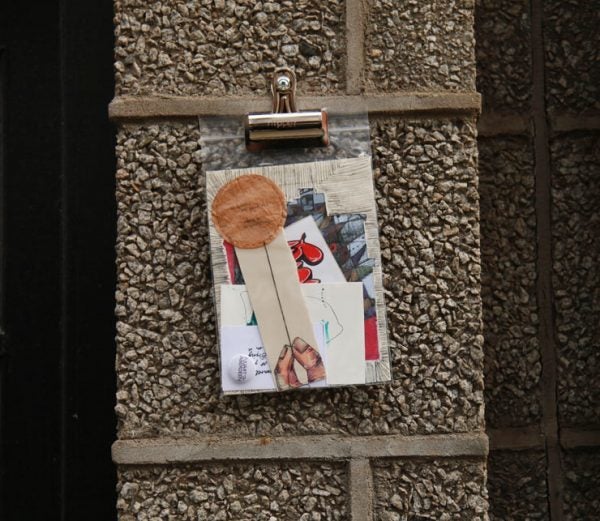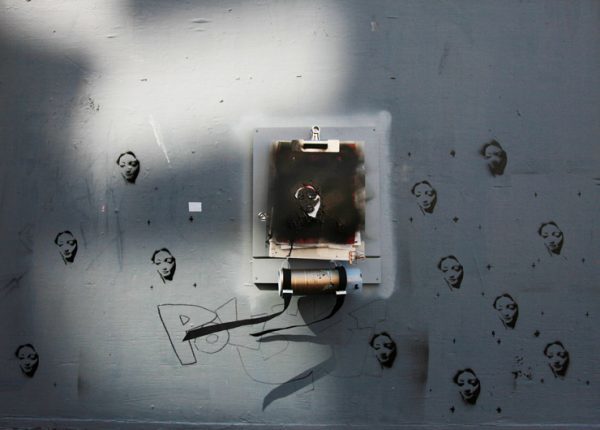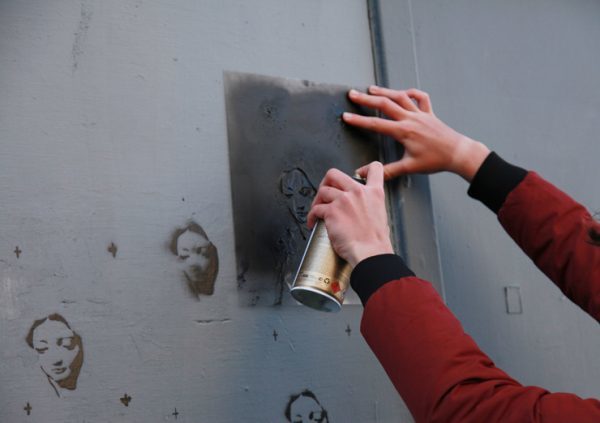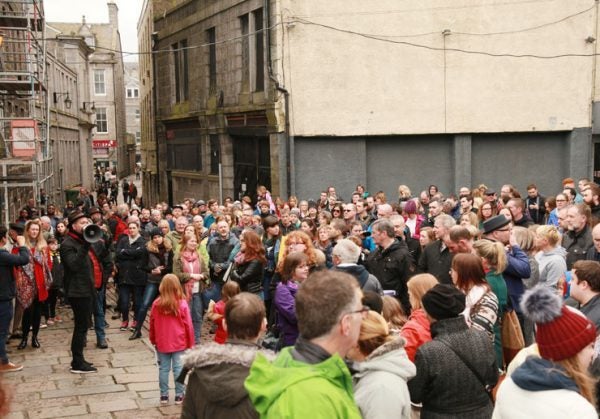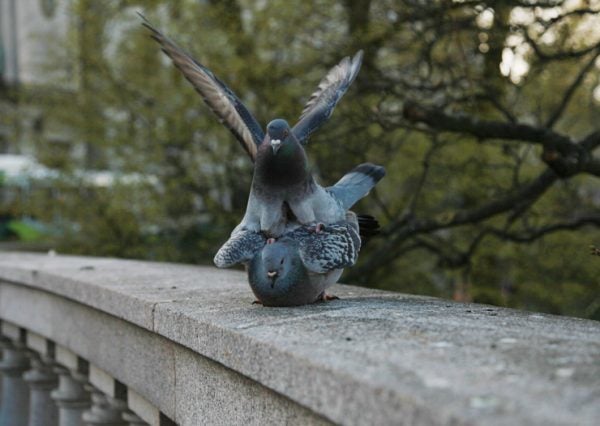 We would like to express our gratitude for the professionalism and support of the Nuart Team, to all the volunteers whose work and dedication made our work more efficient and our stay a lot more pleasant, to the team at Aberdeen Inspired and to the people of Aberdeen for being such gracious and generous hosts, and to all the artists whose work we love and admire and for your inspiration and talent. Thank you. We hope to meet again next year.
For more information on Nuart Aberdeen click HERE.
Please note: All content including images and text are © BrooklynStreetArt.com, unless otherwise noted. We like sharing BSA content for non-commercial purposes as long as you credit the photographer(s) and BSA, include a link to the original article URL and do not remove the photographer's name from the .jpg file. Otherwise, please refrain from re-posting. Thanks!
Read all posts by Steven P. Harrington and Jaime Rojo on The Huffington Post HERE.
Calling all HuffPost superfans!
Sign up for membership to become a founding member and help shape HuffPost's next chapter