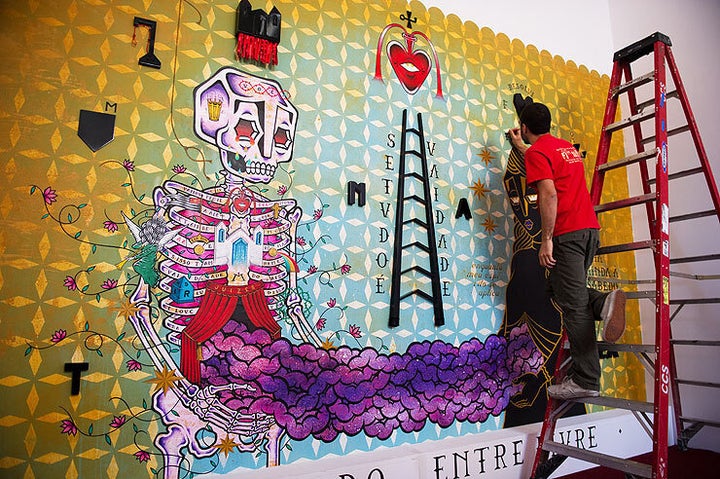 Interview with Martyn Reed, curator of the Norwegian Street Art festival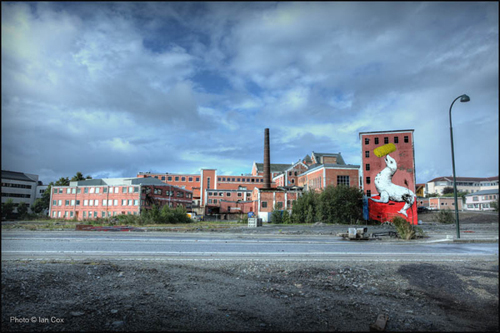 Erica Il Cane and Blu (Photo © Ian Cox)
The small, oil rich coastal town of Stavanger in Norway must be feeling a bit blue right now, if elated; with all these new super-sized paintings in the streets. The Nuart 2010 artists have packed up their brushes and dispersed after two weeks of scaling walls and leaving monumental murals for the town to help endure the long, dark winter months ahead. The festival, in it's 5th year under curator Martyn Reed, featured some supremely independent masters of the craft including Street Artists like Blu (Italy), Vhils (France), Roa (Belgium), Dolk (Norway), Erica Il Cane (Italy), EVOL (Germany), Vasmoulakis Alexandros (Greece), Sten & Lex (Italy) M-City (Poland), and Dotmasters (UK).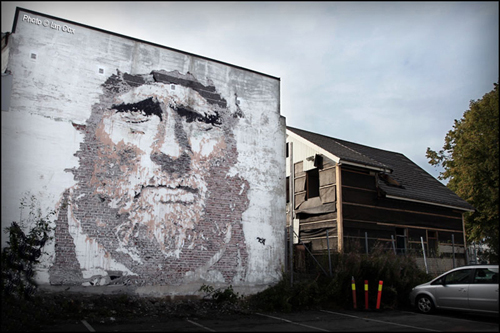 Vhils (Photo © Ian Cox)
But Mr. Reed, the visionary engine behind this elaborate and accessible street art installation, doesn't limit himself to organizing just one large festival. Instead he double-tracks it with a hefty electronic-based music festival born from his years as a techno DJ and promoter. Numusic this year featured performances by luminaries like Kraut Rock granddaddies Neu! and American hip-hop cornerstone Grandmaster Flash.
The affable bad boy Reed took a moment this week to look at his route to success so far and tell BSA about what the Nuart festival is and why it is important to him.
Brooklyn Street Art: Putting on a festival of this magnitude must be a big task. How do you do it?Martyn Reed: Actually, this year, though the largest in scale, was a much easier production than we've been used to. We've learned so much from previous events. All of this years artists were painters, so once set up, people were pretty autonomous. It helped that we spread out the production period to cover two weeks.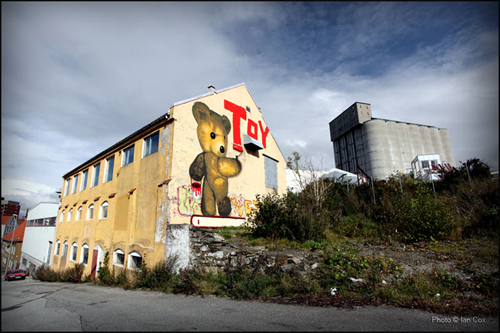 Dotmasters (Photo © Ian Cox)
Brooklyn Street Art: What has been the town folks' main reaction when they see all the big creatures on the walls of their city?Martyn Reed: It's incredible, there's nothing but love for Nuart in this city, and it's spread across a really broad demographic, from toddlers to grandparents, and from bakers to the city mayor.
It's interesting because in a city this size anything new, any new developments in culture for example, are judged on their intrinsic merits and not due to media hype or "trends". The city has a population of 120,000 and though a few will be aware of Banksy, Dolk etc., that will be it.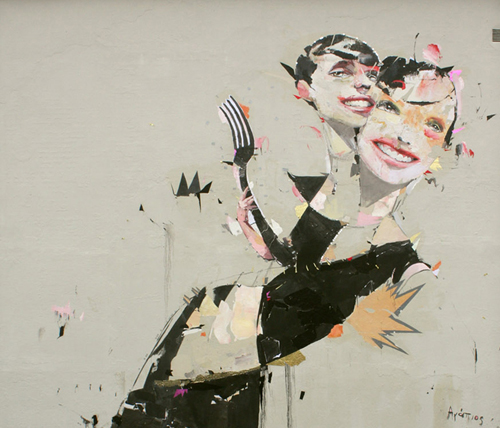 Vasmoulakis Alexandros (Photo © Alexandros)
The art isn't really tied to a "culture", to Juxtapoz, or hipsters or the gallery set or to limited edition sneakers and vinyl toys or any of the other commercial detritus that's blossomed around the scene. It's simply art on the street; big bold beautiful artworks that noticeably improve the surroundings. It's astonishing to me that more city councils around the world haven't yet embraced and recognized the value of Street Art.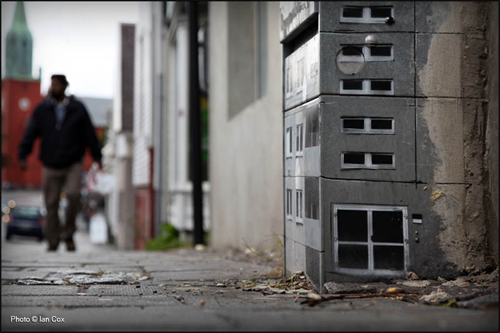 Evol (Photo © Ian Cox)
Brooklyn Street Art: You have combined music with the plastic arts. Is there a cross-over between the two? Does one influence the other when curating the festival?Martyn Reed: Interesting question, but the short answer is no, not anymore. It's interesting in that Nuart was established to explore the questions you raise.
The Numusic festival, like many other European electronic music festivals, was born from an involvement in early rave and club culture. The social lives of art students began to merge with their studies and aspects of their academic pursuits began to influence club culture; especially with VJs, the early web, digital arts and new media. This proved an especially fertile and creative arena for subversives and artistic outsiders who naturally gravitate to these still lawless new frontiers.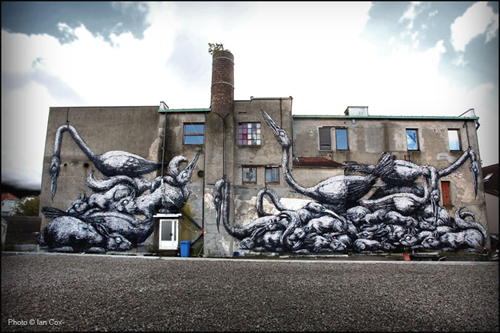 ROA (Photo © Ian Cox)
I'd had an interest in Street Art through Banksy, having DJ'd at Cargo in London where he had his first UK show in 2001, I think. It hadn't occurred to me until 2005, when I took over the curation of Nuart, that Street Art was occupying the same ground as these early digital pioneers had previously with a similar message, greater coverage, mass appeal and the price of a craft knife and Internet connection. Suddenly new media looked like the bloated expensive state sanctioned art-form it was, obsessed with the technology of production when the real technological revolution was in its ability to distribute.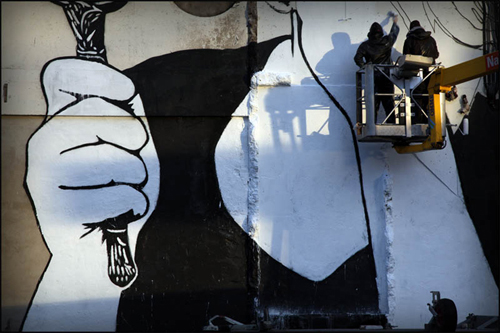 Dolk (Photo © Ian Cox)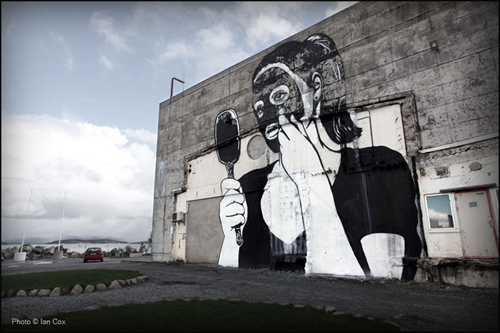 Dolk (Photo © Ian Cox)
Brooklyn Street Art: Did you grow up in a family where the arts and music were a big part of growing up? If not when did you realize that music and art were your calling?Martyn Reed: No, quite the opposite - lower working class council estate upbringing; trailer trash in your parlance. I didn't know universities existed until I was maybe 17 or so, left home and school at 16 and just tried to get on.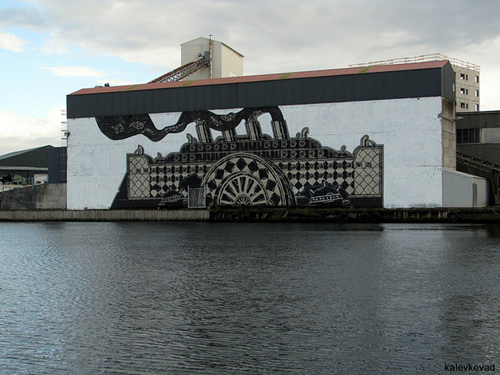 M-City (Photo © GT)
During all these centuries of the celebration of high art, of its life-affirming philosophies, the glorification, elevation and idolization, it's monuments to human artistic achievement and even more monumental museums celebrating its history, you'd think, somewhere down the line..an attempt would have been made to bring this to my council estate-to our lives.
Because I know for a fact, art is not only capable of "improving" lives, but of saving them also. Literally.

But for all the grandstanding, the "high" arts don't run that deep, which is why I'm a massive supporter and promoter of Street Art.
As for realizing, not sure, to be honest, from a very early age I always felt like I was on the outside looking in, and the "in" seemed to be missing a few things. I guess Nuart is my attempt to provide the community and the artists (and my 4 year old kid), with the thing that I missed.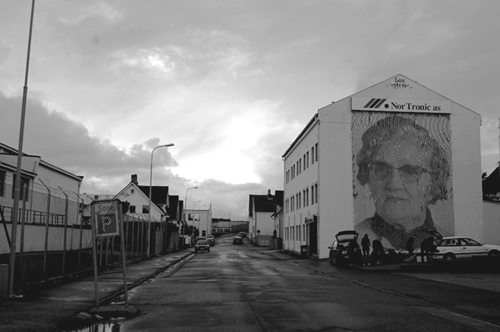 Sten & Lex (Photo © Sten & Lex)
Related
Popular in the Community