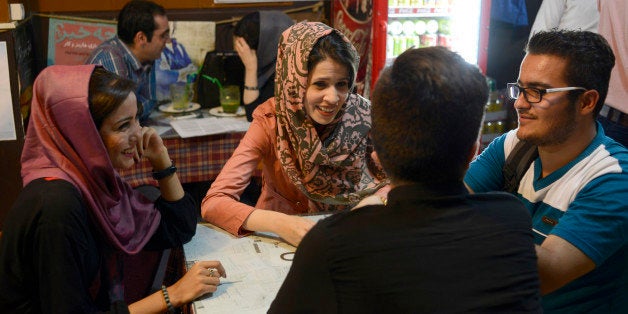 For years, a raft of economic sanctions against Iran by the U.S., EU and other countries imposed hardship and suffering on Iranian people. The Iranian currency plummeted, the price of food went up astronomically and countless Iranians had health problems because of the shortage of medical supplies coming from the West. These sanctions crippled Iran to the point that they became an existential threat to the Iranian economy.
Six years after the sanctions began, unemployment was thought to be around three times higher than the official rate of 12 percent, and millions of Iranians lived well below the poverty line of $300 a month. Though the Western countries repeated many times that they had no enmity for the Iranian people in imposing the sanctions, ordinary Iranians were the ones paying the price.
As a result, the news of an agreement on Iran's nuclear program was followed by street celebrations and expressions of hope all over Iran. But the truth is that the rationale for the long march toward the nuclear deal, followed by a diplomatic and economic partnership with the West, cannot be found in strategic alignments or expediency of politics alone. It runs much deeper. For many Iranians, it represents a deep hope for a better future.
Iranian culture is one of hope. An old civilization, Iran, close to nature and its deep resources, is able to express the great traditional meaning of hope as that which helps us to transcend our endless difficulties and darkness.
As such, in the Gathas, Zoroaster, the visionary prophet of ancient Iran, utters this hope in a prayer:
So may we be like those making the world progress toward perfection; May Mazda and the Divine Spirits help us and guide our efforts through Truth; For a thinking man is where Wisdom is at home.
There are a number of characteristics to this conceptualization of hope in the philosophy of ancient Iran. First, according to Ahura Mazda (the God of the Iranian religion predating Islam), hope is undoubtedly a good thing. Second, hope has transformative effects on the individual. Third, hope is linked to the future, which, as promised by Ahura Mazda, is good. Last but not least, hope is forward-looking, forward-moving and a positive principle in troubled times.
The truth is that the concept of hope in Iranian culture is related to the spiritual and internal resources a human being can call upon, rather than to the possibility of help presented by the socio-political and external institutions. As the unparalleled master of Persian poetry, Hafiz of Shiraz, said: "I wish I could show you, when you are lonely or in darkness, the astonishing light of your own being." As such, hope can be the expectation of the betterment of life in the face of despair. And yet, it is not limited to individual or social terms but engages with a wider experience of life beyond the sole fulfillment of needs and aims.
As Omar Khayyam underlines in his Rubaiyat: "The Worldly Hope men set their Hearts upon Turns Ashes -- or it prospers; and anon, Like Snow upon the Desert's dusty Face Lighting a little Hour or two -- is gone." Khayyam sees an inconsistency between a seemingly senseless existence and a complex and orderly world. Therefore, for him, hope remains in this world and does not make an unnecessary and unwarranted leap to another world, a so-called supernatural world.
In the same manner, modern Persian poetry is often accompanied by a consciousness of hope as an activity of opening to a new horizon. For example, a poem such as Nima Yooshij's "I Gaze Waiting for You," despite its immersion in a landscape of despair, is fulfilled with hope and expectation. Nima stresses this sense of anticipation lucidly in the following words:
At night, in that moment when the valleys sleep like dead snakes, In that turn when the nuphar's hand entraps the foot of mountain cypress, If you remember me or not, I never forget you, I gaze waiting for you. ...at night
To Nima, the value of hope is not measured in terms of good and evil. Instead, its value is viewed as the event of the future.
Because hope never passes into certitude and because it bears upon a future, hope is built upon patience. Essential to the idea of patience is that of waiting for a mythic hero who embarks on a quest, gains an understanding, returns home with some type of wisdom and flourishes in the fullest sense in a world filled with melancholy and injustice.
This point of view is accentuated by Forough Farrokhzad, who became known as a rebellious female poet of contemporary Iran, in her poem "Someone who is like no one." She wrote:
Someone will come, I know. Someone is coming, Someone else, Someone better, Someone who is like no one!

Someone who is not like my daddy, And is not even like my mom. Someone who is not like Ali, And is not like Sara. Someone who is like no one -- but like the one who "ought to be."
As we can see, Farrokhzad celebrates hope as a state of creative transcendence. In other words, hopefulness is not simply a way of seeing or acting but a way of being. It indicates the ability to keep hope alive by ensuring that it revitalizes force in our lives.
Therefore, vital to celebrating hope in Iranian culture is recognizing its role in providing what is needed to endure hardship and despair while promoting resourcefulness and the expansion of agency. This is certainly one thread that links all habits of hope in different periods of Iranian history. For Iranians, the capacity to hope has been shaped by the essence of their historical destiny, which, depending on its different moments and experiences, has provided space to hope and for hope. As such, hope has left more than footprints in the Iranian culture -- it has created legacies, histories and creativities. Maybe that is why Iranian politics also bears a responsibility for continuing the legacy of hope that is found in Iranian culture and history, though it also remains to other nations' efforts to nurture it.
Iranian people have been learning from their past while living in the present and hoping for the future. This hope for a new Iran with a new beginning with the world is a light in the darkness of the Middle East.
PHOTO GALLERY
Historic Iran Deal
Calling all HuffPost superfans!
Sign up for membership to become a founding member and help shape HuffPost's next chapter