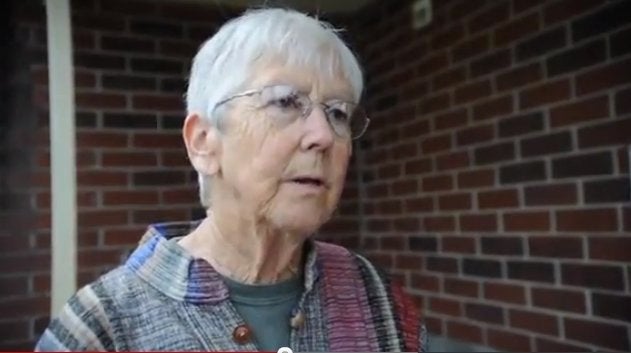 Sister Megan Rice, the 82-year-old Roman Catholic nun under federal indictment for what the New York Times recently called "the biggest security breach in the nation's atomic complex" is facing some stiff prison time: up to 16 years. But it's not a fact she's dwelling on. "It doesn't matter if we go to jail. I've been in prison before. That's beside the point. The purpose is to do what's right," says Sr. Megan who is spending her time these days nursing two broken wrists after a recent, accidental fall she took while awaiting trial.
Sister Megan, along with co-defendants, Michael Walli, 63, a Vietnam veteran and member of the Dorothy Day Catholic Worker house in Washington D.C., and Greg Boertje-Obed, 57, father of a college freshman and member of Veterans for Peace, are charged with the shocking July 28th break-in at the Y-12 Nuclear Security Complex in Oak Ridge, Tennessee -- the nation's storage site for some 300-400 metric tons of highly enriched uranium, as well as other bomb making materials. The break-in exposed glaring security loopholes at the atomic complex and has resulted in some personnel firings. The three defendants have pleaded not guilty.
Sister Megan, who serves her order of the Society of the Holy Child Jesus as a disarmament activist at the Nevada atomic test site, does not view the trio's action as a security breach at all. "We were obeying the law, the Constitution , and all the laws the Constitution upholds, which are international laws." Her defense is a familiar one for disarmament activists who have sought to raise awareness of the nuclear threat by undertaking protest actions such as this recent one at Y-12 and, three years ago, at the Kitsap-Bangor U.S. Navy Trident nuclear submarine base near Seattle.

These non-violent demonstrations, known as Plowshares actions, were started more that 30 years ago by the Roman Catholic priests, Daniel and Philip Berrigan. The term "plowshares" harkens back to the Bible's Old Testament and the Prophet Isaiah who admonished nations to abolish war and "turn swords into plowshares."
In 2009, at the Kitsap- Bangor naval base five peace activists -- all over the age of sixty, including an 84-year-old Catholic nun, two Jesuit priests (one 82 years old), and two grandmothers -- breached security and penetrated a "shoot to kill" zone reportedly housing one of the largest stockpiles of nuclear weapons in the country. The Bangor 5, so called by prosecutors, justified their actions as upholding international humanitarian law and the U.S. Constitution. Article VI of the Constitution holds that international treaties the U.S. has signed are to be abided by as the laws of the land. The U.S. has signed treaties, such as Geneva and Hague, pledging to uphold international humanitarian law (IHL). The federal judge presiding over The Bangor 5's case refused to hear any of these arguments.
Though other federal courts have largely ignored these arguments, too. The question of whether nuclear weapons violate laws the U.S. has promised to obey was front and center at the American Bar Association's International Law Section meeting in April of this year during a symposium entitled Nuclear Weapons and International Humanitarian Law. There, a panel of international law experts connected some of the dots of Sister Megan's argument.

"IHL consists of rules and principles governing the conduct of warfare," said Dr. John Burroughs, who directs the Lawyers Committee on Nuclear Policy, a United Nations NGO, and who has also served as a defense attorney on some of the disarmament activists' legal cases. IHL, also known as the" law of armed conflict," applies to all weapons in all countries.
What are the parameters for weapons under IHL? Charles Moxley, who teaches at Fordham University School of Law and has written the book, Nuclear Weapons and International Law in the Post Cold War World, outlined four requirements as laid out in U.S. armed services manuals: The weapons must be able to discriminate in their effects between civilian and military targets; their effects must be controllable; their level of force must be "necessary" to achieve the desired military outcome (any additional force is unlawful) ; they must not be used to inflict human misery and physical destruction disproportionate to the military objective.
Jonathan Granoff, co-chair of the symposium and President of the Global Security Institute, drew this conclusion, "The law seems to be quite clear here. You cannot bring nuclear weapons into compliance with the standards of IHL; the two are simply incompatible." The United States government would disagree with that assessment and, in fact, argued before the International Court of Justice in 1995, that nuclear weapons can comply with IHL in some instances, and are not inherently disproportionate, indiscriminate or uncontrollable. At the lawyers' symposium a U.S. State Department representative who was slated to appear on the panel was unable to attend.
So where does all this leave Sister Megan Rice? The elderly nun, who taught school children in Nigeria and Ghana and went to prison for a year for protesting at the School of the Americas in Georgia more than a decade ago, admits the law is not her strong suit and says she will leave that part of her federal case up to her attorneys. "I'm just there to say I did what I had to do. Couldn't not do it. I just tell the truth. That's all I have to do."
Helen Young is directing a documentary on The Bangor 5. For more information on the film please log onto: www.usaprojects.org/project/the_bangor_5.
Related
Popular in the Community