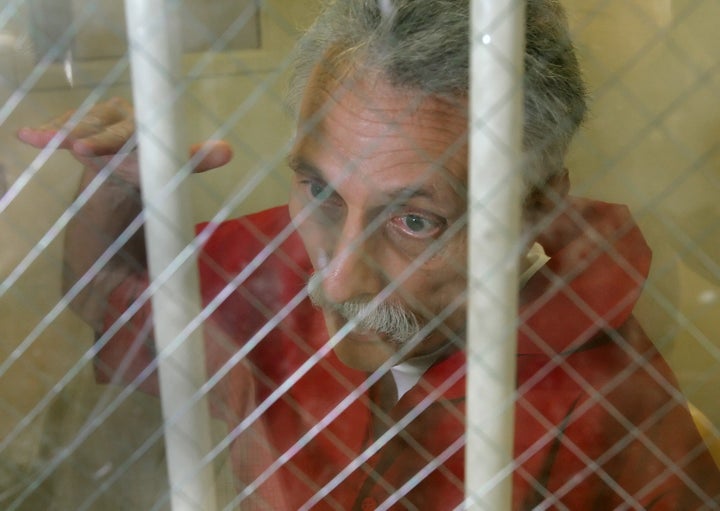 Any human face is a claim on you, because you can't help but understand the singularity of it, the courage and loneliness of it. -- Gilead, Marilynne Robinson
For a time, it seemed that everywhere I went in Houston I encountered the faces of the condemned. Their pictures were taped above the desks of my coworkers at the Gulf Region Advocacy Center (GRACE), a non-profit law office dedicated to serving men and women facing the death penalty, where I worked as the office manager. Danalynn Recer, the executive director and founder of GRACE, had photographs strewn around her office, pictures of clients who had been exonerated, executed, or were awaiting their fates in the humid cells of the Huntsville correctional facility. And at Trinity Episcopal Church, where I attended services on Sunday mornings, Nuclear Jesus looked down at me from above the chapel altar.
Nuclear Jesus was the nickname given to the oil painting of the Second Coming, when Jesus Christ returns to earth to reign over humankind. In the painting Jesus is six feet tall and naked, barely covered by floating white burial clothes as he glides over the earth, an orange cloud erupting from the ground behind him like an atomic blast. The face of Jesus is that of Khristian Oliver, the artist's son, who was executed for capital murder.
The face of a human being demands something of you, forces you to grapple with its individuality and complexity. A face has a history, with scars visible and invisible. It is harder to condemn someone once you've seen their face, harder to look away from the pain in their eyes. It's easier to let someone else strap him to a gurney, push the needle into his vein.
At first I found the painting somewhat unsettling, a naked man staring at me from above the altar, but over time I came to love it. It was redemptive, expressing compassion and hope for the criminal and the convicted murderer. Many churches in Texas would not have allowed Nuclear Jesus into their chapels. Occasionally I had conversations with people who had adopted a steely religious conservatism that refused to see Christ in the criminal. One Tuesday after work I found myself in the Flying Saucer downtown having a few drinks with a friend and his church group which was made up of men in their twenties. On the wood paneled wall behind the bar were 200 beer taps, and waitresses in plaid skirts served beer to white yuppies in jeans, polo shirts and sandals. Everyone was talking loudly over the barroom racket.
The guy next to me asked me what I did. "I work at a non-profit law office," I told him.
"Non-profit law office, isn't that an oxymoron?" He thought I hadn't heard that joke before. "What kind of law?" he wanted to know.
I thought of Calvin Burdine, peering from between the bars of his cell with a patch over his left eye, his gray hair combed neatly to the left. Burdine spent seventeen years on death row, despite the fact that his attorney had slept through portions of his trial. Finally, his post-conviction attorney won him a new trial and Recer took the case pro bono, negotiating a life sentence and founding GRACE in the process. "Never another sleeping lawyer" was GRACE's unofficial slogan, never another lawyer at the defense table with his eyes closed. Though I didn't say all this.

"We provide legal defense for men and women facing the death penalty."

"Interesting."

Did he mean "interesting" as in "That's good work. Please tell me more," or "I am horrified and hope that your office burns down in the fire of God's holy wrath?" GRACE was not a religious place, but we were still offering a kind of secular salvation for the destitute and forgotten. We had a list of names of men and women we had helped, which we could recite like a litany: Thomas Miller-El, Shantia Jackson, LaRoyce Smith, Theodore Goynes, were just a few.
"I disagree with what you are doing," he said.

"Well, we just try to make sure they receive an adequate legal defense."
At GRACE, we had no illusions about our clients. We knew some of them were guilty, that they had caused others unspeakable pain, but we also refused to let them be ignored. Instead, Recer and the other staff members approached them with unflinching compassion. (Compassion, a word inextricably bound to suffering and Jesus Christ. The Passion: the sufferings of Christ, ending with his execution on a cross. Compassion: to suffer with Christ.)
He frowned. "OK. I just believe in the death penalty. The Bible condones the death penalty." I was silent. The Bible also condones killing rebellious children, non-believers, and adulterers. I thought of Nuclear Jesus, the face of Christ and the face of a criminal, Khristian Oliver. In 1998, Khristian was convicted of robbing Joe Collins, and then beating him to death with the butt of his gun. Jurors read aloud from the Bible as they decided to sentence him to death: "And if he smite him with an instrument of iron, so that he die, he is a murderer: the murderer shall surely be put to death." Khristian was 20 at the time of his crime, 32 when he was executed. "I pray for ya'll every day and every night," Khristian said to the family of the victim before he received the lethal injection. I imagined the artist, Kermit Oliver, with his paints and brushes, the tragedy in his heart failing to displace the love he had for his son.
I wanted to ask the man across from me if Jesus would choose to strap the condemned to a gurney or insert lethal needles into his arm as his mother and children watched. Instead I explained that we were helping make sure that everyone received adequate legal defense. "Even the guilty deserve a lawyer."

"We're just going to disagree on this," the man said. I sipped my beer and changed the subject. There was little point in arguing with this kind of certainty. It was a certainty unacquainted and unconcerned with human particulars, with the men and women on death row, forgetting Jesus himself, condemned to die on a cross.
Related
Popular in the Community