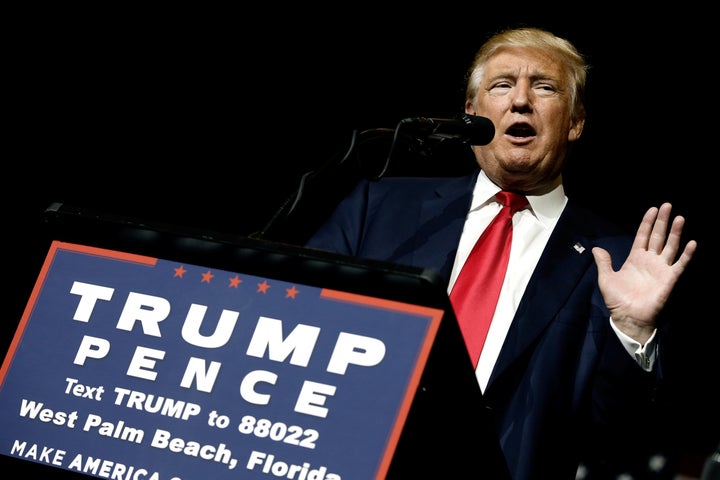 If you're not frightened by the thought of Donald Trump having his finger on the nuclear button, you should consider listening to these folks.
A group of former nuclear launch officers in the U.S. Air Force have signed an open letter saying they're disturbed by the idea of Trump standing over what's known as the "red button." The letter, with 10 signatories, was first reported by The Washington Post on Thursday.
"Only the president can order a nuclear launch. That order cannot be vetoed and once the missiles have been launched, they cannot be called back," the letter states. "The consequences of miscalculation, impulsive decision-making or poor judgment on the part of the president could be catastrophic."
The letter concludes: "Donald Trump should not be the nation's commander-in-chief. He should not be entrusted with the nuclear launch codes. He should not have his finger on the button."
Throughout the campaign, Trump has shown a stunning propensity to lash out at his critics and attack anyone ― be it a fellow Republican or even a Gold Star mother ― who he believes crossed him. He's taken to Twitter at 3 a.m. to assail a former Miss Universe whom he humiliated years ago. As the letter itself notes, Trump is "easily baited" by those who want to provoke him ― not exactly a quality you want in the leader of the world's most powerful military.
All of that has made Trump's "temperament" a focus of the campaign. Democratic nominee Hillary Clinton says he does not have the cool demeanor required of a commander-in-chief, and plenty of reputable military and security experts happen to agree. The nuclear launch officers are just the latest to air their concerns and issue an anti-Trump proclamation ahead of the Nov. 8 election.
Bruce Blair, who, according to the Post, organized the letter, told the paper that the writers deliberately did not endorse Clinton. "No one who signed the letter wanted to disclose a position who they would vote for," Blair said. "The letter is focused entirely on Trump." He said those who signed were "flabbergasted" by the possibility of a Trump presidency, and wanted to speak out before it was too late.
Popular in the Community