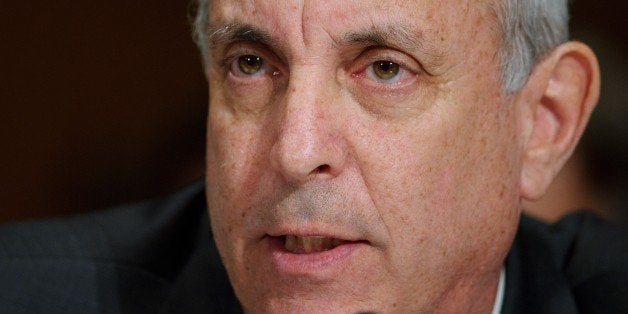 WASHINGTON -- For Larry Cohen, the president of the Communications Workers of America union, the Senate Democrats' decision Thursday to go "nuclear" on presidential nominees calls for a celebration. And perhaps a short break from running around Capitol Hill.
"I'm very excited," Cohen told HuffPost shortly after the 52-48 vote, which will now allow Democrats to pass most executive and judicial nominees with a simple majority. "We've spent a lot of years working on Senate rules. This is finally a significant step."
Cohen's union is part of a coalition of progressive groups, called Fix the Senate Now, that has been pushing Democrats hard to change the chamber's rules and clear a path for nominees long blocked by the Republican minority. But Cohen and the CWA, in particular, have championed the cause, meeting constantly with lawmakers and taking their case to anyone willing to listen in recent months. Cohen said he started to feel confident two days ago that Senate Majority Leader Harry Reid (D-Nev.) would pull the trigger this week.
"We were all over this," said Cohen, noting that CWA worked closely with civil rights and environmental groups.
CWA's concern in the issue was more obvious earlier this year, when GOP obstructionism threatened to shut down the National Labor Relations Board. That's the independent agency that serves as a referee between corporations and unions like the CWA, which has about half a million members. If the Senate couldn't confirm the president's nominees and the body lost its quorum, the NLRB wouldn't be able to issue decisions, throwing labor disputes across the country into limbo.
A deal was eventually hashed out to confirm the NLRB nominees and a handful of other Obama picks for other posts. But Cohen and CWA kept lobbying on the issue, in part, Cohen said, because he knew the deal struck over the summer was just a Band-Aid.
"I knew that was a short-term situation," Cohen said. "July 30th" -- the day the board nominees were confirmed -- "was a big day, but I knew then that this was what had to be done."
Asked why he and CWA felt so invested in the fight even after the board was patched up, Cohen said the blocking of nominees for agency posts and judicial positions represented a breakdown of democracy. He said he wasn't worried that the rule change could further deteriorate relations in an already fractious chamber.
"Article 2 of the Constitution talks about advice and consent, not delay and destruct," Cohen said. "Whichever party is there, we need to be able to move nominations to the floor and get an up-or-down vote. It may not be people we all agree on, but that's what the Constitution says.
"There's $7 billion spent on an election," he added. "What does it mean if we get gridlock?"
Despite the victory Thursday, Cohen said he hasn't gotten everything he'd like out of Senate rule reform. He still thinks senators should have to take the floor and hold forth for as long as they want to filibuster.
"If you want to filibuster, you'll have to talk," Cohen said. "You're going to have to talk and senators won't be able to count on going home on Mondays and Fridays. It's sad that it's degenerated like this. But what a kid learns in fifth grade civics class is now so far removed from reality that there's no point in it."
Calling all HuffPost superfans!
Sign up for membership to become a founding member and help shape HuffPost's next chapter
BEFORE YOU GO
PHOTO GALLERY
2012's Most Expensive Senate Races