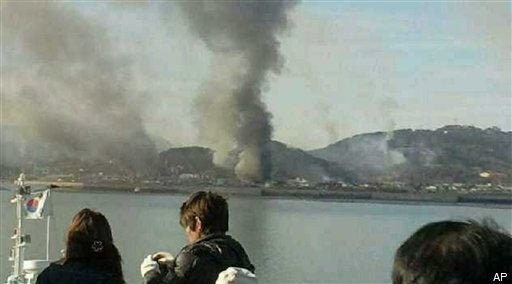 To mark the 100th anniversary of International Women's Day, it would be quite easy to write about the challenges of being a woman in the man's world of the CIA. Lots of hand-wringing on the inequalities faced by women in the CIA (not to mention how they are portrayed in popular media), but that's just so predictable. Instead, as a testament to how far we've come, I prefer to tackle an issue that affects all of us regardless of gender -- nuclear proliferation. As a former CIA covert operations officer who specialized in nuclear counter-proliferation, I believe that this is the most urgent threat we face. As dire as the predictions are on this issue, the good news is that we are actually making progress! The recent ratification of the new START treaty demonstrates that there is real international political will to take us off the path of certain destruction by nuclear weapons if nothing is done. But, there is much work still ahead.
Let's start with the known threat: Without doubt, terrorist groups are trying to buy, build or steal a bomb. Furthermore, there is enough highly-enriched uranium (HEU) in the world to build more than 100,000 weapons, and rogue individuals are selling technology on the black market. If terrorists get hold of HEU, they could not be prevented from smuggling it into a targeted city, building a bomb and exploding it.
To my mind, the only realistic solution to this danger is to lock down all nuclear materials and eliminate all nuclear weapons in all countries: Global Zero. I am now dedicated to achieving this goal as a leader of the Global Zero movement. This movement was launched in December 2008 in Paris by an international group of 100 current and former heads-of-state, national security officials, military commanders and business, civic and faith leaders -- and in just two years has grown to 300 leaders and 400,000 citizens worldwide.
The group believes that whatever deterrent value nuclear weapons had in the Cold War is now outweighed by the dangers of proliferation and nuclear terrorism. Our international Global Zero Commission has developed a practical, step-by-step plan to eliminate all nuclear weapons through phased and verified reductions.
To build on the progress made to date, we need a worldwide public movement to make Global Zero an urgent global imperative -- and to bring all nuclear weapons countries to the table to negotiate multilateral nuclear arms reductions for the first time in history.
Young people must be on the forefront as they have been with other successful movements. That is why April 8-10 -- the anniversary of the 2010 signing of the START Treaty and President Obama's 2009 Prague speech calling for a world without nuclear weapons -- Global Zero will convene hundreds of students and young professionals for the GZ|DC Convention in Washington, DC. These young Global Zero leaders will participate in intensive leadership trainings and strategize on building the Global Zero movement.
I will be there to speak about the nuclear threat, and along her Majesty Queen Noor, we will launch Women for Global Zero -- a new initiative dedicated to engaging women from all sectors as leaders in the cause of eliminating nuclear weapons. I will do whatever I can to support the vision of a world without nuclear weapons and encourage any young person who is willing to commit him or herself to this cause to apply here to join Global Zero and attend the Convention. Now, that's something all women can celebrate.