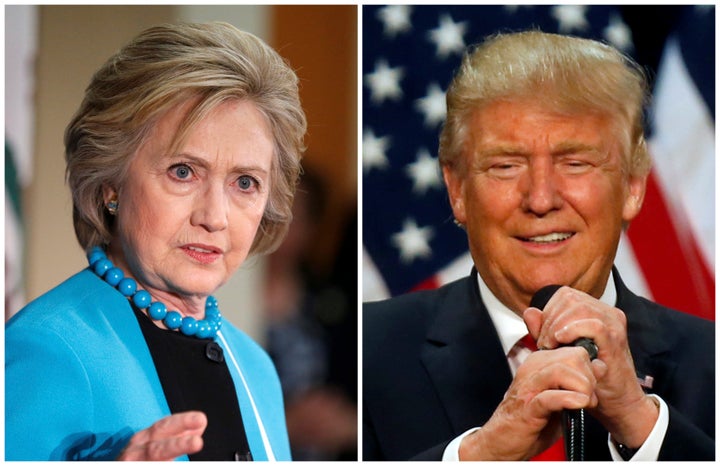 Just 27 percent of Americans say they trust Trump to make the right decisions about the use of nuclear weapons, while 57 percent don't.
"I sat at my post believing, through both the Bush and Obama administrations, that the president was fundamentally rational and would never ask me to do my terrible duty. Not unless the country was in the direst of national emergencies," former nuclear launch officer John Noonan wrote in a Los Angeles Times op-ed. "With Trump as president, the young men and women who are assigned to our nuclear forces will have no such assurances."
Clinton fares better in the poll, with 38 percent saying that they trust her to make the right decisions on nuclear weapons and 46 percent saying they do not.
The results generally fall along party lines, with Republicans and Democrats largely putting their faith in their own nominee. But nearly a quarter of Republicans say they don't trust Trump to handle nuclear weapons, while just 13 percent of Democrats don't trust Clinton.
Another recent survey, which asked voters whom they trusted more on the issue, found a significant edge for Clinton. In the Morning Consult poll, 46 percent trusted her over Trump to handle the country's nuclear arms, while 31 percent had more faith in him.
Overall, Americans are wary of nuclear weapons, according to the HuffPost/YouGov survey. Two-thirds say the U.S. should use such weapons only in response to a nuclear attack or not at all, while just 18 percent think that pre-emptive strikes are sometimes justified. By a margin of 45 percent to 40 percent, the public approves of cutting down on the nation's nuclear arsenal.
Americans who trust Trump with that arsenal ― as well as Republicans as a whole ― are significantly more willing to see the U.S. keep and use nuclear weapons.
Just 5 percent of those who trust Trump to handle nuclear weapons as president say that the U.S. should never use those weapons under any circumstances. Fifty-five percent of them say that the U.S. should use nuclear weapons only in response to a nuclear attack, while 27 percent believe that in certain circumstances, the country should be the first to launch.
In contrast, 21 percent of those who don't trust Trump say that the U.S. should never use nuclear weapons, and 50 percent say that it should use them only in retaliation. Just 12 percent of that group are OK with the prospect of the U.S. launching a pre-emptive strike.
There's also a significant party divide on this issue, with Democrats 16 points more likely than Republicans to shun the use of nuclear weapons in any circumstance and 35 points likelier to support cutting the nation's nuclear stockpile.
The HuffPost/YouGov poll consisted of 1,000 completed interviews conducted Aug. 4-7 among U.S. adults, using a sample selected from YouGov's opt-in online panel to match the demographics and other characteristics of the adult U.S. population.
The Huffington Post has teamed up with YouGov to conduct daily opinion polls. You can learn more about this project and take part in YouGov's nationally representative opinion polling. Data from all HuffPost/YouGov polls can be found here. More details on the polls' methodology are available here.
Most surveys report a margin of error that represents some, but not all, potential survey errors. YouGov's reports include a model-based margin of error, which rests on a specific set of statistical assumptions about the selected sample, rather than the standard methodology for random probability sampling. If these assumptions are wrong, the model-based margin of error may also be inaccurate. Click here for a more detailed explanation of the model-based margin of error.
Popular in the Community