Here's how it works: Using the TruNude app, customers take a selfie which generates a personal color code. They then enter the code, along with their measurements, in the app. The customer can alternatively choose from a set of swatches that, according to the brand's site, "contains the most popular color matches from our prototyping process and contains a range of over and under tones."
Founder Danai Pointer wrote on the site that the idea arose after "a discouraging bridesmaid experience," and told The Huffington Post she hopes TruNude will help "celebrate our individuality" and "help women to feel amazing about our bodies."
As for the recent shift toward more inclusivity in fashion, Pointer credits a changing, diversifying society.
"Companies have gotten away with the beige 'nude' standard because that's just the way it's been," Pointer told The Huffington Post. "Economically it's easier to produce one color, and we as consumers have accepted the lack of options because, en masse, we haven't really required an alternative. But society is changing, we're diversifying, and our range of skin tones should be reflected in staple, everyday attire."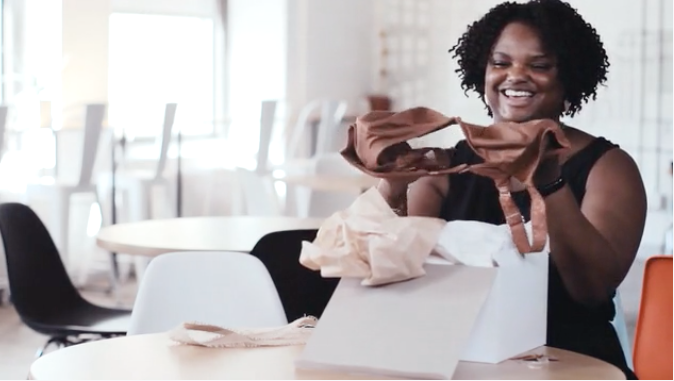 TruNude said they "met with and surveyed hundreds of women" and found that almost everyone they spoke with "hates bra shopping and feels neglected by the way things are."
The women featured in the Kickstarter range in skin tone and each voice their past struggles to find nude undergarments that match them perfectly. "I've done a lot of fashion in my time, there's always this thing for the skin tone bra and underwear. I end up wearing black," one of the women said.
The brand's T-Shirt bra, which runs from from a size AA-M, will set you back $99. For $50, you can purchase a bralette, which Pointer said each have a "300 day money back guarantee." That might be more than you're used to spending, but consider it a small price to pay in the movement toward inclusivity and comfort. Pointer also added that "once we complete the campaign and are able to scale the company, we can take another look at the fee structure."
Check out the brand's Kickstarter page, which has raised more than $16,000 of its $20,000 goal as of the time this was published.
Related
Before You Go

Naja Nude For All Collection