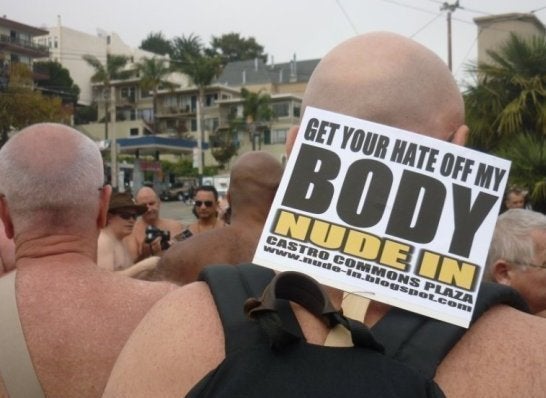 Sitting high atop the list of things San Franciscans love are protests and public nudity.
A recent law proposed by Supervisor Scott Weiner restricting sitting while doing the latter has prompted a number of exhibitionists to do the former.
When Weiner put forward a ban on sitting on public benches, restaurants and public transportation without some kind of protective covering between the chair and the butt, this got a number of local nudists angry enough to take off all their clothes and stand around.
On Saturday, more than a dozen protesters gathered at "The Buff Stop" (a.k.a. the plaza near the intersection of 17th and Castro streets) for a lunchtime "nude-in." While the nude-in is an annual event, planned long before Weiner's proposal became public, this year it took on a more overtly political tone because of the resulting controversy surrounding the law.
Public nudity is perfectly legal in San Francisco (as long as the naked person isn't aroused), nudist and former mayoral candidate George Davis told the San Francisco Chronicle. "The tourists love it – it's something they don't see anywhere else," said Davis. "The only people who have problems with it are excessively authoritarian. They're angry, they're religious nutcases or they've got unrealistic issues of body shame and body acceptance."
San Francisco nudists want to push the idea that just because someone is naked in public, it's not necessarily a sexual act.
"San Francisco is a liberal and tolerant city, and we pride ourselves on that fact," said Wiener. "Yet, while we have a variety of views about public nudity, we can all agree that when you sit down naked, you should cover the seat, and that you should cover up when you go into a food establishment."
Support HuffPost
The Stakes Have Never Been Higher
Related
Popular in the Community