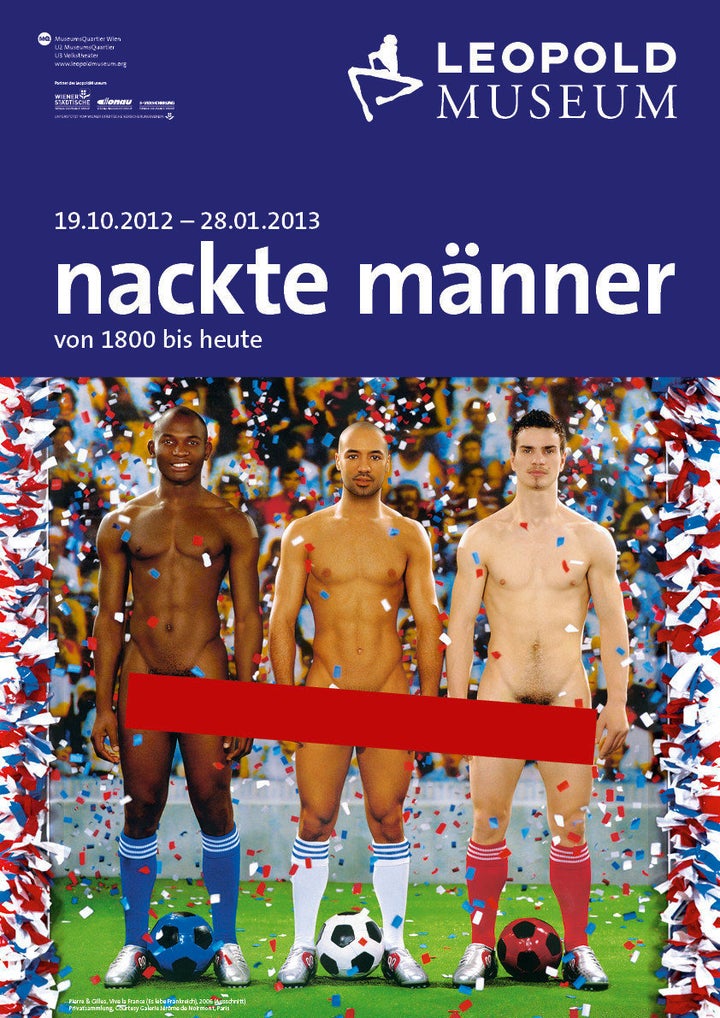 Twenty-five thousand years ago a voluptuous female rock named Venus of Willendorf jumped on the budding trend of the artistic female nude, a trend which, little did she know, never died. The artistic male nudes, however, have been a bit more prudish, until now. The Leopold Museum's current exhibition, "Nude Men," acknowledges that art history has been not quite fair to the so-called "fairer sex," and is ready to even the score. Three hundred works by 100 artists will give the public an art historical journey through the male pubic region. (Scroll down for images.)
The traditional narrative of sex and bodies categorizes the Victorian era as a phase of repression, which was later dismantled and liberated in the "free love" of the 1960s. But the very necessity of this exhibition tells us the true story of sex and art is far more complicated. While fig leaves have generally gone out of favor, female nudes radically overpower their male counterparts in museums. The Guerrilla Girls, a team of artist-activists, frequently conduct "weenie counts" around the Metropolitan Museum of Art in New York. They recently found that only 15% of nude forms in the museum were male. What's the deal?
"Nude Men's" opening proved just how badly the exhibition was needed when its flyers, featuring naked men on a soccer field, were censored. "We knew they'd be controversial, but the intense reaction even exceeded my expectations," the museum's spokesman, Klaus Pokorny, told the New York Times. The photographic nether-regions were tastefully covered up by a size-appropriate red stripes, (i.e., futuristic fig leaves). It looks like us Westerners are a little more Victorian than we thought...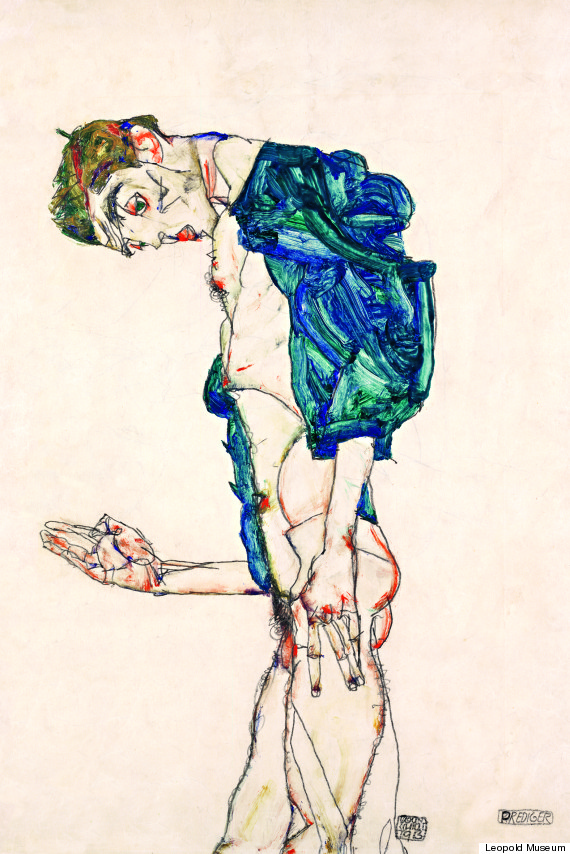 Egon Schiele (1890-1918) "Preacher" (Nude Self-Portrait with Blue-Green Shirt), 1913

The exhibition is comprised of three parts: 19th Century Classicism, Classical Modernism and Post-War Art. The early classical sculptures, such as "Youth from the Magdalensberg," contain idealized, even divine looking male nudes. (Anne Breslaw at Jezebel reminds us that at this time the ideal penis was "small, thin, and covered with a long, tapered foreskin.") Far from sexualized, the forms appear heroic to the point of becoming religious icons.
Other works, like Egon Schiele's 1913 "Preacher," take a step towards modernity with a flawed, yet still stylized erotic self-portrait. But charged images of the taboo birthday suit really take hold after 1945, when new ideas begin circulating around identity, sexuality and masculinity. No longer is the male nude simply another subject to be sculpted, but a site onto which the electrical forces of sexuality, desire and aggression can be channeled.
From the classical to the kinky, we could not be happier that the male form au naturale is getting featured in the museum's hallowed halls. Take a look through the NSFW slideshow and see if you are really as liberated as you thought, or if you'd prefer a fig leaf in there.
REAL LIFE. REAL NEWS. REAL VOICES.
Help us tell more of the stories that matter from voices that too often remain unheard.
BEFORE YOU GO