Miss Universe 2004 and model Jennifer Hawkins agreed to pose nude and un-airbrushed on the cover of February's Australian Marie Claire, but some are slamming the magazine's anti-Photoshopping efforts, claiming Hawkins does not represent real women.
Editor Jackie Frank told The Australian that the images were inspired by a survey of 5500 readers, which showed that only 12 percent of women were truly happy with their bodies. Marie Claire put Hawkins on the cover to make a positive statement about body image and the photographs of Hawkins will be auctioned later this month, with the proceeds donated to the Butterfly Foundation, an eating disorders support group.
In the interview, Hawkins says, "I'm not a stick figure--I thought it would be great to tell women to just be themselves and be confident."
But the cover sparked an outcry from Marie Claire readers such as "She wants to make [women] feel more comfortable about how they look, gee thanks, I now feel worse! I'm a size 10 and I still have more rolls than her!" and "If anything is going to have me running to the toilet with my finger down my throat it's a picture of Jennifer Hawkins naked."
The Butterfly Foundation's general manager Julie Parker pointed out Hawkins flaws, including her dimpled thigh, creased waist and skin-tone changes. Parker told The Age that photographing an average Australian woman wouldn't have worked.
"The thing is unfortunately it doesn't make the same point, because Jennifer sells magazines and she creates awareness. If 'Marie Claire' had chosen to put on their cover an ordinary women, say myself or a friend of yours, it would not have created the awareness it does."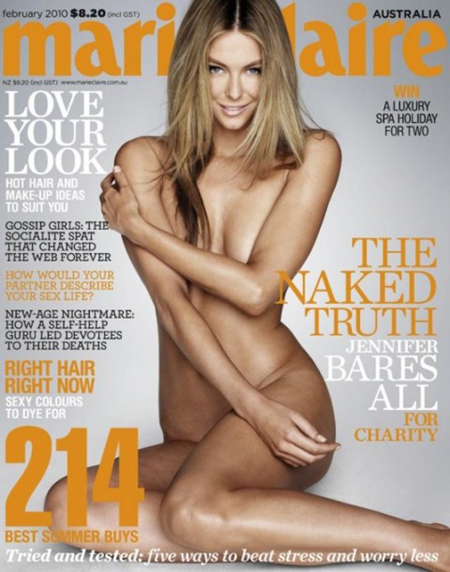 Popular in the Community