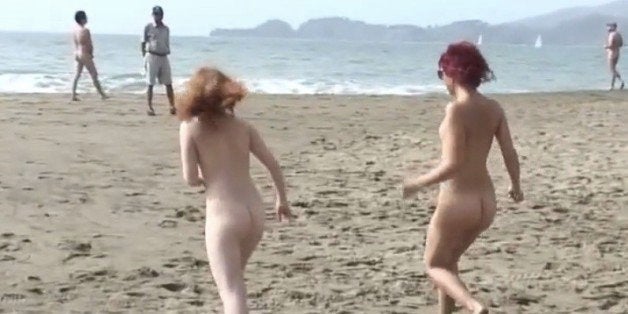 SAN FRANCISCO — On your mark. Get set. Get naked!
Nudists and curiosity seekers are invited to storm Baker Beach near the Golden Gate Bridge on Saturday to participate in foot races, javelin throwing and beach volleyball for the city's first nude olympics since 2008.
The question, some say, isn't really who'd want to undress and compete in Greco-Roman wrestling in a national park; it's who wouldn't?
"On a nice day, who would want to wear clothes on the beach," George Davis, one of the organizers, told HuffPost. "It's better to be natural and free."
There will be tug of war "if someone shows up with a suitable rope," organizers said in a press release.
San Francisco banned public nudity in some areas in February 2013. Davis has filed a lawsuit to overturn the ban and his lawyer believes the games are legal.
"They shouldn't expect any problems from city and county of San Francisco because they're not on city and county land," lawyer Gill Sperlein told HuffPost. "i wouldn't expect them to be in trouble."
Davis expects about 20 entrants -- many of them self-professed advocates for body freedom -- and a smattering of spectators thanks to ample coverage in Bay Area media. Due to the limited turnout expected, the National Park Service says it's likely it would only intervene if they receive complaints about the olympians' behavior.
"As long as there are no lewd and lascivious acts, the nude part is not the problem," Golden Gate National Recreation Area spokeswoman Alexandra Picavet said in an interview. "They're everyone's public lands... We try to find an understanding among people."
The au naturel athletics are intended to raise awareness about clothing optional compatriots in Malaysia who were threatened with prison for staging a similar event. Earlier this year, six men received 30-day sentences after pleading guilty to "public obscenity," according to Agence France-Presse.
The forecast calls for glorious conditions as Saturday's temperature mildly dips following Friday's heat advisory . The National Weather Service predicts that it will be sunny with a high temperature of 77 degrees. A "light and variable" wind will blow eight to 11 mph beginning in the afternoon. Apply some sunblock, especially to sensitive regions. The UV index stands at 6, which falls in the high range.
Registration begins at 11 a.m. and events start at noon. Look for "the Olympic torch and flame" in the park, organizers say.


Popular in the Community