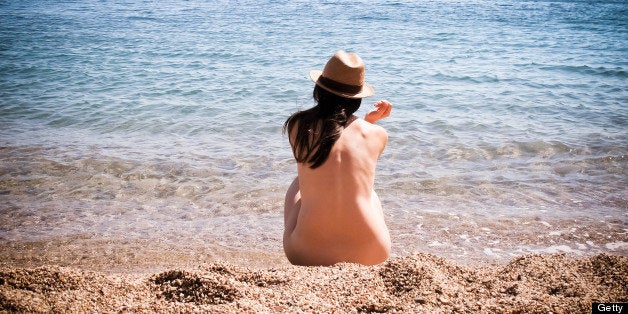 Summer's just two weeks old. Already record-breaking temperatures are being recorded all across America. Looks like the sweltering dog days of summer are back with a vengeance.
There are many creative, even wacky ways to cool off. You can cut an ice cold watermelon in half, put your feet in, and walk around in your new cool shoes. Or attach a fan to a hamster wheel and hang a piece of cheese just out of reach. Or wet and freeze a T-shirt. Put it on right before going outside. Or my favorite, just drink frozen margaritas instead of breakfast, lunch and dinner.
TAKE OFF YOUR CLOTHES AND ENJOY LIFE NAKED
Not a nudist? No problem. It's always a good time to try something new and fun. This heatwave is a great excuse to try skinny dipping.
AANR and The Naturist Society (TNS), celebrate an exciting annual clothes free week every year called Nude Recreation Week. Created by TNS, it's now in its 38th year.
Carolyn Hawkins, AANR spokesperson says, "Nude Recreation Week is the perfect time for the public to try something new and fun. While at the same time, it gives nudists all across the U.S. and Canada an excuse to tell their friends the real reason why they always look so relaxed and refreshed when they get back from vacations."
Here are the top 10 fun reasons why you should take a nakation this year:
1) No more looking like a neon orange popsicle from fake suntans
2) No more dreading walking by the swimwear department
3) No more ruined iPhones when you forget to take one out of your bikini bottom
4) Finally a reason to show off your recent bikini wax
5) No more panic attacks when you roll over while napping and forgot to hook your bikini top first
6) Your friends won't be bored seeing your Instagram vacation photos
7) No more $25 checked baggage fees
8) Let the rose tattoo on your buns enjoy some sunshine too
10) Summertime Nakations - The antidote to boring vacations.