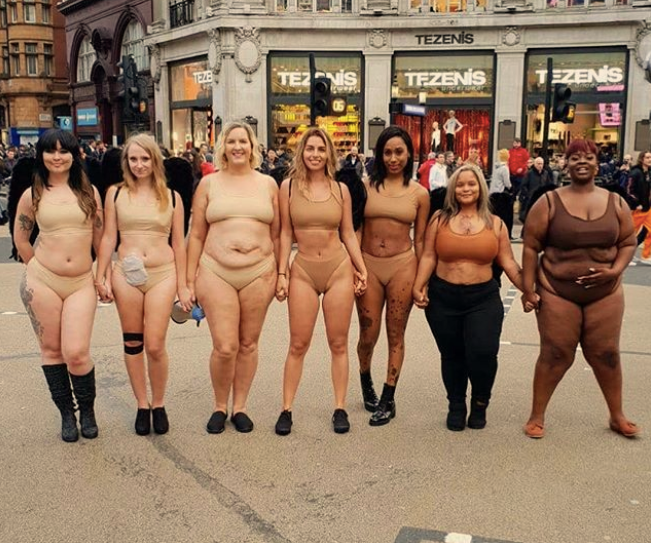 Goodbye, angels; hello, absolute badasses.
They staged their protest outside a Victoria's Secret store in London's bustling Oxford Circus.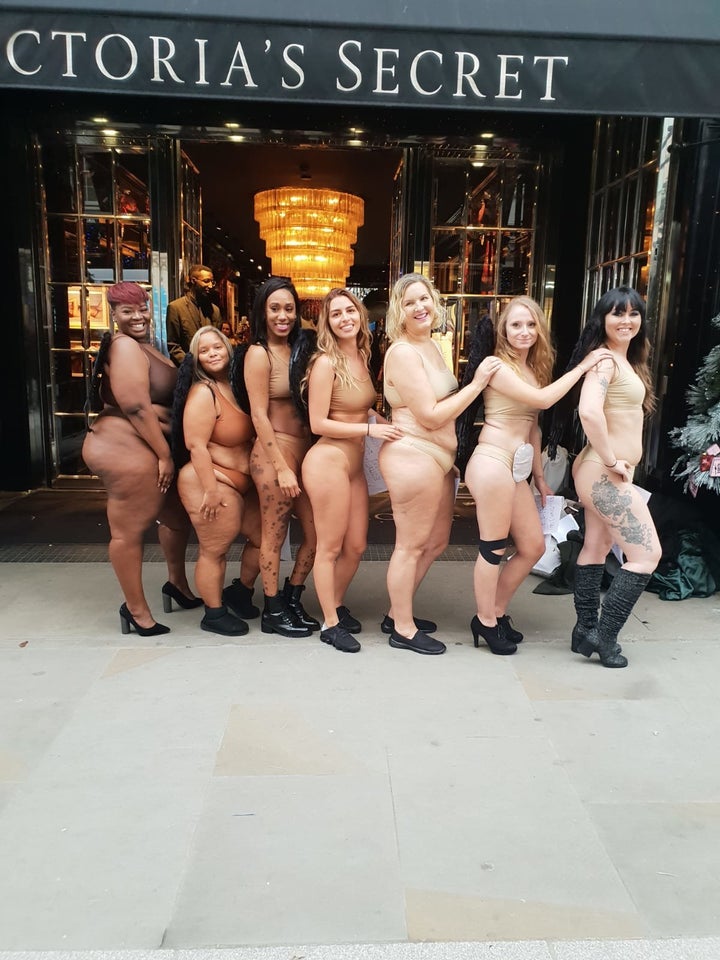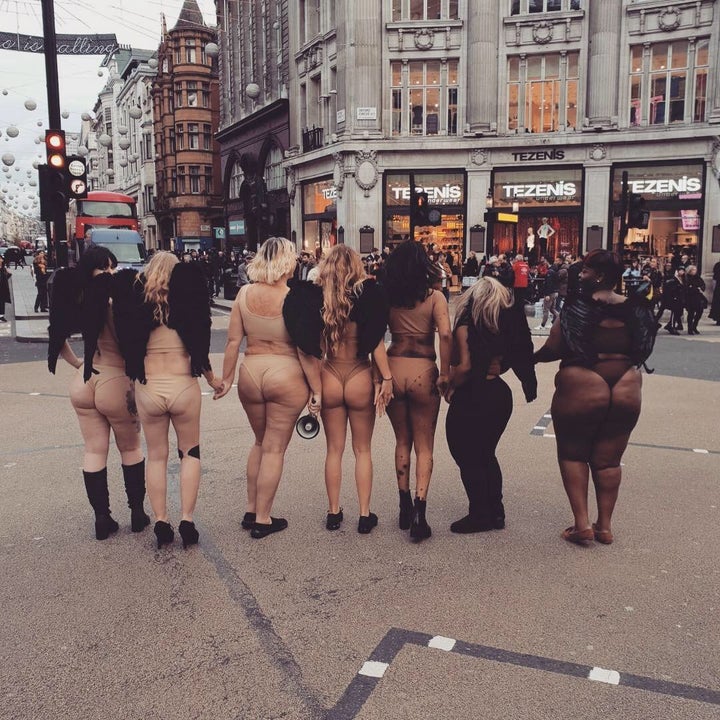 The idea was conceptualized by Joanne Morales and Sylvia Mac. Morales is the founder of Nunude, a U.K.-based lingerie, clothing and swimwear brand that boasts a wide range of nude garments to accommodate different skin tones and sizes. Mac is a child burn survivor who created her website Love Disfigure when she felt people with scars and skin conditions were not being properly represented in mainstream media and pop culture, and as a way to embrace her own body and inspire others to follow suit.
Mac and Morales called on their communities of followers and customers to participate in what they agreed was not an angry protest but rather a way to celebrate diversity. Their shared mission was to provide an example of what it's like be size inclusive but to also be inclusive of race, ability and both visible and invisible illness.
"We were fed up seeing these so-called perfect body images online, with there being just one perceived beautiful body type," Mac told HuffPost.
Morales, who launched Nunude in 2017 simply as an underwear brand catering to all sizes and skin tones, told HuffPost it has since evolved and reconsidered what its idea of diversity really is and its role in pushing that idea forward.
"It's an underwear company providing skin tone underwear for women with the idea of loving yourself completely bare the way you are," she said.
That shared idea to change the scope of not only the fashion industry but the way women and people feel about their bodies drove them to plan the widely shared protest. Morales, Mac and five other women of different skin tones and sizes, some who are burn survivors, some with invisible disabilities, stood as one powerful unit in front of the Victoria's Secret store last week. They are pictured proudly posing in just bras and underwear.
The spectacle drew crowds of onlookers, who offered largely positive feedback. The supportive attention made it clear to Morales why what they're doing is so important.
"We talked to little kids, older women, all different people of all different backgrounds," she said. "They were saying 'thank you so much,' they were crying. It's deeper for us, it's about making women feel beautiful. Especially as a brand owner, we are responsible for making women feel beautiful. If we're going to cater to their size, we should represent them."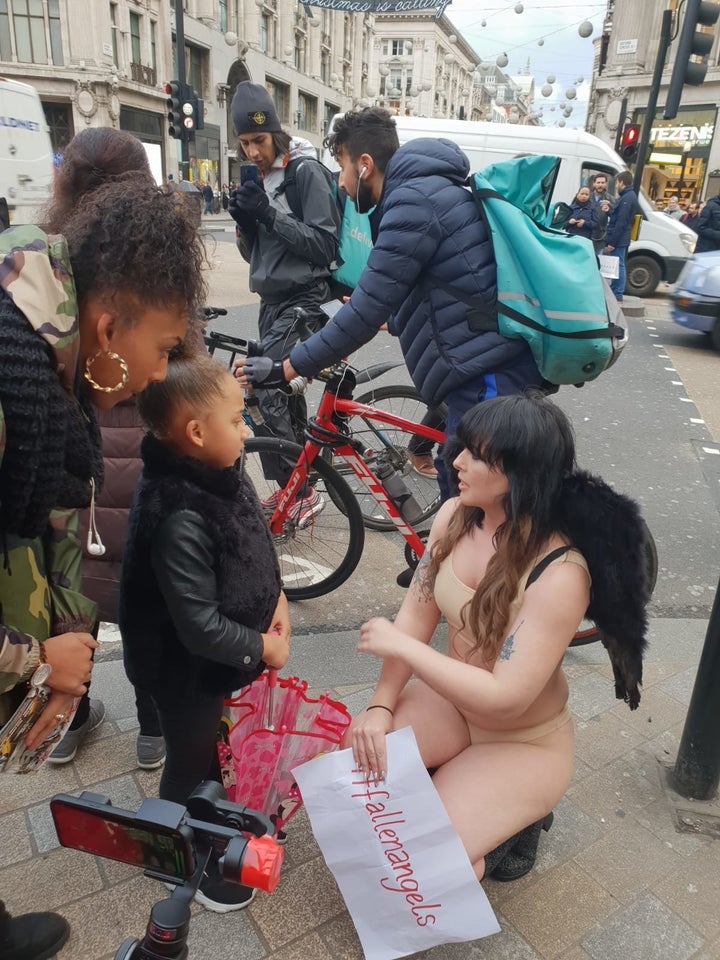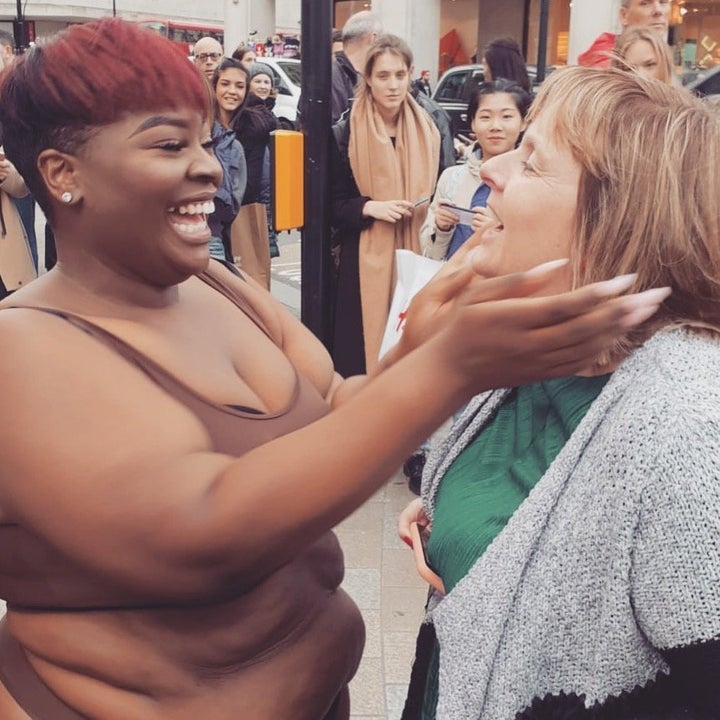 Of course, Victoria's Secret famously does not cater to all sizes, and the company's leadership has made clear its position on including both plus-size and transgender models on its runway. But brands like Nunude, which exclusively use fans and customers as models and believe in making room for all people to be included and represented in fashion, are the ones who will end up leading the charge for change.
As for the experience itself, Morales and Mac said the group was nervous beforehand ― not just because they were planning to stand in the middle of a busy street in their underwear but also because of where they chose to get into said underwear.
"We stripped inside the store," Morales said. "It was really nerve-wracking. We thought we would get chucked out. When we didn't, we were just walking around the store in our nude underwear."
"When we went out of the store and turned around to see people filming us and coming to talk to us, it was a truly amazing day," Mac added.
There has, of course, been some negativity thrown their way, as is the case with almost everything on the internet. But Mac and Morales choose to focus on the positive and stress the importance of not judging a book by its cover.
"What some of the girls have been through, it's so admirable for them to get out there for all women," Morales said. "We're doing this to show that no matter what you go through, your visible and invisible scars, you shouldn't be judged."
Popular in the Community