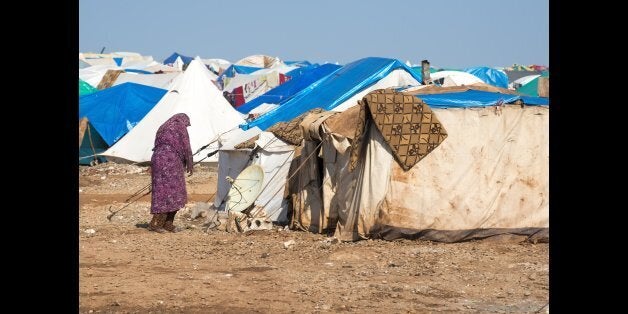 Imagine a newborn being delivered with shrapnel already buried in her brow as she and her mother miraculously survive a missile attack. This recent incident represents the grave reality Syrians are escaping. Under the scrutinizing spotlight, the U.S. has finally jumped on the European bandwagon and pledged to gradually increase the number of worldwide refugees it will accept from 70,000 to 85,000 in 2016; and eventually to 100,000 in 2017. This will allow the U.S. to fulfill its latest promise to admit 10,000 Syrian refugees in 2016. But how noteworthy is this change in policy for Syrian refugees? Just weeks ago, and before all eyes were on the tragic drowning of a 3-year-old Syrian refugee boy, the U.S. had already quietly pledged to accept 5,000 to 8,000 Syrians for resettlement. With more than 4 million Syrian refugees, these numbers contribute nothing more than hot air to the humanitarian crisis.
What many do not realize is that the UNHCR, the agency that screens candidates and initiates the U.S. resettlement process, has already selected and referred more than 17,000 Syrians for resettlement in the U.S. The security process can take at least 1 to 2 years for completion before arrival in the U.S. For hopeful Syrians who think the U.S. is slowly opening its doors, they will be in for disappointment. Despite the seemingly grand gesture, the U.S.'s new pledge will not change anything for most desperate refugees escaping Syria. In reality, only .25 percent of the ever-growing refugee population will benefit from this announcement by 2016; and slightly more in the following year, a number yet to be determined. As the "world's top resettlement country," the U.S.'s current acceptance of only roughly 1,700 Syrians since 2011 has been baffling compared to the millions that have found refuge in the Middle East and Europe. The new policy undoubtedly provides a small improvement, but it does little to alleviate the global refugee crisis.
Although the world's intense focus on Syrian refugees has begun only more recently, innocent Syrians have been dying in horrific ways on a daily basis ever since the Assad regime launched a war on its own people. In four years, the Syrian death toll has reached over 300,000. While Syrians have been desperate for a political change in the U.S.'s hands-off foreign policy, a more complex proposition, the refugee crisis can be much simpler to address in the short-term. Consistent with the U.S.'s long-established tradition in welcoming immigrants and refugees fleeing persecution, the U.S. need only to commit some additional funding and up its resettlement numbers in a more meaningful way.
Yet, as the presidential election nears, the GOP has repeatedly used fear mongering to deter Syrian resettlement efforts by warning that the U.S. will be inviting terrorists to our country. Over the years, however, the U.S. has taken in hundreds of thousands of refugees from war-torn, extremist-ridden countries, such as Iraq, Afghanistan, Somalia, Sudan, and Nepal. Screening for terrorists is not a new challenge for the U.S., which is a veteran in implementing the most sophisticated vetting procedures in the world via the FBI, the State Department, the U.S. Department of Homeland Security, and the U.S. Department of Defense. Additionally, the refugee criteria and processing priorities do not invite any open door policy - they are focused on victims of torture and persecution, women-at-risk, and individuals seeking emergency medical treatment. As Congressman Keith Ellison stated in reference to the Syrian refugee crisis, "Security protocols account for significant delays in resettlement in the U.S., but we don't have to sacrifice our humanity to ensure our security."
Many refugees, focused solely on fighting for their day-to-day survival, do not even know how to apply for resettlement in the U.S., as the process is not easily accessible or transparent for them. The initial stage requires official registration as a refugee with the UNHCR (outside of Syria), involving an interview to collect biographic data and assess the person's vulnerability. Registration is meant to provide international protection and basic assistance. The applicant may then request to be resettled in the U.S., although the actual procedure for this stage remains elusive and should be better publicized by the State Department. In assessing resettlement possibilities, UNHCR will consider whether local integration is possible in the current country; the conditions that forced the applicant to flee Syria and his or her ability to safely return; and other humanitarian considerations. However, the opportunities are statistically slim as only 1 percent of all refugees are referred for resettlement in a third country.
Refugees suffer psychological scars from losing family members and friends, watching their home get destroyed, surviving daily shelling, and being severely wounded, maimed, or even tortured. Having already faced tragedy - struggling indefinitely in overcrowded refugee camps with basic needs unmet, such as food, water, electricity, and education - life becomes unbearable once again. It is in this context that refugees flee on dangerous rafts to Europe. They did not choose a life of exile - they fled only for survival. As 13-year-old Syrian refugee, Kinan Maslalmeh pleaded, "Just stop the war, and we don't want to go to Europe."
More than 85,000 Americans have called for the U.S. to accept 65,000 Syrian refugees. 72 House Democrats have demanded the resettlement of 100,000 Syrian refugees by 2016, as a "moral duty," consistent with the recommendations of numerous refugee organizations. This appeal was followed by a similar request from over 20 senior officials urging that admitting 100,000 Syrian refugees would be a "responsible exercise in burden sharing." Additionally, more than 150 national and local refugee, human rights and faith based organizations have proposed the 100,000 figure. These numbers are a better place to start, and there is resounding support for such a change across America. The U.S. must do more than pay lip service to save face before the international community. The ability of the U.S. to regain credibility as the world's leader in refugee resettlement will lie in its proposed numbers and true impact. The U.S. does not need a divisive political solution to save Syrian refugee lives -- only one that is sincere, humanitarian, and rises to the occasion.
Calling all HuffPost superfans!
Sign up for membership to become a founding member and help shape HuffPost's next chapter