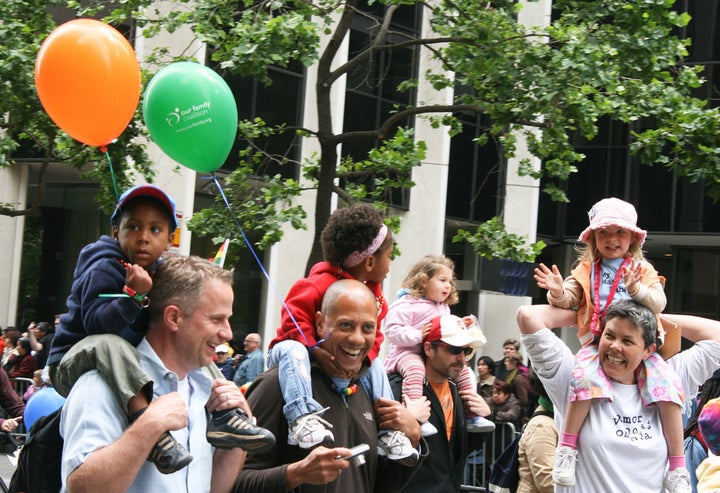 Alabama, Georgia, South Dakota, and Tennessee have all introduced or passed bills this month to limit same-sex adoption. The various bills allow adoption agencies to refuse service to same-sex couples.
The Alabama House of Representatives advanced H.B. 24 to the State Senate with a 60-14 vote on March 16. If passed, the bill would allow state-funded and licensed adoption and foster care agencies to refuse LGBT adoptive or foster parents based on the agency's "religious beliefs."
The Georgia Senate Judiciary Committee also added a discriminatory section targeting LGBT people in their adoption bill. The new amendment language, introduced by Sen. William Ligon (R-Brunswick), allows agencies to discriminate against same-sex couples and refuse to work with prospective LGBT parents if doing so meant going against their "mission."
Earlier this month, South Dakota Gov. Dennis Daugaard (R) signed SB 149 into law, allowing child placement agencies to discriminate based on "religious belief or moral conviction." The bill also protects any agency from government retaliation if they choose to discriminate against lesbian, gay, bisexual, or transgender people.
These laws do nothing but discriminate against LGBT families and hurt children in need of loving homes. According to the Children's Bureau within the U.S. Department of Health and Human Services, there are more than 400,000 children and youth in foster care. There are tons of qualified LGBT people willing to provide safe home environments for children in need, so why are these politicians working so hard to keep children in the foster care system? How does that help the kids?
There's still time to fight for LGBT families and children in need. Contact your representatives and let them know how you feel about laws that single out the LGBT community. Even if your representatives are supportive, it's still important to contact them. They need to know we have their backs when they do the right thing by supporting equality.
If you are interested in contacting your representatives, but don't know where to start, visit https://www.usa.gov/elected-officials. The website makes it easy to find the contact information for your representatives on the federal, state, and local levels.
Eric Rosswood is the author of Journey to Same-Sex Parenthood. To learn more about his book, visit www.ericrosswood.com.
Popular in the Community