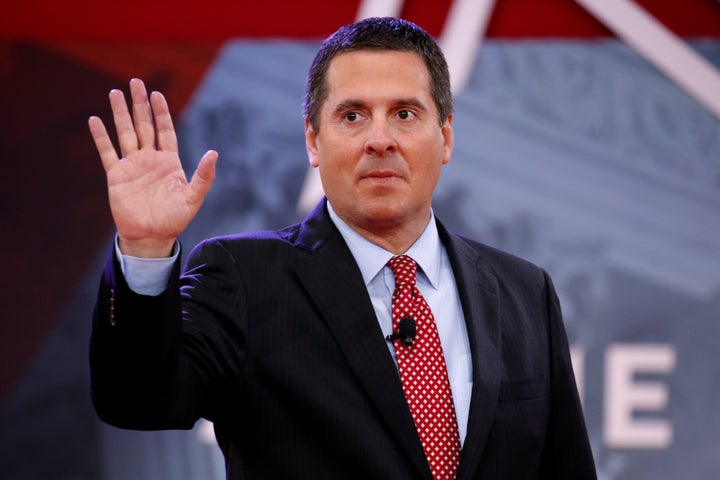 WASHINGTON ― House intelligence committee chairman Rep. Devin Nunes (R-Calif.) is continuing to raise campaign funds off of his defense of President Donald Trump, using a fundraising letter to tout a tweet in which Trump described him as a "Great American Hero" because of Nunes' work undermining the special counsel investigation into Russian interference in the 2016 election.
In the letter, Nunes writes that he's "standing strong" with Trump and asks for a donation to "take the fight to the liberals." He writes that he "exposed the real collusion between the Department of Justice, the F.B.I. and the Clinton campaign" through his work as House intelligence committee chairman.
"When Barack Obama's Department of Justice and the F.B.I. used Hillary Clinton's patently false opposition research to justify a warrant to spy on associates of the Trump campaign, I exposed the scandal and brought it to the attention of the entire nation," Nunes wrote.
The top of a fundraising letter sent to an individual in Virginia, which was obtained by HuffPost, promotes a tweet Trump sent about Nunes' work:

That tweet was sent after Nunes appeared on "Fox & Friends" in February, when Nunes falsely said the president had never met with George Papadopoulos, the former Trump campaign foreign policy adviser who has pleaded guilty to lying to the FBI and is working with special counsel Robert Mueller's team.
Nunes says in his letter that he has "earned the hatred of revenge-driven members of the Democratic leadership cabal and the Far Left media." He said he has faced an "onslaught of lies, propaganda, attacks, slurs and smears," that Democrats had "come unhinged" in their attacks on him and that he was up against "liars, propagandists and hypocrites from the Far Left fringe."

Nunes' campaign did not respond to HuffPost's request for comment.
"It's clear my opponent is only interested in pleasing the President," Janz told HuffPost in a statement. "He takes great satisfaction in voting against our interests and stands by devastating tariffs placed on our farmers to serve Trump and his billionaire buddies. There's nothing heroic about that."
Nunes' seat in the House no longer considered a "safe Republican" seat, according to Sabato's Crystal Ball.
Liz Mair, a Republican strategist with the Swamp Accountability Project, a group that is running ads against Nunes, called the letter "mostly a political stunt undertaken to beef up direct mail appeals to rich Beltway donors to try to help him get through a tough cycle in which he faces a potentially viable opponent for the first time in a long time"
"Nunes is positioning as an opponent of the 'Deep State' as a matter of political convenience because a Democrat has made his district potentially competitive, and Nunes is not well-liked among California conservatives— another reason why he has to ask for money in Virginia," she said.
This article has been updated with comment from Mair.
Ryan Reilly is HuffPost's senior justice reporter, covering the Justice Department, federal law enforcement, criminal justice and legal affairs. Have a tip? Reach him at ryan.reilly@huffpost.com or on Signal at 202-527-9261.
Popular in the Community