WASHINGTON ― House Intelligence Committee Chairman Devin Nunes (R-Calif.) met a source on White House grounds last week, one day before he alleged that President Donald Trump and his team were subjected to surveillance during the final months of the Obama administration.
Nunes met the source on White House grounds in order to view sensitive information in a "secure location," Jack Langer, Nunes' communications director, said Monday in a statement, CNN first reported.
There are sensitive compartmented information facilities ― known as SCIFs ― on Capitol Hill. But using a congressional facility would have required the source to illegally transport the documents, Langer told The Huffington Post.
"The information comprised executive branch documents that have not been provided to Congress. Because of classification rules, the source could not simply put the documents in a backpack and walk them over to the House Intelligence Committee space," he wrote in an email. "The White House grounds was the best location to safeguard the proper chain of custody and classification of these documents, so the Chairman could view them in a legal way."
Only individuals with specific approval can enter White House grounds.
Langer's explanation of why Nunes met his source on White House grounds is "disingenuous and misleading, at a minimum," Bradley Moss, a lawyer specializing in national security law, told HuffPost.
"There are countless intelligence officials who are authorized to transport classified materials between facilities using secure lock bags," Moss said. "It would be reasonable to expect that someone who has unsupervised access to surveillance orders located on a classified network would also have been designated as an authorized courier."
In an interview with CNN's Wolf Blitzer on Monday evening, Nunes insisted there was nothing "clandestine" about his visit. He also denied coordinating with White House officials and said he is "quite sure people in the West Wing had no idea I was there."
He declined, however, to say who in the executive branch cleared his visit.
Nunes also wouldn't say which Trump associates were named in the intelligence documents he reviewed on the White House grounds but said they had "nothing to do with Russia."
The revelation about Nunes' White House visit adds to speculation that he coordinated with Trump's team before making allegations about the previous administration's information-gathering.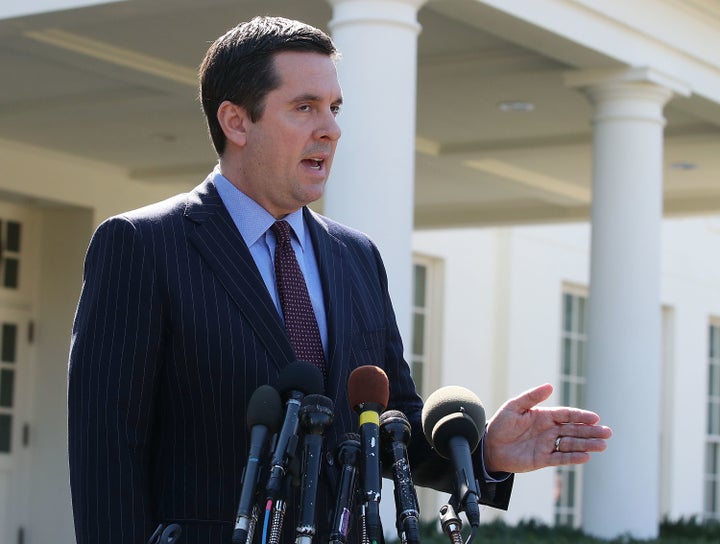 The day after meeting with his source, Nunes told reporters that he had viewed several dozen reports showing that members of Trump's team ― and possibly the president himself ― were the subjects of "incidental" collection during routine surveillance targeting suspected foreign spies. He said the surveillance was legal but that he was concerned that the names of Trump surrogates were "unmasked" in internal intelligence reports. After briefing reporters, Nunes went to the White House to share his revelations with Trump, whose team is being investigated by the FBI for possible ties to Russian government officials who allegedly interfered in the 2016 U.S. election.
Asked several times last week to confirm that he did not receive his information from the White House, Nunes avoided answering directly.
"You can ask me every single name that exists on the planet and I'm still not going to tell you who our sources are," he said Friday.
After Nunes' White House visit was made public on Monday, he told BloombergView that his source was an "intelligence official," not a member of the National Security Council.
Democrats viewed Nunes' disclosures as a political stunt aimed at rehabilitating Trump's credibility after the FBI director and a bipartisan smattering of lawmakers ― including Nunes himself ― disavowed the president's claim that Obama wiretapped Trump Tower.
Senate Minority Leader Chuck Schumer (D-N.Y.) on Monday called on House Speaker Paul Ryan (R-Wis.) to remove Nunes from his position as head of the House Intelligence Committee. "Chairman Nunes is falling down on the job and seems to be more interested in protecting the president than in seeking the truth," Schumer said.
House Minority Leader Nancy Pelosi described Nunes last week as being "deeply compromised" and accused him either being "duped" by the White House or acting as a "willing stooge." Rep. Adam Schiff (D-Calif.), the ranking member on the intelligence committee, repeated previous calls for an independent commission to investigate ties between the Trump campaign and Moscow.
Nunes, who was a member of Trump's transition team, did not notify Schiff or other committee members before his announcement last week. He denies that he is unfit to lead the committee's investigation into Russian election interference because he says the reports he viewed do not mention Russia ― but he has not shared those reports with other members of the committee.
Nunes and Schiff asked the heads of the National Security Agency, the FBI and the CIA earlier this month for information about Americans who have been named in internal intelligence reports after being swept up in surveillance efforts. Nunes told reporters he expects to receive a response early this week.
The chairman has backed down from his most explosive claim ― that Trump was personally subjected to incidental intelligence collection ― saying he won't know for sure until he hears back from intelligence and law enforcement officials.
Mollie Reilly contributed to this report.
This article has been updated as more information has become available, including with comments from Langer and Moss, and Nunes' interview on CNN.
CORRECTION: This article previously misattributed Nunes' statement to Bloomberg to the Daily Beast.
Before You Go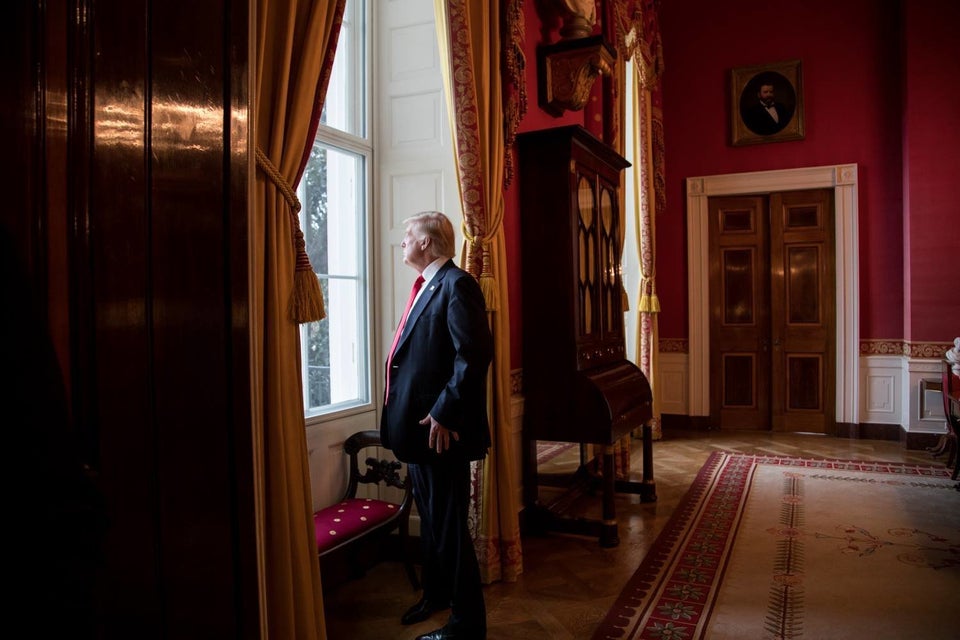 Trump's First 100 Days
Popular in the Community