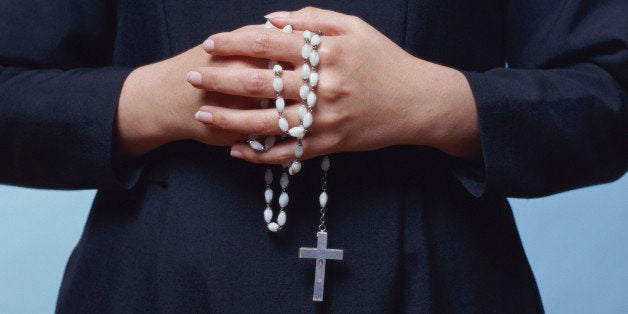 My first encounter with nuns was in the first grade. We moved to Ann Arbor, MI when I was five, and after Kindergarten at St. Francis -- what I would consider to be a normal Catholic school, my mom switched us to Spiritus Sanctus Academy, where I wore a red, white, and blue, plaid jumper, saddle shoes, and got more than one detention for forgetting to wear socks.
Sister Mary Samuel was the principal. She gave 30-40 minute lectures after daily morning mass. Those hours were the ones in which I matured the impish side of my character. I would pick blades of grass on my way in to chapel and pet them on the edges of my fellow first graders' ears in the pews in front of me. They thought the place was infested with flies for years.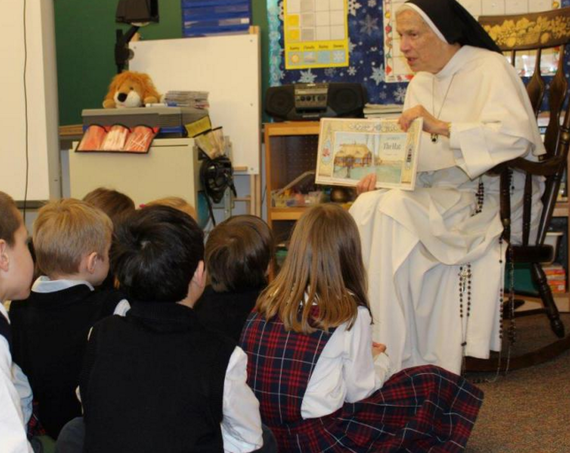 All to say -- the nuns at SSA were Dominicans -- the stereotypical nuns that you most likely envisioned when you read my title. White habits with long sleeves, draped to just above the ankles, and black veils, creased at the crown of the head. They were strict, but also fun. Sister Mary Samuel went sledding with us in the winter. But, she was always trying to keep me in check. A few too many visits to her office and notes sent home culminated in her politely asking my mom if we would leave the school because I "had too much personality."
My encounter with nuns sprinkled through my adolescence but the interest didn't consciously surface until last year, when Natalie Heneghan asked me if I would help her host a film screening on campus through Mac Catholics of the documentary, Band of Sisters. At first, my childhood taste of nuns made me skeptical of the idea. But when Natalie explained the premise of the film, and her interest in the social justice work that nuns are doing today, I got on board. The plot line was about the development of nuns from the traditionally cloistered to the post-Vatican II diverse orders and lifestyles.
Before Vatican II, nuns had to be cloistered, which means living insularly in a convent. But then, Vatican II unleashed them, allowing nuns to work and be active members of society, in a variety of contexts. When Natalie and I were meeting to plan the event, it occurred to me that Jill, a Sister of St. Joseph, who is our Catholic chaplain -- was a nun! She was just so different from the Dominicans... it was hard to associate the two together under the same category of 'nuns' in my mind.
Many people at my school think of nuns as an archaic idea. "Nuns still exist?" My roommate asked the other day after I told her I was going to visit the Visitation Sisters of North Minneapolis. YES! Nuns exist and they are badass. Nuns are thriving and doing so much good -- healing so many facets of their communities and the people in them who are hurting, who were destined to the margins, who are poor. Nuns are social justice warriors.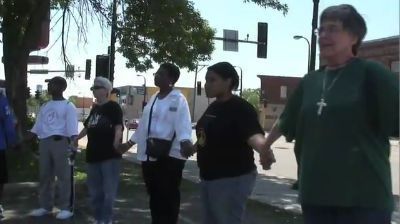 The Visitation Sisters were founded in 1610 in Annecy, France by St. Francis de Sales and St. Jane de Chantal. They were a cloistered order originally, but in 1988, a group of sisters discerned to start an urban monastic community in Minneapolis where they would live an active apostolate by expressing their mission by committing themselves to the economically challenged and marginalized. Their mission is to "Live Jesus." Their Salesian spirituality is based on spending time in prayer - heart to heart, with God. Their focus is simplicity. They seek holiness through relationships. Their ministry is a ministry of presence -- to be a positive light in their neighborhood. Their website states:
Our mission has remained constant, while the focus has shifted with varying neighborhood needs, demographic changes and emerging gifts and talents of the individual sisters. When we came to Minneapolis' North Side, our initial outreach was toward neighborhood children. We would hang a colorful windsock on our porch six days a week to signal to the children that they were welcome to come and visit, play and pray with the sisters and one another. Over time, we expanded our ministry to families. We presently offer education sessions, such as cooking and nutrition, finance and budgeting, college preparation, etc. for neighborhood teens. We are closely connected to supporting neighborhood groups engaged in advocacy for nonviolence.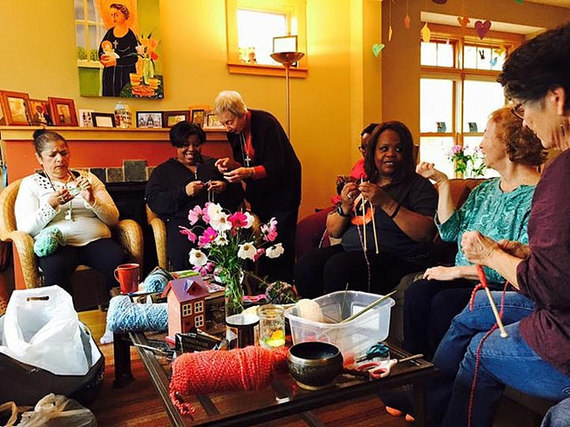 The members from their community presented them with a homemade, honorary plaque that said:"'To the nuns in the hood from the community." And their photo gallery is proudly labeled: Nunz in the hood.
I paid them a visit last Sunday. I am interested in their internship program, which is a year of service working with an organization in the neighborhood and engaging with the sisters in their spirituality and mission.
"You're not going to become a nun, are you?!" My friend Rach said when I told her that I was looking into the program.
I don't know what I am going to become. I know that for most young adults, the thought of becoming a nun is probably a weird one -- uniforms, celibacy, no family, no thank you. Probably a misunderstood one -- with little knowledge about who contemporary nuns actually are and what they do. But think about it...
Being a nun opens up a unique way of life. One in which you can actually throw your whole self into your neighborhood, your work, your service. It's a communitarian way of life, but in a way that's freeing, not scary, since you choose the lifestyle, mission and spirituality of the order. Your fellow sisters become your family, your home base. The money you make is put into a communal pot -- you never see your paycheck. You eat together, pray together. You support one another in the work each is doing.
"But don't you want to get married, have a family?" Rach continued.
Ehh, not unless I meet a super awesome dude that I want to be my partner in life. My perspective has always been chronologically logical. I think many people have the idea of the structure of their vocation before they have found the content. As in, they want to have a family; therefore, they wait and date until they decide to take the plunge. For me, it has always been -- I will know if I want to get married to a person or an order, when I meet the right one at the right time. Until then, I'll just continue to follow the rhythm.
REAL LIFE. REAL NEWS. REAL VOICES.
Help us tell more of the stories that matter from voices that too often remain unheard.