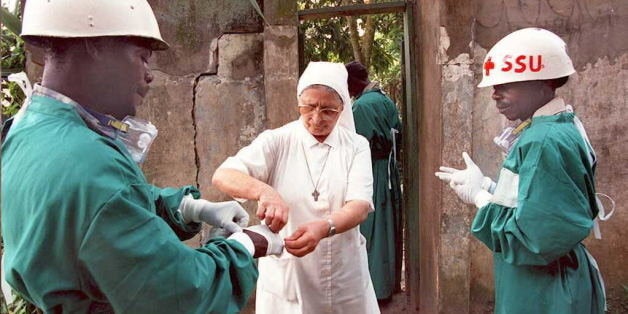 I believe that the west is looking at the Ebola epidemic in West Africa through the wrong end of the telescope. The Ebola outbreak is a public health problem or more precisely an international public health failure. As someone who first visited Sierra Leone in 2009 as a member the UK board of the International Rescue Committee, I saw firsthand what the healthcare system consisted of.
Upon visiting hospitals and schools in Sierra Leone it was clear that the main group making a difference to public health and education are a small group of Catholic nunswho are trained nurses and educators. Without their efforts and expertise, there would be little public health in much of Africa. The few Catholic orders present in this part of Africa are involved in primary, secondary and tertiary education as well as counseling, trauma healing and Montessori education. They also collaborate with CARITAS, Red Cross S/L and the church to fight Ebola, and care for the material and physical needs of people in communities and quarantined homes. As author Paul Theroux says in his books, "fund the nuns -- they deliver."
The nuns (who cannot be named for their safety) I met in Sierra Leone continue to be courageous in the face of the current adversity and work in circumstances that would defeat most people. In one case the local school did not even have a roof in a country where it rains 6 months a year. Still they don't give up working on a shoe string.
The other day I received an Ebola update from a nun who works at a secondary school in the Eastern region of Sierra Leone. The Sister wrote:
"We are surviving the Ebola situation thanks to the love and prayers of dear ones like you. Please keep the prayers going. The situation today got pretty scary yet we continue to courageously face and embrace what each day brings because I know it is by trusting in His grace and Will that we conquer. Where do I begin from? It's living in hell! I think I now know what hell feels like! Its worse than the fire we imagine in our young minds years past from catechism class! I pray daily for the people as they are more exposed and vulnerable and I trust God will bring this to an end soon. Today, we lost a student the first after all these months. The other six students who picked up the virus got well and we were thankful but today, several weeks after the death of her parents, we lost Juliet Fatima. It's been a sad day for me and all I can imagine is the misery surrounding her death. May God lead her to His Region of Light and Peace. Stay blessed and know I care and God loves us both."
The existing health care funding in Sierra Leone is not producing results and the scandal appears to be a western one for not funding the right objectives, and for funding programs that do not deal with the long term.
Sierra Leone health care system ranks among the worst in Africa, in spite of the fact that most Foreign Government Agencies are represented in Freetown and other parts of the country. The nation remains at the bottom of the UN Human Development Index with a very poor and despicable health care situation.With a proper public health system, the epidemic would already have been contained. That is if Western Aid had done the right thing.
This post is part of a special series produced by The Huffington Post in recognition of the threats posed by Ebola, particularly to West Africa. To see all the posts in the series, read here.
REAL LIFE. REAL NEWS. REAL VOICES.
Help us tell more of the stories that matter from voices that too often remain unheard.