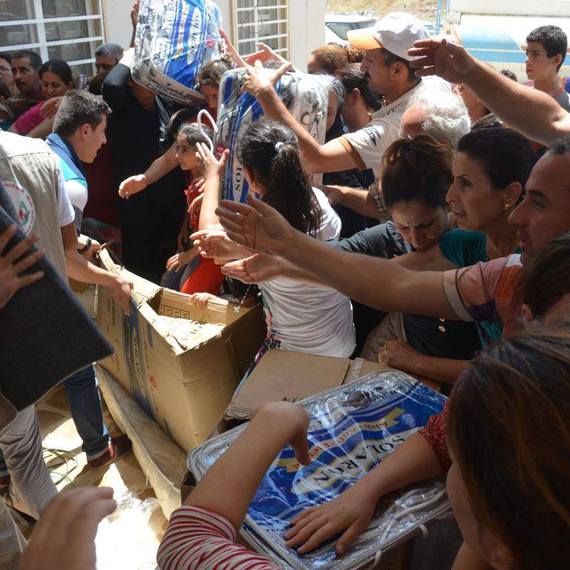 "Kiss his hand, call him father priest, behave yourself, stop embarrassing us," this I was told many times as a child and am still told to this day.
The clergy, including monks and nuns, should be given extra respect. It is difficult to adapt to that in a country like Sweden, where I grew up. Swedish tradition is that no one should fee little more superior and get more respect than others. So to be kissing someone's hand because they are a priest just felt strange. But we did, for the most part, reluctantly. Over time, the priests themselves refused to let us kiss their hands. Even they thought that it felt uncomfortable. It was a tradition that had been with us from the homeland, and we were fine without it here at home.
Yesterday, I kissed my great-aunt Seydi's hand. I usually always do the few times a year I meet her. She was at my great-aunt Rihane's memorial service, whose hand I also usually kissed, before she passed away. She, like Seydi, would usually draw it away, as if to say she is not worthy of the respect.
About a month ago, two monks in a monastery in Iraq declared that they refuse to leave, even though the terrorist organization ISIS was approaching the city in which the monks resided. They had decided that they would rather be kidnapped and killed than leave the 1,600-year-old monastery. The same monks fought around the clock to help refugees who had fled from a different city to the one they were in. Now, the refugees have fled again, to a new church in a new city.
Yesterday, I spoke with a church in Homs, Syria. Thousands of Christians have fled the city after 227 Syriac Orthodox individuals were kidnapped by ISIS in Qaryatain, a town nearby. The leaders of the church are in panic, there is chaos in all the churches in Homs as people arrive in flocks. They need water, food and medicine. The refugees arrived with only the clothes on their backs as they fled.
We at A Demand for Action asked for photos of the newly arrived. The horror on the faces of the refugees, the fatigue in their bodies, and the cry for help in their eyes leaves no one indifferent. Something else that will not leave our minds are the fighting spirits of the priests, monks and nuns. They run from one to the other. They carry, work, and toil. They hug, kiss, and comfort the refugees.
Weseequitea lot of The Red Cross, Save the Children, and the UN's relief work. but how often do we see any of the churches? Rarely.
I have often heard monks and nuns being made fun of. As a child, I myself might even have thought or did. Today I am ashamed. They are modern-day heroes. No. They have always been heroes. It's just that we, who are growing up in the Western world, do not see it, do not feel it. Obviously there are exceptions, they are human, like the rest of us. There are good and less good, even among them.
In the future, for the same reason I kiss my aunt Seydi's hand, because she is a good person, a true fighter, and instills security wherever she is, I will have no problem kissing the hands of nuns, monks, priests and civilians trying to save lives in the Middle East as volunteers.
Calling all HuffPost superfans!
Sign up for membership to become a founding member and help shape HuffPost's next chapter