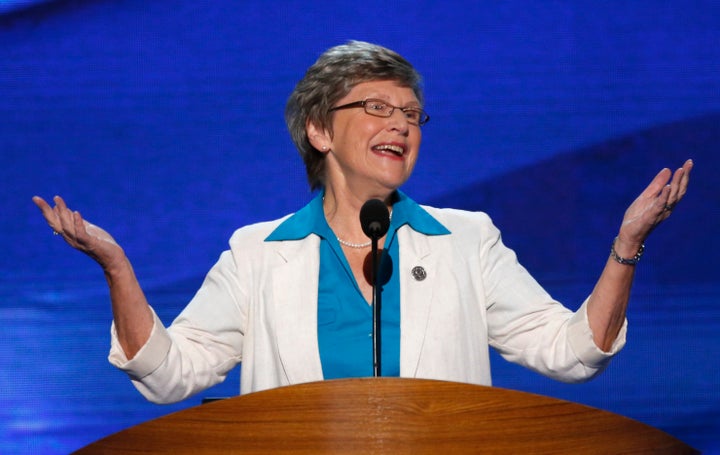 For the sixth time since 2012, a Catholic social justice group is sending a group of religious sisters across the country on a bus tour ― this time to protest against the GOP tax law ahead of the midterm elections. The 27-day, 54-event tour is set to hit 21 states, including a slew of competitive congressional districts. The tour will end with a "Fiesta for the Common Good" outside of the Trump-owned Mar-a-Lago resort in Florida.
The goal of the October tour is to highlight GOP House members' support for the $1.2 trillion tax cut law, which is unpopular in public opinion polling. Critics have assailed the law for increasing the budget deficit and income inequality. The law remains popular in some Republican-leaning states and with the GOP's donor class but hasn't proven to be the midterm winner many GOP operatives hoped.
"We're going on the road to hold members accountable for their votes," said Sister Simone Campbell, the executive director of the NETWORK Lobby for Catholic Social Justice and a member of the Sisters of Social Service. "When Republicans in Congress passed their tax plan into law last fall, we knew it was rooted in the fallacy of trickle-down economics. Now, we've seen the results of structuring tax policy to favor the biggest corporations and the wealthiest individuals in our nation."
Among the GOP members targeted by the tour is Rep. Martha McSally, who is likely to be the Republican nominee in Arizona's hotly-contested Senate race; California Rep. Mimi Walters, who is facing a challenge from law professor Katie Porter, a protege of Massachusetts Sen. Elizabeth Warren; Colorado Rep. Mike Coffman; Florida Rep. Carlos Curbelo; Iowa Rep. Rod Blum; Illinois Reps. Peter Roskam and Mike Bost; Michigan Rep. David Trott; Nebraska Rep. Don Bacon; Virginia Rep. Barbara Comstock and New York Rep. Claudia Tenney, a top Trump ally.
Along the way, the nuns will also lobby members of Congress, meet with social service agencies dealing with budget cuts and hold town halls to hear how the tax cuts are impacting communities.
Campbell and Network are controversial among Catholics – the group's silence on abortion rights was singled out in Vatican report in 2012 that warned of "radical feminism" influencing American nuns. The group's support of Obamacare also broke with the nation's Catholic bishops, who opposed the law for funding abortion.
Support HuffPost
The Stakes Have Never Been Higher
Popular in the Community