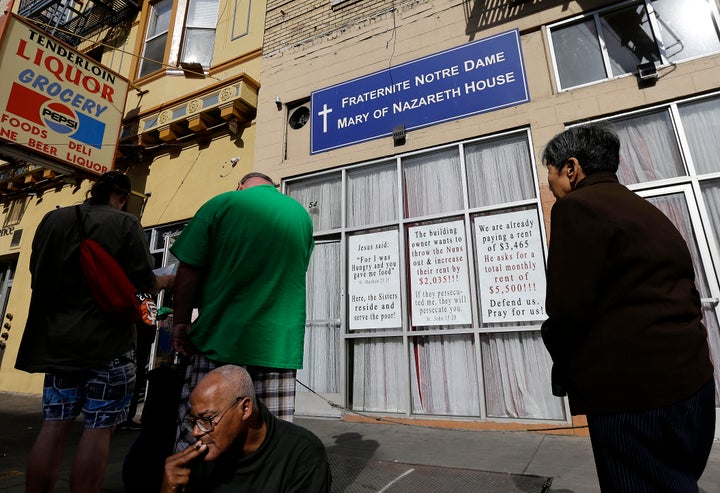 SAN FRANCISCO ― Two nuns who run a soup kitchen for the city's needy may soon lose their home because of a steep rent increase.
The storefront in the grimy Tenderloin neighborhood isn't just a home for Sister Mary Benedicte and Sister Mary of the Angels. It's also their base for serving 300 hot lunches three days a week to the homeless. The French-speaking nuns also provide dinner to roughly 300 destitute people each week, according to the nuns' website.
But their ability to deliver those meals was jeopardized last month, when their landlord raised the rent by 58 percent, said the nuns' pro-bono attorney, Daniel Fitzpatrick. The rent went from $3,465 to $5,500 a month.
Landlord Nick Patel reportedly told the nuns on Jan. 29 that they must pay up or vacate the premises. However, Patel's attorney, Michael Heath, told The Associated Press on Tuesday that "no eviction is going forward" and said the landlord will meet with the sisters when he returns from traveling this week. 
Heath did not immediately reply to calls from The Huffington Post.
The Tenderloin has historically been a lower-income neighborhood with many transients. But surging rents throughout the city have brought the real estate crunch to this hardscrabble pocket sandwiched between downtown offices and upscale Hayes Valley.
"They're inspiring people. They keep their heads down and make their pastries. Night and day, they just cook," Fitzpatrick said. "They're looking for people in need. That's their calling. "
Fitzpatrick said he believes the landlord's attempt to increase the nuns' rent violates city housing regulations. Even though they had a commercial, month-to-month lease, the hike should have been capped at 2 percent as it is for residential properties, he said, because Patel knows the sisters live there. 
The nuns are from the Fraternite Notre Dame order and have operated their mission in San Francisco since 2008. They use donated foods to prepare their meals, which also get delivered to senior citizens and homebound AIDS patients. 
Fraternite Notre Dame was founded in France in 1977 and has missions in the United States, Niger and Haiti, according to its website.
This story has been updated with comment from the nuns' lawyer, Daniel Fitzpatrick.
Calling all HuffPost superfans!
Sign up for membership to become a founding member and help shape HuffPost's next chapter