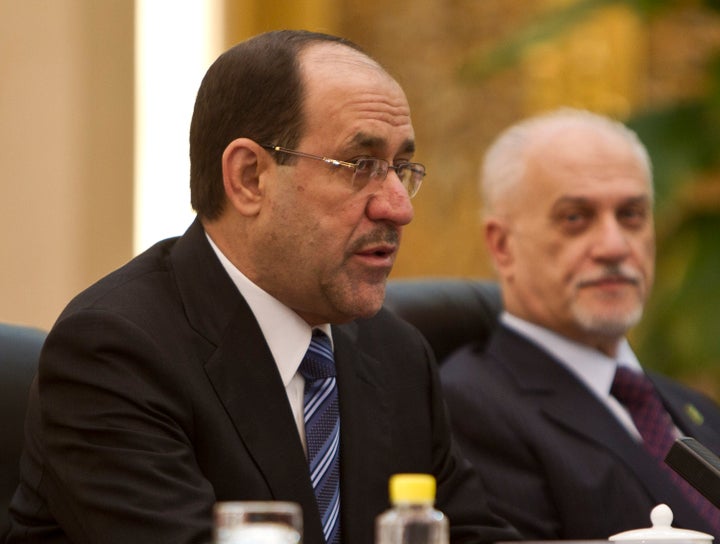 BAGHDAD, July 30 (Reuters) - Prime Minister Nuri al-Maliki won parliamentary approval on Saturday to trim the size of Iraq's government by cutting more than 10 ministries in an effort to meet popular demands for more efficiency and better basic services.
The measure could stir tension in his cross-sectarian government, where critics accuse Maliki of seeking to consolidate his position by doing away with posts belonging to opposition parties such as the Sunni Muslim-backed Iraqiya.
Many Iraqis, encouraged by protests sweeping the rest of the Arab world, earlier this year took to the streets to demand improvements in public services and the food rationing system, and call for an end to corruption.
The current cabinet has more than 40 posts, including 16 ministers without portfolio.
"The parliament voted to cancel all ministries of state without of portfolio, except three," Sadiq al-Rikabi, a lawmaker and top aide to Maliki's Dawa party, told Reuters.
Maliki said a second stage would merge other ministries that were carrying out similar work, such as those for agriculture and irrigation.
Iraq's power-sharing coalition consists of Sunni, Shi'ite Muslim and Kurdish parties who formed a government in December nine months after an inconclusive election.
Any increase in political tension would hamper the coalition just as it tries to decide whether to ask some U.S. troops to stay in Iraq beyond an year-end withdrawal date, more than eight years after the U.S.-led invasion that ousted Saddam Hussein.
Violence has eased since the peak in 2006-07 but Sunni and Shi'ite militias still carry out attacks, killings and bombings almost daily in the OPEC oil-producing country.
Maliki gave his ministers 100 days from late February to find solutions to the main complaints of Iraqis. But that deadline expired without many signs of improvement and protests have since sputtered out. (Reporting by Waleed Ibrahim; writing by Patrick Markey; editing by Mark Heinrich)
Calling all HuffPost superfans!
Sign up for membership to become a founding member and help shape HuffPost's next chapter