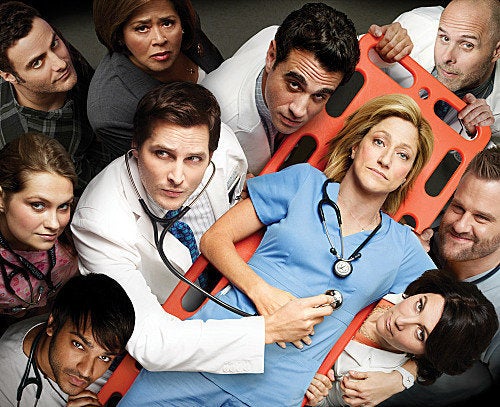 Indian-American actor Arjun Gupta describes Sam, the character he portrays on Showtime's dramedy Nurse Jackie, as a recovering drug abuser who's simply trying to live his life with both feet on the ground. "In other words, I'm not a terrorist, computer nerd, doctor or emasculated male," he says. "These are the handful of archetypes that Indian actors typically get cast to play."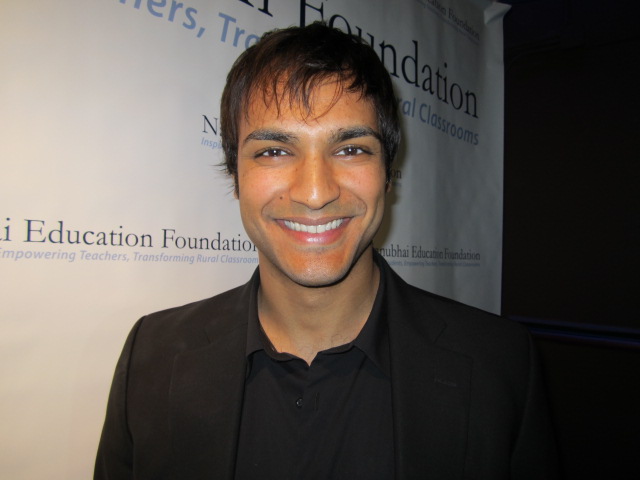 Image courtesy of Coeli Carr
I caught up with Gupta late last week when he was a supportive presence at the fourth annual gala of the Nanubhai Education Foundation, an organization dedicated to education reform in rural India.
"I like fragmenting what it means to be Indian in this country," says Gupta. As a nurse on the graveyard shift with substance-abuse tendencies -- not your more Indian-friendly physician type -- Gupta is going against the grain. "When you see American actors, you associate them with playing hundreds of different characters, but Indians in the media are usually portrayed in limiting ways."
Prior to Nurse Jackie's second and third season, he trailed a nurse at Bellevue Hospital in New York under the guise of a potential nursing-school applicant. "One year, one of the male nurses there was very excited to see a man who was considering entering the profession and he tried very hard to recruit me," says Gupta. "I don't think we honor nurses enough, and any ridicule of male nurses comes out of male insecurity." On Nurse Jackie, Sam -- in sly it-takes-one-to-know-one mode -- was the first person who sized up Jackie (Edie Falco) as a drug abuser.
If a male nurse trying to hold on to his sobriety is a more "everyman" type of archetype that Gupta hopes viewers will see Indians increasingly portray, it's worth recognizing that, as few as nine years ago, only a handful of actors of Indian ancestry had small screen visibility at all.
Parminder Nagra, who'd starred in Bend It Like Beckham, was playing Dr. Neela Rasgotra -- there's that physician archetype again -- on ER (she played another professional on this season's Alcatraz). Ravi Kapoor played Dr. "Bug" on Crossing Jordan (and would later portray yet another medical professional on Heroes). And Hank Azaria was voicing Apu -- a more plebeian convenience-store owner -- on The Simpsons.
Today the terrain has vastly expanded. Emmy winner Archie Panjabi -- Nagra's character's sister in Bend It -- plays Kalinda Sharma on The Good Wife. And millions of viewers have tuned in to see Mindy Kaling (The Office), Aziz Ansari (Parks and Recreation) and Danny Pudi (Community). Click here for a longer list of Indian actors and actresses created by entertainment web site imdb.com.
Gupta, raised in Tampa, Florida, and now living in East Williamsburg, in Brooklyn, is now shooting a small role as a D.J. in the movie Stand Up Guys, starring Al Pacino and Christopher Walken. Ossining, a film in which he stars as a visual artist making his way through the art scene in New York, is in post-production.
"I audition for all roles," says Gupta. "I believe the paradigm that viewers will accept on television and other media -- like an Indian actor in a leading role -- is changing. People are now relating to a character and say, 'Oh, yes, that's viable.'"
Popular in the Community