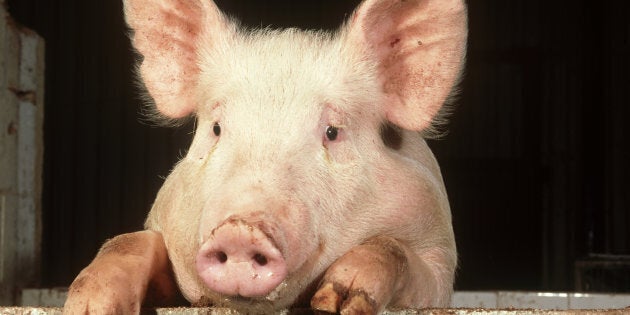 There's nothing quite like the awesome power of the internet.
It opens up an entire world of information (and misinformation) right at your fingertips. It gives you the ability to communicate with unprecedented speed and access. It allows you to order new towels, your kid's entire fall wardrobe, and this week's groceries with just a few clicks during your bathroom break.
It could also ruin your entire childhood in a single tweet.
This week, people were haunted by the realization that the popular toe-tickling nursery rhyme "This Little Piggy" might not be about some friendly piggies going shopping, eating lunch, and otherwise having lovely piggy days.
No, the cute rhyme we all learned as children (likely while counting our toes) and tickle our own babies with (wee wee wee, all the way home!) might actually be about death and slaughter.
It all started with a tweet on Monday about the nursery rhyme. The words of the well-known tale go:
This little piggy went to market,
This little piggy stayed home,
This little piggy had roast beef,
This little piggy had none.
This little piggy went wee, wee, wee,
Adorable, right? Well, hold onto your bacon.
"I'm 22 years old & I just realized that 'This little piggy went to the market' doesn't mean he went food shopping," Samantha, from Brooklyn N.Y., wrote on Twitter.
But, of course. He didn't go to THE market. He went TO market. HOW WERE WE SO BLIND.
That tweet quickly went viral — a retweet from author Roxane Gay didn't hurt — as more people realized the possibly "devastating" interpretation. This little piggy was sold to the slaughterhouse, this little piggy's turn will come, this little piggy was forced to eat his cow friend to get fattened up, this little piggy starved, and this little piggy screamed in terror all the way home to await his fate.
Although variousanecdotalwebsites come to the same conclusion over the meaning of "This Little Piggy," HuffPost Canada was unable to verify whether the dark death and slaughter interpretation is legitimate or just a soul-crushing internet trending topic.
But, because ruining one childhood memory isn't enough, the people of the internet came through with more nursery rhymes and their possibly sinister meanings.
We could barely bring ourselves to look this one up. (It's supposedly about torture, NBD).
Never look onto "Mary, Mary quite contrary" whatever you do!

Oh, Humpty Dumpty was a cannon by the way. 😊

— Englishcountrylife (@engcountrylife) August 22, 2018
But some people are still holding onto hope that it's all a lie, and the little piggy really did go shopping.
Related