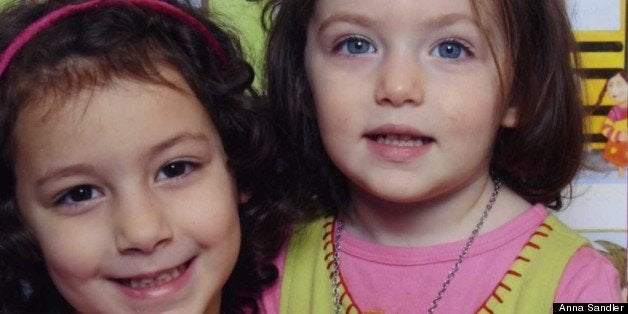 Today was my daughter Molly's last day of nursery school. She came home with a whole bag full of preschool swag, stuffed with the minutiae that made up her classroom days.
She dumped it all out on our living room floor, and then solemnly explained each piece to Kelly, her 2-year-old little sister.
"This is where I sit during Circle Time," she said and pointed to the mauve carpet square.
"And this," Molly told us dramatically, "is my name tag. It goes on the back of my chair." We all admired her name, carefully written in labored 4-year-old script.
"Do you know what this is?" Molly asked Kelly, holding up a clothespin with Molly laminated across a bee's wings. Kelly shook her head. "This is how the teacher knows if I am here," said Molly, as she helpfully demonstrated the open-and-close mechanism of the clothespin, all the while careful not to crush the bee's wings.
And as the wings of the bee opened and closed before me, I recalled all those days I had taken Molly to school, and had never given a single thought to her moving the bee clothespin from the "out" side to the "in" side as she walked through the classroom door each morning.
The bag was now empty save one last item, her handmade, beaded Shabbat Ima necklace, complete with nameplate inscribed with Varda, her Hebrew name. It plonked down on the floor, and then in a moment of big sister kindness, she handed it to Kelly, "I don't need this anymore. You can wear it."
All these things were in Molly's nursery school classroom day in and day out, and of course, amongst the bustle of a rainy Tuesday morning or a hurried pick-up on the way to a dentist appointment, were the most mundane things in the world.
Now, out-of-context and lying around our apartment floor, they became instantly, and overwhelmingly, touching.
And like so many things with one's child's childhood, I am suddenly filled with regret for every moment this past year that I complained about, rushed past or simply didn't appreciate.
It hit me all at once that my daughter's days of attending a small, cozy Jewish preschool were over. In three short months, Molly would enter kindergarten at a large New York City public school.
And I vowed to remember how I felt today, and to do things all so very differently in the year --
and years -- ahead.