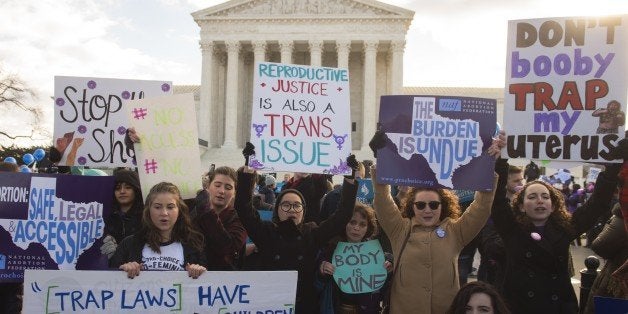 Today, the nation's highest court will hear Whole Woman's Health v. Hellerstedt, a case that will determine whether the state of Texas can shut down nearly all abortion care providers in the state, placing countless women at risk of serious harm and forcing health professionals to provide substandard care.
Furthermore, if H.B.2 is allowed to stand without any evidence that it promotes health and safety, states will be encouraged to enact other ideologically motivated laws that force nurses and doctors, under the threat of sanctions, to violate their professional and ethical obligations.
Put simply, laws like this make it nearly impossible for a woman who has decided to end a pregnancy to get the safe, legal, high-quality care she needs. The very point of the restrictive Texas laws -- which single out abortion providers for special regulations that are not applicable to other medical procedures -- is to make abortions practically unavailable in the state.
Unfortunately, such laws have been repeated in many other states to restrict other essential women's health services that create undue burdens for poor women especially Latinas and Black women.
Playing politics with a woman's health is both wrong and dangerous, according to the American Nurses Association and the American Academy of Nursing along with 45 organizations (including the American Medical Association, the American Congress of Obstetricians-Gynecologists and a diverse group of public health, legal, business and religious organizations).
This unprecedented collection of diverse and influential U.S. organizations and individuals have filed 45 amicus curiae (friends of the court) briefs urging the Supreme Court to reject Texas' clinic shutdown law (H.B.2), upholding a woman's constitutional right to access safe and legal abortion services, and opposing medically unnecessary restrictions on clinical practice.
Read about what's at stake for nurses and women's health in a recent article by the American Academy of Nursing's President Dr. Bobbie Berkowitz and the Women's Health Expert Panel. Nurses, as health care professionals dedicated to supporting the health and safety of their patients, recognize that legislation restricting patient access to abortion keeps us from providing the patient care we are trained and dedicated to provide.
Both the American Nurses Association and the American Academy of Nursing stand in strong support of every woman's fundamental right, as repeatedly affirmed by the Supreme Court in the four decades since Roe v. Wade, to make her own decisions regarding her pregnancy with the advice of a health care professional she trusts, and without interference from politicians who presume to know better.
Additional information on how political interference with reproductive health care harms women:
Co-authored by Diana Taylor PhD, RN, FAAN, professor emerita, University of California, San Francisco; Monica McLemore PhD, RN, MPH, assistant professor, University of California, San Francisco; Candace W. Burton, PhD, RN, AFN-BC, AGN-BC, FNAP, assistant professor, Virginia Commonwealth University; Teresa Hagan, PhD, RN, post-doctoral research fellow, Massachusetts General Hospital; Mona Shattell PhD, RN, FAAN, professor and department chairperson, Rush University.
Popular in the Community