Nurses: the unsung heroes of the hospital.
While doctors hurry through the halls, sweeping from one room to the next, nurses are the more constant presence; they often sit with patients long after everyone else has gone home. They become a patient's family when real relatives are not around, and often find themselves providing compassionate care for not just those in the hospital beds but patients' loved ones, too.
That's why we've teamed up with Dignity Health to shed a little light on the myriad ways nurses have an outsized impact on the lives of those in their charge, even if each one insists, in typically humble fashion, "I'm just doing my job."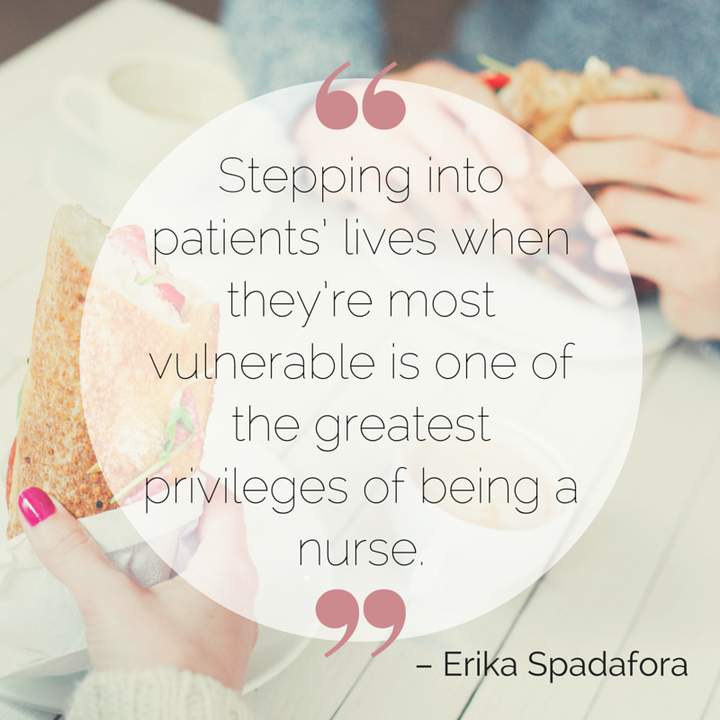 Nurse Erika Spadafora noticed one of her patients had few visitors and often struggled to eat at mealtimes. "On my break, I decided to bring my lunch to her room and sit with her," Spadafora says. "I thought I could encourage her to eat by keeping her company." By the end of the meal, the woman told Spadafora she felt like she was having lunch with a friend — not sick in a hospital bed and forced to eat on a schedule. "During our lunch together, she told me about her life, dreams and views of the world," Spadafora says. "We forget sometimes that stepping into patients' lives when they're most vulnerable is one of the greatest privileges of being a nurse."
– Erika Spadafora, Hospital Nurse
2. Feeling Human Again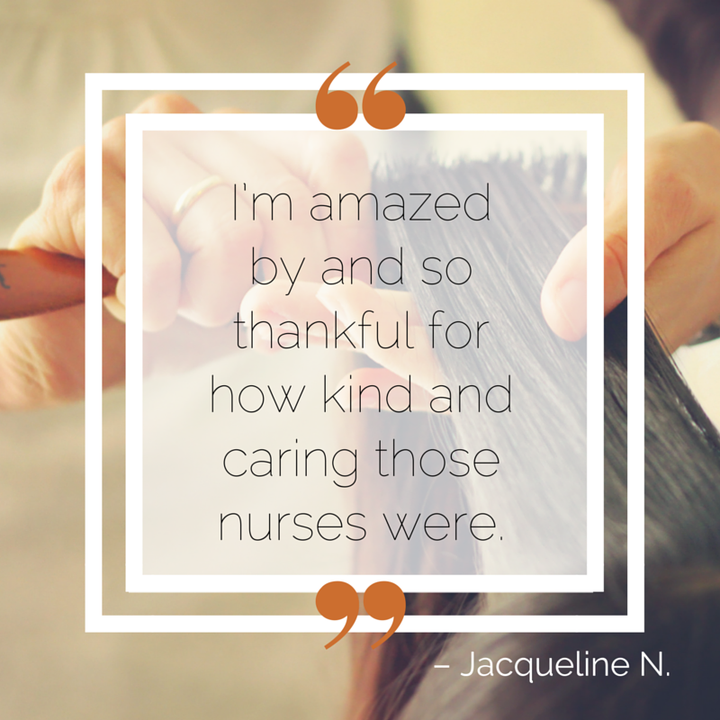 After Jacqueline N. was hit by a car, extensive injuries left her almost unrecognizable to loved ones. "After surgeries and days of recuperation, hospital staff — and my mom — urged me to let them wash and clean up my hair, which was a disaster," Jacqueline says. "But I was terrified to get water anywhere near my stitches, hundreds of which were all over my head and face." Instead, she insisted they just shave off what was left of her hair; she'd just start from scratch. When her doctor sedated her to remove some of the stitches, a nurse carefully washed her hair with nice, non-hospital shampoo and combed it out, all at her bedside. "I woke up looking sort of human," she says. "I'm amazed by and so thankful for how kind and caring those nurses were."
– Jacqueline N., Patient
3. An Inside Joke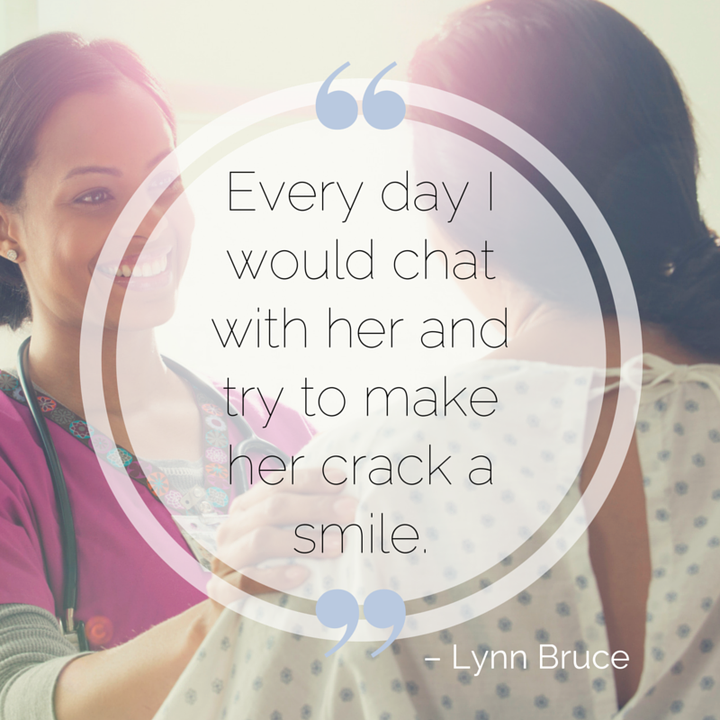 One of Lynn Bruce's older patients was so ill she wasn't able to eat — she got her nutrition intravenously. "Every day I would chat with her when I brought the food bag that hooked up to her IV," Bruce recalls, "and try to make her crack a smile. Then I got the idea once to get some magazines and cut out beautiful pictures of all different kinds of foods and stick them onto her bag. When I brought her her 'dinner' that day, she finally laughed and we bonded over the joke."
– Lynn Bruce, Hospital Nurse
4. Words Of Wisdom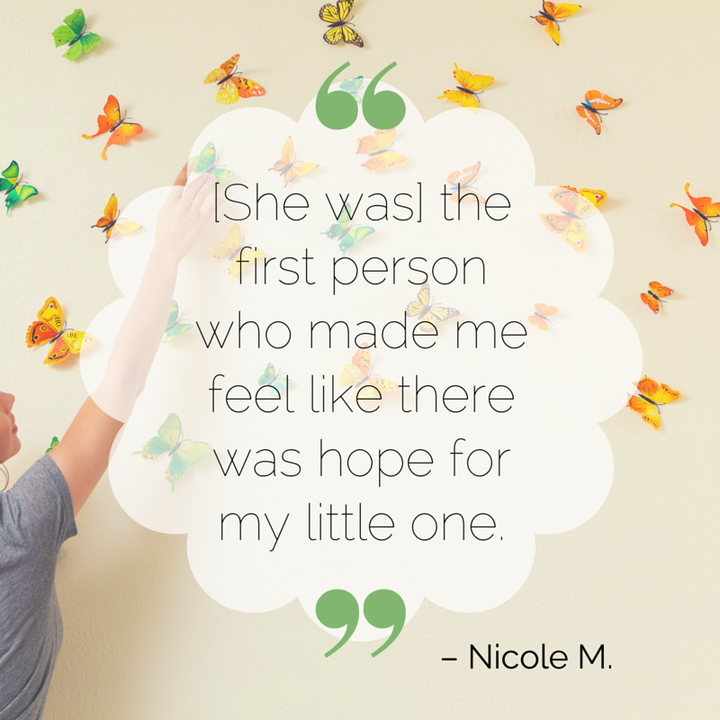 Nicole M.'s daughter, Emma, was born in 2014 with a very rare lymphatic malformation, and Emma's condition was deemed critical. "Doctors didn't have much hope, and those first days were difficult and confusing," Nicole says. "Then we met a nurse named Anika — the first person who made me feel like there was hope for my little one." Anika Severin became Emma's primary nurse and cared for her whenever she was at the hospital. When Severin saw that the family had put Bible verses on Emma's walls, she added one of her own: Joshua 1:9: "Be strong and courageous, do not be afraid or discouraged, for the Lord your God will be with you wherever you go." Nicole adds, "Anika was an advocate for Emma and for me, which, as a nurse myself, is a huge part of our job."
– Nicole M., Parent of Patient
5. Tacos For Two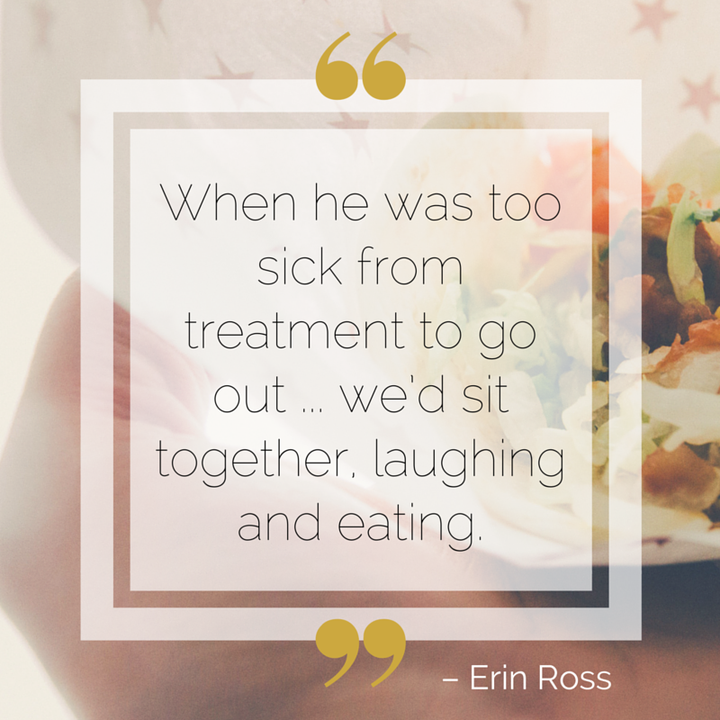 While volunteering with children's charity Ronald McDonald House, pediatric nurse Erin Ross became close with a family who'd been going there for years for their young son, Chase. He had leukemia — now in remission — "and I would take him on 'date nights' to give him something fun to do," Ross says. "His favorite food is tacos, so most of our dates were at Taco Bell. When he was too sick from treatment to go out, I brought tacos to him at home and we'd sit together, laughing and eating."
– Erin Ross, Pediatric Nurse
When we infuse compassion into our lives -- the way these nurses took the time to do for their patients -- we unleash the healing power of humankindness. Backed by science, Dignity Health is grounded in the belief that medicine is more effective when delivered with compassion and kindness and healthier for our mind, body, and spirit.