With another sweltering summer behind us, we begin to reflect on how much can happen in a year's time. Not only personally and professionally, but also in what feels like a global shift toward living consciously. The Mayan Prophecy did not bring civilization to a screeching halt as many feared, but atmospheric carbon dioxide surpassed the dreaded 400 parts per million mark, the White House installed solar panels and a recent study shows that by 2100, over 1,400 U.S. cities will be destroyed if current rising sea level trends continue. Whether you live in Pittsburgh or Paris, a modern awareness of the inextricable link between human life and the health of our planet has never been more pervasive.

As a result, public dialogue has also begun to converge on the role of hospitals and clinicians in protecting public health from global warming. Just in the past few months, Time magazine, Forbes and the San Francisco Chronicle all highlighted the unique position and ethical imperative of health care to steer this work. This momentum follows recognition earlier this summer when the Obama Administration named Health Care Without Harm president and co-founder Gary Cohen and fellow nurse colleague Dr. Laura Anderko as "Champions of Change" for their work to adapt health care and protect public health from the hazards of a changing climate.
Time and again we hear that nurses are considered the most trusted profession in the United States, yet few of us regularly contemplate how nursing influences and health promotion infiltrates our everyday lives well beyond bedside patient teaching. Approximately 3,000,000 Americans are nurses. Not only are we in the emergency rooms responding to heat-related asthma and heart disease, we are hospital executives implementing massive lean energy initiatives and creating positions for ourselves as sustainability coordinators. We are in colleges and universities, conducting research and teaching nursing and public health students.
Nurses are in state and federal legislative sessions testifying in support of carbon emission standards and chemical policy reform, and we work in public health departments managing vaccination and emergency preparedness programs. We are increasing the resilience of our communities by speaking out on gun violence in our high schools or starting community gardens and teaching cooking classes in our neighborhoods. Nurses hold offices in the Centers for Disease Control and the World Health Organization (WHO), and they sit on boards of non-profit organizations, strategizing to prioritize health inadequacies and treat disease.
The International Council of Nurses first defined the compulsory link between environmental health and nursing practice in 1992:
The healthy lives of people depend ultimately on the health of Planet Earth -- its soil, its water, its oceans, its atmosphere, its biological diversity -- all of the elements which constitute people's natural environment. By extension, therefore, nurses need to be concerned with the promotion, maintenance and restoration of health of the natural environment, particularly with the pollution, degradation and destruction of that environment being caused by human activities.
Nursing health promotion has an incalculable impact on individual and population health from birth to death, and the benefits are often intangible. The holistic nature of nursing practice now inherently requires that we incorporate the work of climate change education, mitigation and adaptation into our work.
The Chinese translation of the word "crisis" is a combination of the words "danger" and "opportunity." Yes, we are in the midst of crisis, but thankfully, nurses are everywhere creatively and collectively working to protect the health of our patients and planet. We are speaking out on fossil fuels with leaders from 350.org, biking across the country to Washington, D.C. with Climate 911 physicians, and training to impact change with former Vice-President Al Gore through the Climate Reality Project Global Leadership Corps. And we are writing and reading blogs like this, contemplating our next opportunity to act. Both personally and professionally, nurses everywhere are becoming more and more aware and engaged in the greatest threat to human health of our time. And that in itself is a significant achievement.
Health Care Without Harm recently co-hosted a webinar with Climate Reality Project sharing perspectives on climate and the role of nurses. Click to listen.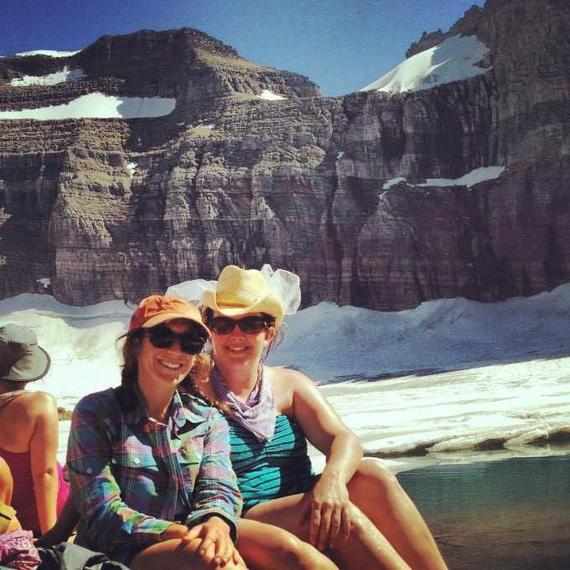 July 26, 2013 -- Mary Margaret Thomas & Kelli Barber Avanzino on Kelli's bachelorette hike to Grinnell Glacier in Glacier National Park (where she was a park ranger in 2001 & 2002). Due to climate change, the park's 26 glaciers are expected to be gone by 2020.
By Mary Margaret Thomas and Kelli Barber Avanzino, co-chairs of Health Care Without Harm's Nurses Work Group
Related