More than a dozen senior citizens are reportedly back on dry land after a plea for help showed them sitting in waist-deep floodwaters in the aftermath of Hurricane Harvey.
The residents of La Vita Bella, an assisted living home in Dickinson, Texas, were trapped this weekend when water poured inside, Kim McIntosh, whose mother owns the facility, told the New York Daily News.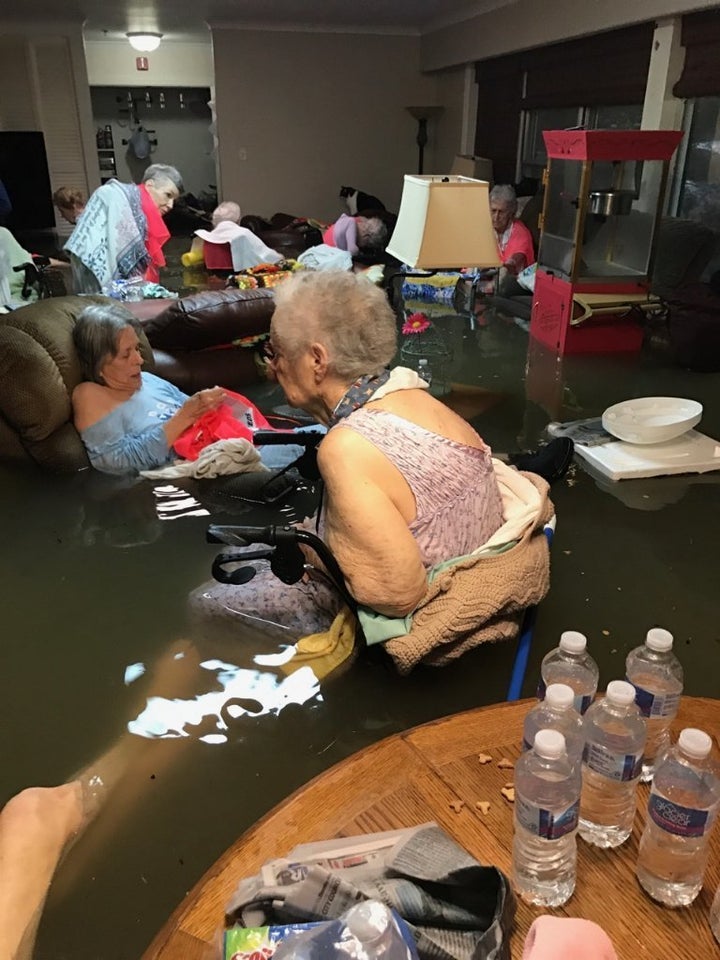 Owner Trudy Lampson sent photos of the stranded residents to McIntosh and her husband Timothy, who then posted them to social media, McIntosh said.
Many people initially suspected that the dramatic photo was a fake. The residents in the picture appeared unusually calm, despite water that was reaching their chests. It's unclear what the residents are doing in the photo, though Twitter users have pointed out that one woman appears to be either knitting or inflating a life vest.
One Twitter user responded to naysayers by identifying her own aunt in the photo.
"If you think it's fake [because] they appear 'calm' then I suppose you're lucky enough to have never been in severe flooding with someone disabled," she tweeted. "One woman enjoys knitting, so that's what she's doing. What else should she do? Many are in wheelchairs or use walkers for short distances."
"We were air-lifting grandmothers and grandfathers," David Popoff, Dickinson's emergency management coordinator, told the local paper.
As for why the residents weren't evacuated before the storm, Kim McIntosh told the New York Daily News that her mother was advised not to because the facility had never flooded before.
HuffPost was not immediately able to reach the facility for comment.
This article has been updated with more details about the photo.
Related
Popular in the Community