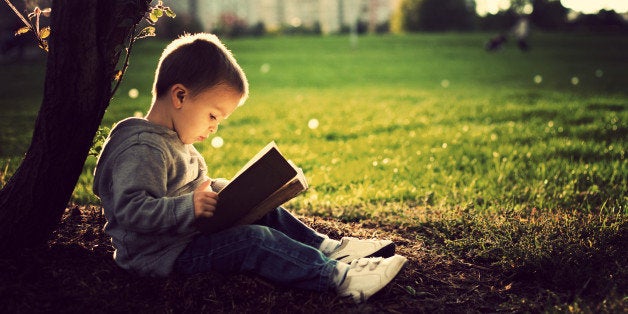 Send your child to Hogwarts this summer. Fill her pockets with Bertie Bott's Every Flavor Beans and give her the freedom to explore moving staircases and enchanted alleyways. Or send him on a hunt for secrets with Harriet the Spy to let his curiosity about the world around him soar as he learns to seek out untold stories. A summer filled with adventure and friendship forged through stories and the power of words belongs to every child. As parents, we can take some very simple actions that will indeed invite every child into the world of words and stories and change her life forever.
This summer, we can stock our children's lives with stories and in this way, help them achieve academically and also inspire them deeply. Summer can be a transformational season for your child as a reader. Here are five ways to make sure this real-time magic happens.
1. Affirm your child's strengths.
Make the reading experience this summer feel like it is also a celebration of your child. Too often our children feel pressure and stress as readers in school. Yet we all know that we practice the things we love, and we avoid the things that feel like a difficult chore. As parents, we can help to create an atmosphere of affirmation for reading at home. Rather than focusing on what isn't going well, praise and affirm the strengths, habits and behaviors that you notice about your child as a reader ("How wonderful that you stack books up by your bed; I appreciate how you read comics and know all the characters; I admire how even when reading feels hard, you push through the difficult parts."). Value and praise the minutes your child reads, for every minute spent with text is building his reading muscles. We tend to focus on the titles they choose, but it is as important, if not more, to build their reading stamina. Another habit that is very healthy is re-reading favorite passages or entire books. Don't worry that it means your child isn't branching out, instead you might say, "I appreciate how much you enjoy this story, and I know that re-reading books is all part of what it means to become a lifelong reader."
2. Follow your child's lead.
If your child is a reluctant reader, the best way to get to the heart of the matter is to ask what's standing in her way. Say: "Let's remove those obstacles and together we can create the kind of reading life you most want this summer." She may be disinterested in the topic of the book or it may be that she's reading above her level because she doesn't want her friends to see her reading books that seems "babyish." The 2013 Kids and Family Reading Report found that 92 percent of kids who choose the books they want to read are more likely to finish the book. Provide choices and options for your child, both in terms of titles and also in terms of where and how she reads: online or book in hand, outside or indoors! Put away any anxiety you feel about reading level and allow her the freedom to learn about what she is most curious about by choosing texts based on passions and topics she likes to explore. This fearless freedom also means supporting your child to not finish a book that doesn't captivate her. Giving your child a sense of control over her reading life this summer will go miles to making her feel independent and fearless as a reader when she returns to school.
3. Provide access to many reading types.
We often think of reading as what we do when we read chapter books but reading is a multi-varied experience. Let's make sure our children have access to lots of different types of texts: from comics to graphic novels to poetry to nonfiction to picture books. Coordinate book swaps with other parents to bring new books into your reading rotation. Go online with your child to find many different ways of reading together. Visit your local library and refresh your child's interest in genres she may not be as familiar with, including poetry and short stories. Don't judge your child for reading "browsing" books. We as adults do it too! Stock up on books about things that lend themselves to more of a browsing experience, such as the DK series and other science and fact-based books. Have children's magazines available in interesting nooks and crannies of your home, from the kitchen to the bedroom. Let reading the back of the cereal box feel as valued as the longer chapter book and mention the fact that readers read all day long, across many reading types.
4. Invite your child to join communities of readers.
Belonging to a community of readers is powerful. Having access to a supportive network of fellow readers and the opportunity to talk about what we are reading and to hear what others are reading can happen from the youngest ages. The Scholastic Summer Reading Challenge invites all readers to join a virtual community, creating a nation-wide "reading club" that is working together to break the world reading minutes record. For many years I participated in a mother-daughter reading club and I am deeply grateful for the chance I had to grow as a reader alongside my daughter. Take these summer months to join with a few other parents and children to read together and explore new titles. Providing your child with a supportive network to share the new ideas she creates based on her reading will reap her many benefits for reading, writing, listening and speaking skills.
Hearing a story told aloud is a relaxing, yet deeply impactful gift that we can all give to each other. New studies show that reading aloud to kids every day will put them a year ahead of kids who are not read aloud to daily, regardless of socioeconomic circumstances. No matter their age, reading to a child has rewarding impact for your relationship with your child but also to their lifelong academic outcomes. It is truly a great investment. From picture books to chapter books to nonfiction books to poetry, the sound of your voice combined with the beauty of great language will invite your child to be part of the magic world of reading, where stories are an invitation and knowledge is a lifelong process. And on a day when you've worked hard and are exhausted, your child can sit with you at the counter as you both prepare dinner and read to you, giving back a life changing gift and showing that the simple, generous pleasures of the read aloud can build family unity in ways that will never be forgotten.