Changing ourselves changes the world. In 2013, a group of daily givers, myself included, committed to provide seed funding to a fledgling social change project every single day of the year. At the Pollination Project, we continue this practice of daily giving by making seed grants every day in 2014. We welcome you to join us in your own way. Here are the extraordinary people and projects that we supported this week.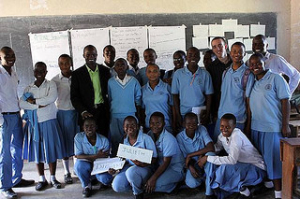 During his time living in Tanzania, Adam Rubin met Uswege Mwakapango , a Tanzanian, that worked alongside Adam conducting HIV awareness campaigns in small rural villages. Adam and Uswege connected deeply with the challenges faced by local communities and decided to take all of the experience and valuable insight they had gained to create RENEW . They host empowering, hands-on workshops with Tanzanian youth, focusing on everything from project planning to leadership development. The funds from The Pollination Project will be used to provide materials for these workshops. Eventually, Adam and Uswege hope to make RENEW a sustained part of Tanzanian students' lives by developing the workshops into ongoing school clubs.
Tennessee middle-school teacher Brian Smith saw a need to provide students with applicable, real-world lessons in geospatial technologies, a field which uses technology to record, share and make sense of information about a particular geographic area. Along with Kurt Butefish, Brian launched Mapping Students and Possibilities with Geospatial Technology. By encouraging the students to apply geospatial technology to current environmental issues, like alternative energies, wetland preservation and carbon emissions, Brian and Kurt's curriculum is planting the seeds of environmental awareness and problem solving in the next generation. "Environmental issues have increasingly impacted the everyday lives of everyone on the planet and [the solutions] are complex and require a different kind of thinking," Brian says. "A thinking that not only crosses borders of countries and regions, but also that crosses traditional disciplinary boundaries."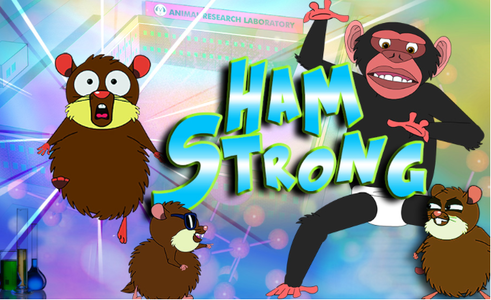 Hamstrong, a superhero hamster who fights animal cruelty, is imprisoned in an animal testing laboratory. He needs to free his fellow animals before it's too late, and he needs your help! That's the premise of Hamstrong, a free app created by GFZ Studios in Vancouver, Canada. The first game, which has already been downloaded more than 10,000 times, educates kids about animal testing in a way that is age-appropriate and engaging. The studio believes in using entertainment to facilitate social change and is continuing to educate the public about animal cruelty by creating part two of the Hamstrong game, with new experiences and improved graphics. GFZ Studios will receive one of our pay it forward loans to continue development of Hamstrong 2.
Mary Oten is a community educator in Burma who seeks to promote gender equality in her country. Her project, "Supporting Cultural and Economic Empowerment for Chin Women in Chin State, Myanmar" will start with a four-day gender awareness training for 30 men and women in the village of Hakha. The grant will be used to purchase supplies needed to hold the first of Mary's workshops. Mary is passionate about this project because "...my fellow women [have been] discriminated [against] for many decades and this project will bring many positive impacts." She believes gender equality and empowerment will eventually allow women to take leadership roles in the male-dominated culture of the Chin society.
Sarah Schmidt is part of The Big Fix Uganda, a team working in Uganda to alleviate the suffering of animals through veterinary service and animal-rights education. With very few books on animal rights in schools and homes, Sarah teamed up with Dr. Wilfred Opira to write a story called "Adongpiny & Tam-Pira" about a woman and her dog. Older children will be invited to create drawings for the story, which will be written both in English and the local Luo (Acholi) language. "Adongpiny & Tam-Pira" will be the first animal-kindness book in the local language in Northern Uganda. With help from the Pollination Project to print the coloring book, Sarah plans to distribute it inexpensively to local schools and children, while also organizing clubs dedicated to animal kindness.
Joseph Valenti, a high school student in Fort Washington, Pennsylvania, watched some of his classmates do homework at school because they didn't have access to a computer at home. Joseph founded Computer Angels of STEM; Science, Technology, Engineering, and Math (CAS), a project that collects old computers, refurbishes them and donates the systems to classmates and community members in need. Joseph takes computers that would otherwise end up in landfills and upgrades them to their full potential by installing new hard drives, adding memory and updating the operating systems, among other improvements. The funds from The Pollination Project will go toward purchasing supplies needed to upgrade the computers.
Kebirungi Agatha is the head of the maternity ward at Nyakibale Hospital in the Rukungiri District of southwestern Uganda. She started the program "Nutrition Education For Diabetic Kids," which addresses the need for diabetes education in the local community. The program stresses the importance of diet in protecting against diabetes and teaches families how to grow and healthfully prepare their own food. Kebirungi has partnered with a local hospital to host a community garden, which will act as a hands-on teaching tool and classroom for the program. Kebirungi's efforts will combat malnutrition and improve the environment by turning unused land into productive gardens and educating the community about sustainable farming and the benefits of a vegetable-rich diet.
Congratulations to our grantees this week for their outstanding work to bring justice, peace, health and compassion to their communities. These are just a few examples of what a little seed money can do when put in the hands of someone with a vision and a plan to change the world.
REAL LIFE. REAL NEWS. REAL VOICES.
Help us tell more of the stories that matter from voices that too often remain unheard.