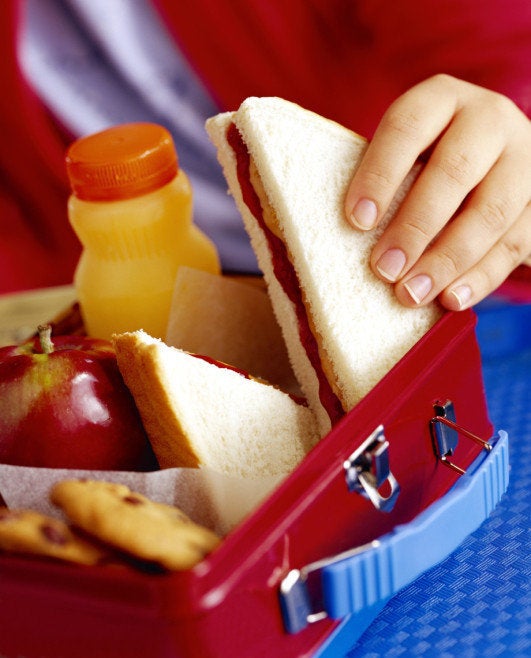 As the parent of an eight-year-old with multiple anaphylactic allergies, I wonder how much the label of "Nut-Free" school can secure the safety of any nut-allergic allergic child. I don't question whether the awareness and effort taken when enforcing such a policy would be very helpful. It would. However, parents like myself have many other crucial allergy-safety practices. For example, we should also assess our child's emergency medication procedures, the availability of the school nurse, the distribution of individual and general allergy information, and yes, we even need to consider classroom hygiene (depending on the age of the children).
The label "Nut-Free" school leaves unanswered questions. What if a food is brought to school that does contain nuts? Is it confiscated? Does it include all nuts and nut oils? Does it include foods that are labeled as potentially cross-contaminate with nuts? What about bake sales or special occasions when outside food is brought into the school?
1) Requires the U.S. Secretary of Health and Human Services to develop and make available to schools a voluntary policy to manage the risk of food allergy and anaphylaxis in schools.
2) Provide for school-based food allergy management incentive grants to support implementation of food allergy management guidelines in public schools.
What does that really mean? It means that hopefully U.S. schools will make use of the "voluntary national guidance materials" pertaining to food allergies and at the very least address how they plan to address food allergies. Some schools may take this charge more seriously than others by learning cost-free methods of ensuring an allergic child's safety -- for example, administrators can train teachers to recognize the symptoms of a reaction or ensure that medical information is effectively distributed to their staff. However, schools may choose to retain a plan that is relatively ineffective in minimizing the risk of an allergic reaction. In most states, schools are facing budget cuts, which can increase class sizes and decrease school nurse's office hours. That isn't a good ratio for allergic children should they have an unexpected reaction.
But there are many ways that parents can advocate for their food allergic child within the varied context of FAAMA:
Parents can advocate for a safe environment for their children by communicating with the school. They can approach schools in the spring before the next school year begins, introduce themselves and schedule meetings with the principal, teachers and school nurse.
Parents can put a 504 plan in place. The Section 504 of the Rehabilitation Act of 1973, states that "A student with a disability like food allergies can obtain a 504 plan to keep the child included and have equal access to Free & Appropriate Public Education (FAPE) in the least restrictive environment the same as their non-disabled peers." Any school, public or private, that receives federal funding, (i.e., a lunch or milk program) is subject to Section 504 of the Rehabilitation Act of 1973. And, for private schools not covered by 504, the Americans with Disabilities Act provides similar protections. (Religious private schools are exempt.)
There is a balance at play when dealing with food allergy safety in school. On one side, there is the weighty questions of "what if?" What if a child has an allergic reaction, despite best preventive efforts? And on the other side, there is a heavy pile of nuts -- how much should schools tip that scale? In the New York area, many public schools offer peanut butter and jelly sandwiches as the alternative to the daily hot lunch. Is it possible for a peanut anaphylactic child to stay safe (or even comfortable) in a cafeteria filled with children eating peanut butter? I don't think so.
On the other hand, if a school is "Nut-Free," but a substitute teacher unknowingly hands her class miniature nut-contaminated chocolates, that same allergic child may need a flawless execution of their emergency procedures far more than the inevitable fallibility of that label. It's time for local school districts to address the whole issue of food allergy safety in schools, without parsing out controversial media sound bites. It's time to stop endangering the lives of our school children.