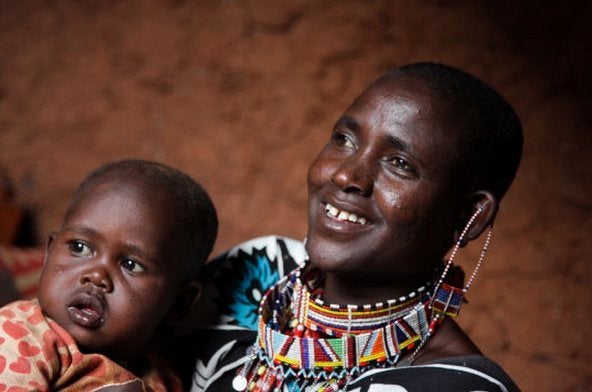 Last December I traveled to Kenya where I met several women who are nourishing the next generation. It was there I was reminded of the power that women everywhere have to truly change the world.
Anna is one such woman. I met Anna at the Namanga Health Clinic, a health facility in a border town in southern Kenya. With the help of a community health worker whose English far exceeded my Swahili, Anna told me that at 26 years old, she has six children, the oldest of which is 10 and the youngest just nine months.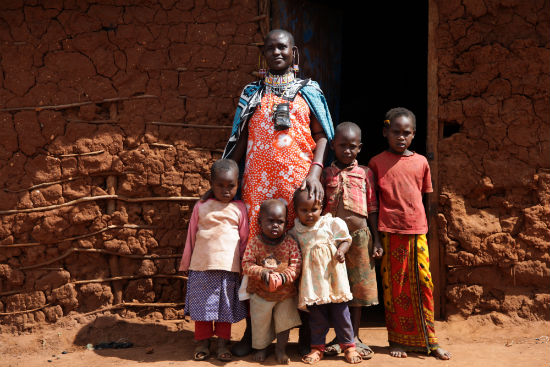 Anna with five of her six children
And here I am -- a 31-year-old woman who has not yet made that giant leap into motherhood, not convinced yet that I am ready. I am in awe of Anna.
Anna had her first child as a teenager. While I was cramming to finish my college papers, spending my evenings and weekends running around a track, and even traveling to Kenya for a semester abroad, Anna was raising an infant and working to provide for her new family.
Anna spends her days in the local market, selling traditional Massai beaded necklaces. Unfortunately over the last 10 years, things have only seemed to get harder for Anna. Drought has caused food prices to rise, and while she only lives a short 30 miles from Amboseli National Park, Anna tells me that the tourism she relied on has dropped off, making it difficult to sell enough necklaces to earn the 200 Kenyan Shillings she needs every day to buy food like Unga (Ugali flour), Mchele (rice), and Ndizi (bananas). It's normal for Anna and her family to eat a simple meal of porridge in the morning and rice in the evening.
On the day I met Anna she was attending a mother's support group at the health center. After bringing her youngest son to the clinic for his monthly weight and height exam, Anna and the other mothers discussed child-care and feeding practices with the local health worker. Upon leaving, Anna received a month's worth of vitamins and minerals -- small packets with essential nutrients like Iron, Vitamin A and Zinc.
Invited to join Anna back at her home, I watched as she prepared a small meal for her son, cooking porridge over an open fire in a small mud room. Oftentimes in these situations we think about what we as individuals can do to help women like Anna. But before that thought could even cross my mind, with a simple motion -- tearing open a small packet and pouring the contents into the porridge -- Anna took the health and wellbeing of her family into her own hands, and was beginning to rewrite the future for her son and her family.
We know that malnourished girls become malnourished women, who in turn give birth to small, malnourished children. This cycle of malnutrition has gone on for generations. But women like Anna are changing things by getting essential nutrients to their children in the most critical moments -- from the time of their own pregnancy to their child's second year of life. Good nutrition in these first 1,000 days puts children on a path to grow and thrive, giving them a strong immune system to resist common diseases and helping their bodies and minds grow properly.
On that one day Anna offered me a snapshot of her life, I learned that like mothers everywhere, Anna's biggest hope for her girls and boys is that they grow healthy and have the opportunity to learn. I saw Anna and women like her, empowered to realize that hope. Women around the world are creating healthier futures for their families and communities, nourishing the next generation of doctors, teachers, leaders and mothers.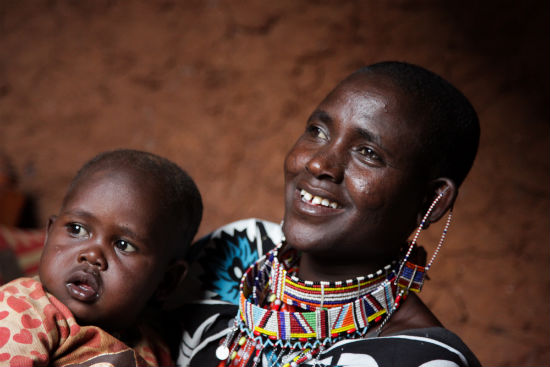 Anna and her son
Anna is a hero to her family and world. And girls in her community are watching her leadership so they too, can rewrite their futures.
Each time you share this Global Mom Relay piece on Facebook, Twitter, or Email, or donate $5 or more through clicking on the above graphic, a $5 donation (up to $8,000 per day) will be donated by Johnson & Johnson and the Bill & Melinda Gates Foundation to Girl Up. Join us by sharing it forward and unlock the potential for women and children around the globe. For more information, visit www.unfoundation.org/globalmomrelay. The United Nations Foundation, Johnson & Johnson, BabyCenter, The Huffington Post, and the Bill & Melinda Gates Foundation created the Global Mom Relay, a first-of-its-kind virtual relay with a goal of improving the lives of women and children around the globe.
Related