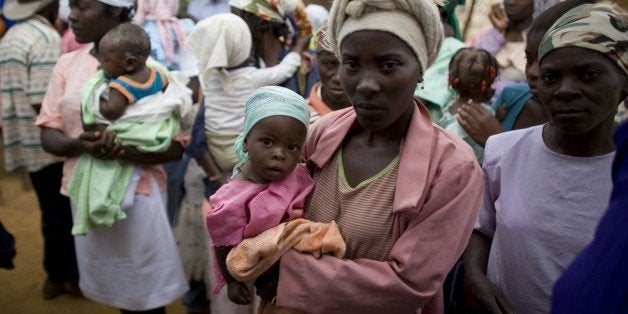 Nine-year-old Shirley and her family live in the mountainous rain forest in Bolivia.
Before Save the Children began health, nutrition and other programs in their area in 2012, her family mostly lived on rice and eggs. Shirley and her brother were thin, fragile and often sick.
Their father, Willy, said his children were so hungry and malnourished that they were eating dirt. Shirley nearly died.
But through the programs provided by Save the Children, the family was empowered to learn about nutrition and began growing limes, oranges and vegetables in their own garden to supplement the children's diet.
Shirley is now the picture of health. She is vibrant and enthusiastic and loves mathematics and language.
"I am doing better in school and it is easier since I am feeling good. Now I want to keep on studying so that I can become a teacher," she said.
Asked if she could give one present to all of the children in the world, she replied: "I would give them all healthy food."
Shirley is thriving, but not every child is so lucky.
Maternal malnutrition increases the risk of poor pregnancy outcomes including obstructed labor, premature or low-birth-weight babies and postpartum hemorrhaging.
Improving nutrition is also key for economic growth and breaking the cycle of poverty. Malnutrition can reduce a country's GDP by as much as 16 percent, according to the United Nations.
While the United States government has already done a great deal - we are the largest global health donor in the world, investing $15 billion in maternal and child survival programs such as nutrition and malaria - we must do more.
For instance, Congress should pass the Reach Every Mother and Child Act, which would save the lives of millions of moms and kids.
This legislation would coordinate a U.S. government strategy to increase cooperation among countries and focus on the poorest and most vulnerable populations. It would also ensure more moms and kids have access to the vital health care services they need to for healthy deliveries.
And the Nutrition for Growth (N4G) Summit, to be held on August 4 in Rio de Janeiro, Brazil on the eve of the Summer Olympics, is an opportunity for country governments, donors, international organizations and civil society organizations to make financial and political pledges to increase resources for improving nutrition.
I urge President Obama to attend the summit and bring with him a commitment to invest more funding in nutrition. We need more resources in order to continue our work reaching the most deprived and marginalized mothers and children around the globe.
We've already made tremendous progress over the last 25 years, drastically reducing preventable deaths of mothers and kids under 5. Investments in cost-effective solutions can give all kids and mothers a chance at a healthy life.
All kids deserve a strong start in life, no matter where they live.
This post is part of series produced by The Huffington Post and 1,000 Days to bring awareness to National Nutrition Month, celebrated every year in March. This year is nutrition's "Olympic moment" as world leaders will gather on the eve of the 2016 Summer Olympics in Rio de Janeiro, Brazil at the "Nutrition for Growth" summit to make bold commitments towards ending malnutrition, which is responsible for nearly half of all childhood deaths around the world. Join the conversation by using the #March4Nutrition hashtag, and read all posts in the series here.
Calling all HuffPost superfans!
Sign up for membership to become a founding member and help shape HuffPost's next chapter