If a child or adult is already weakened by malnutrition, they have far less chance of resisting any illness. So it's clear that nutrition would play a vital role when combating the deadly Ebola virus.
That's why the UN World Food Programme (WFP) has launched a mission to feed over a million people in the West African nations of Liberia, Sierra Leone and Guinea. These are countries where thousands have died or become severely ill with the Ebola. These are also countries where hunger and malnutrition were already present.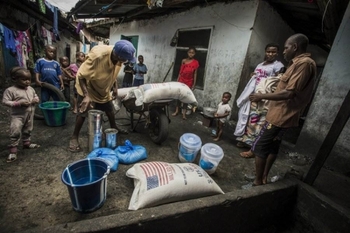 Denise Brown, the director of WFP West Africa, says, "Containing the virus requires a comprehensive care package including food assistance." The population must be strengthened to stop the spread of Ebola.
In Sierra Leone, WFP food packages are being handed out as part of a House-to-House Family Sensitization on ebola Campaign. WFP says, "The recipients of this food will be people suspected of having ebola who have to stay at home for 21 days."
Food aid initiatives are also taking place in Sierra Leone and Guinea within areas of high transmission of the disease. Clinics and quarantined zones receive food deliveries, which are distributed carefully to avoid contact with those who may be carrying the virus.
For small children food is especially crucial, because they have less resistance to disease. If they are malnourished the situation becomes much worse. Malnutrition causes lasting physical and mental damage if left untreated. Malnutrition weakens the immune system.

WFP is feeding a special peanut paste to small children in West Africa called Plumpy'Sup. It is a nutrient-rich and ready-to-eat food. The Plumpy'Sup requires no refrigeration, making it easier to distribute.
If small children get the Plumpy'Sup it will prevent malnutrition from taking hold. It will give them strength that might just make the difference in surviving exposure to the virus. Another food WFP distributes to children in the Ebola affected countries is called Super Cereal. Denise Brown says these foods for children are "urgently required."
The problem now is the lack of funds. WFP relies entirely on voluntary donations from governments and the public. They are far short of the needed resources to feed the hungry at this critical juncture. It's a huge problem in this Ebola-fighting strategy.
It will take months to contain the virus according to estimates. During that time hunger could very well escalate.
The Famine Early Warning System says that food harvests will suffer over time with the spread of the disease. If a family member needs care or is under quarantine, this means less time to work in the fields. Harvests will be reduced in these situations, adding to the hunger crisis.
A WFP feature story shows examples of how farmers have not been able to tend to their fields because of the Ebola outbreak. Food aid will be needed to make up for these losses.
WFP is the lead hunger relief organization in a number of massive emergencies that are ongoing across the globe. The wars in Syria, Iraq, South Sudan and Central African Republic have all required massive resources, which still are not enough. On top of these tragedies, a drought in Central America is increasing food needs there.
So there is less resources available for the Ebola outbreak. International donors need to increase their efforts. The global community has to come through in this time of war and disease.
Popular in the Community