Yes, it's that time of year again. The summer is still in full bloom, but the school season is just around the corner. Here, six nutritionist moms reveal what they pack in their kids' lunch boxes.

Ilaria St. Florian MS, RD, Clinical Dietitian Stamford Hospital:
Truth be told, they're not as healthy as they could be, but if I packed what they should eat all the time, my kids probably wouldn't eat that much of it. I strive for balance, here's an example:

A sandwich (usually turkey and cheese on whole wheat with dab of light mayo and mustard), a high-fiber granola bar, fresh strawberries, individually wrapped cheese, mini raisin box, Pirate's Booty white cheddar puffs, and bottle of water (never juice).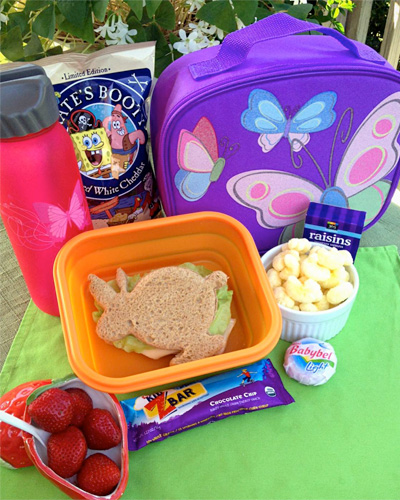 Elisa Zied, MS, RDN, CDN, author of Nutrition At Your Fingertips:
Applegate Farms natural roasted turkey breast or chicken breast (three slices or so) on whole wheat bread or tortilla with a slice of American cheese and a little mayo. I also include red or green grapes (or both) -- about a cup's worth or cantaloupe. For beverages I pack a bottle of water and sometimes an apple juice box.
As a treat -- for my younger son, Nilla Wafers (maybe 10) or wheat thins (10 or so) or gold fish crackers (a small baggie). For my older son, two Oreos or chocolate chip cookies and/or one 100-calorie bag SkinnyPop popcorn.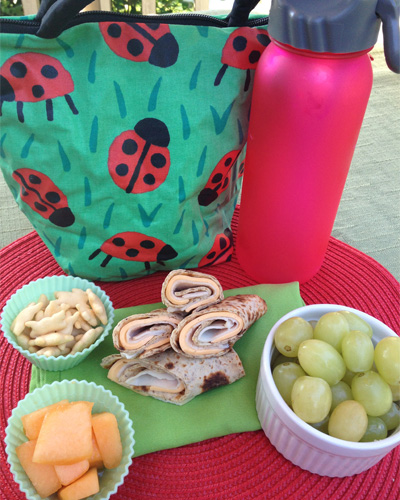 Janice Newell Bissex, MS, RD from MealMakeoverMoms.com, author of No Whine with Dinner: 150 Healthy, Kid-Tested Recipes from The Meal Makeover Moms:
A turkey and cheese sandwich with lettuce and mustard on whole wheat bread, small bag of baby carrots, snack bag of Sun Chips, bunch of grapes, and a Peanut Butter Power Cookie from my book, along with two water bottles. Or, my "A-Plus Pasta Salad" (whole wheat blend pasta with Italian dressing, red bell pepper, chicken, and feta cheese), strawberries, and a homemade granola bar, along with water.
Estela Schnelle, RD, founder of Weekly Bite, a lifestyle blog centered around food:
For school lunches, a big favorite is sunflower seed butter and sliced banana sandwich on whole wheat. The majority of schools are peanut free, or nut free, so I stay away from peanut butter. I also include an assortment of snap peas, baby carrots, mini cucumbers, hummus, mini bell peppers, and string cheese or Baby Bel cheese. For fruit I love apple slices, spritzed with lemon juice, and whatever fruit is in season. For a treat my kids love my Brown Rice Crispy Balls. They are a huge hit with my girls!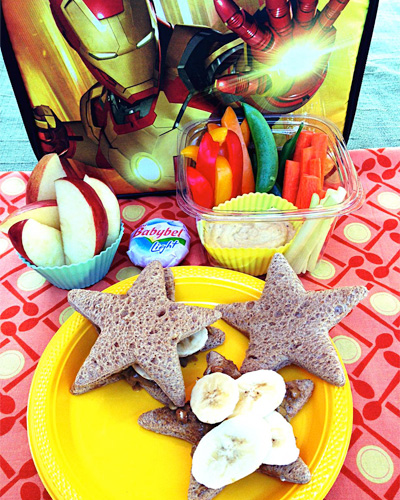 Christen Cupples Cooper, MS, RD, doctoral candidate in nutrition education, Teachers College, Columbia University:
I have one picky eater and one semi-picky eater. Packing lunches is always challenging. A reusable water bottle filled with ice water (kids don't always stay well hydrated). A box of Vanilla Horizon Organic Milk; a cheese round; one medium orange or apple; one serving of whole grain crackers, pretzels or rice cakes; and 1/2 cup of carrot and celery sticks. I try to also include about 2 tbs. of hummus, even if it doesn't get eaten. I feel like if something is packed often enough, 1) it will eventually get eaten, and 2) it sets a good example of something that rounds out a healthful meal. I usually also include two full sheets of graham crackers and an extra milk box, too, if it's a long day they need a snack as well as lunch.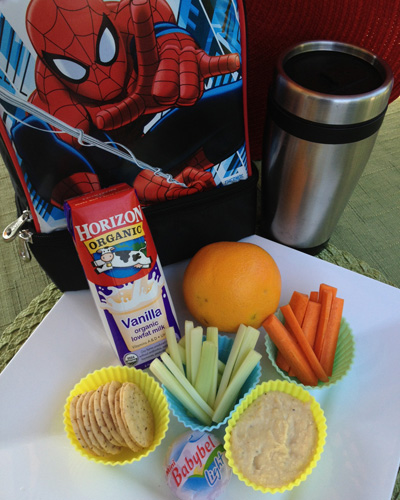 Kit Broihier, MS, RD, LD, food and nutrition writer and owner of NutriComm Inc.:
My daughter loves wraps, so I tend to provide the ingredients for her to create her own wrap. Usually this means several slices of roasted deli turkey breast, a couple of leaves of romaine lettuce and sliced tomato wrapped in a medium-sized multigrain tortilla. I'll also add frozen grapes (fill a snack-size baggie with washed grapes and freeze overnight) to help keep everything colder -- plus she loves grapes. Extra veggies like sliced cucumbers or baby carrots go in a snack baggie. Then we add a single-serve low-fat pudding cup or a KIND granola bar (pretty much any type -- we like them all at our house) especially if she has field hockey practice after school. And she always buys skim milk at school at lunchtime.
Related