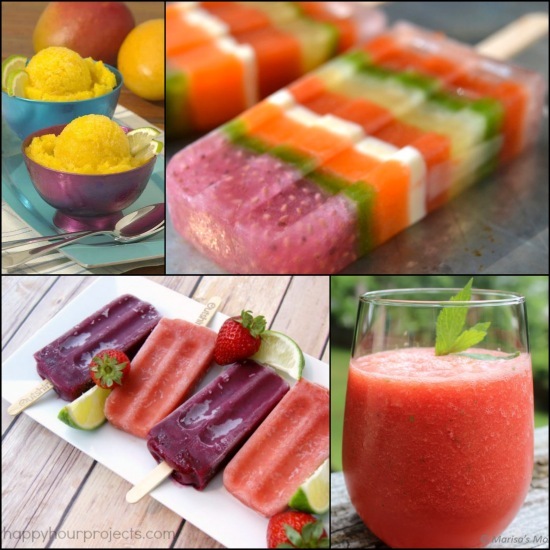 As the temperature rises, it's tempting to cool off with an ice cream cone, fro-yo or a nostalgic frozen novelty. Beating the heat with frosty treats is about as American as baseball and BBQs. According to the U.S. Department of Agriculture's latest stats from 2012, Americans ate nearly 1.6 billion gallons of ice cream and other frozen desserts -- that's equal to more than 20 quarts per person every year!
Luckily, freezer cases are overflowing with better-for-you frozen dessert. Here are nutritionists' picks for some of the healthiest summer licks. They're perfect for when you're craving a chilly treat but don't want to blow your calorie budget or send your blood sugar counts through the stratosphere.
According to nutrient content values from USDA, premium ice cream can pack in more than 250 calories and 11 tsp of sugar per 1/2-cup serving, lighter options are a healthier bet. According to the U.S. Food and Drug Administration regulations, "light" versions will have at least 50 percent less fat or 33 percent fewer calories compared to regular ice cream. Brands don't always use the term "light" on their labels, so you'll need to look at the Nutrition Facts panel. Look for options with up to 120 calories per serving, no more than 2 grams of saturated fat and up to 16 grams of sugars (4 tsp).
Soft-serve "fro-yo" shops are popular among the most health- and body-conscious sweet seekers. Fro-yo is more diet friendly than ice cream because it's made with nonfat or lowfat yogurt and skim milk, so it has more protein and calcium than ice cream. Many brands also have beneficial gut-friendly probiotics. However, fro-yo still can have high sugar counts and popular toppings can pile on more calories and sugar than the yogurt. The lowest calorie fro-yos have about 20-30 calories per ounce, but if you have 8 ounces, that's 160-240 calories -- no longer a swimsuit-friendly choice. Keep portion sizes small, skip the toppings and save it for special occasions rather than your everyday obsession.
PinkBerry Original (1/2 cup) has 100 calories, 20 grams sugar (5 tsp) 3 grams protein and is a good source of calcium.
"I buy fruit flavored Greek yogurt and put it in the freezer. It's high in protein and calcium and lower in added sugars than soft-serve," says Wesley Delbridge, R.D., a registered dietitian and spokesperson for the Academy of Nutrition and Dietetics.
Many adults (like me!) love ice cream sandwiches. If you need proof, just look at all the gourmet and artisan options on dessert menus and gourmet ice cream shops and trucks. While gourmet sammies will cost you hundreds of calories, the portion-controlled supermarket options can be calorie bargains. And, non-dairy versions of the quintessential treat are lowest in calories and saturated fat.
For a dairy-based choice, try Skinny Cow Vanilla sandwich, which has 150 calories, 2 grams of fat, 3 grams fiber, 4 grams protein and 14 grams sugar (3 1/2 tsp).
If you want a chilly treat but are on a tight calorie budget, go with popsicles, as they usually have less than 100 calories per serving. The best options are made with water, fruit juice and fruit purees and don't have any added sugars.
"For a refreshing sweet treat, try Outshine Fruit Bars, because they're just 70-80 calories and contain real fruit ingredients with no artificial sweeteners or colorings," suggests registered dietitian Vicki Shanta Retelny, RDN, LDN.
And Outshine Fruit and Veggie Bars have at least 25 percent vegetables, and the single pops have just 35-50 calories, and the larger bars have 60 calories. They have no added sugars, and most flavors are an excellent source of vitamins A and C. Try Blueberry Medley with puree or juice from blueberries, beets, pears, apples and sweet potatoes!
Sorbet is a simple dessert made from water, sugar and usually fruit juice or whole fruit. It's often rich in added sugars, which means it's not always a calorie bargain compared to ice cream. In fact, many sorbets have 150 calories per half-cup serving, so it's important to look at the calorie counts when choosing a sorbet. You can also make your own sorbets using summer's sweet fruits, like mangoes and peaches.
"As a sorbet aficionado, some of my store-bought favorites include Whole Fruit Raspberry Sorbet because it's made with whole fruit and has 120 calories," says Appetite for Health's Katherine Brooking, MS, RD. "I also like Haagen-Dazs Zesty Lemon that also weighs in at 120 calories." You can easily make your own with this recipe for Tropical Mango Sorbet that takes just 15 minutes (minus time to freeze)! The mangoes are naturally sweet so only 2 tbs of sugar is needed. Mangoes are also rich in vitamins A and C and fiber.
Many dietitians simply forgo the freezer case altogether and make their own incredibly refreshing chilled treats. It's not complicated at all. Armed with nothing more than a blender or food processor and a few wholesome ingredients, you can make your own too.
Make a "Power Pop" by layering a variety of fruit and veggie juices or purees, thinned Greek yogurt and chia seeds (optional). To make, layer the ingredients in the pop makers and sprinkle chia seeds in some of the layers for more fiber. You can also use your overripe fresh fruit to make great frozen treats. For example, a Watermelon-Mint Slushie (there's an adult version too!) from registered dietitian and Academy of Nutrition and Dietetics spokesperson Marisa Moore, MBA, RDN., can be made from watermelon that's too ripe to enjoy as fresh.
Source: U.S. Department of Agriculture. Agricultural Statistics Service. Dairy Products 2012 Summary. April 2013. ISSN: 1057784X.
Photo Credits:
National Mango Board
The View from Great Island.com
HappyHourProjects.com
Marisa Moore
Related