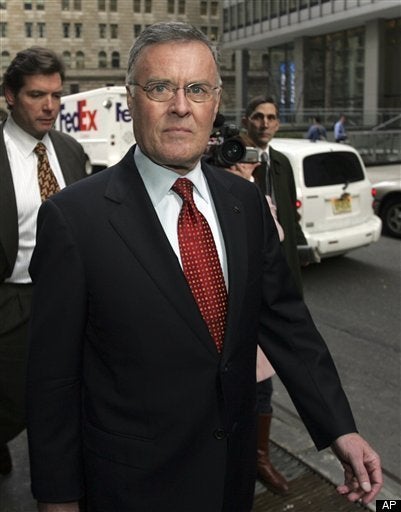 New York Attorney General Andrew Cuomo filed fraud charges against Bank of America and its former top executives this morning, alleging the bank manipulated the company's shareholders and the federal government in order to carry out a merger with Merrill Lynch.
According to the lawsuit, former CEO Ken Lewis and former CFO Joe Price hid more than $16 billion worth of losses at Merrill from shareholders in order to ensure their approval of the merger. But after shareholders voted to buy the ailing firm, the bank approached the government to demand an infusion of taxpayer cash. Without bailout funds, they told regulators, BofA would be unable to complete the merger. The government capitulated and funneled $20 billion of TARP money into the bank.
Attorney General Cuomo called Bank of America's conduct "a classic example of how the actions of our nation's largest financial institutions led to the near-collapse of our financial system":
"This was an arrogant scheme hatched by the bank's top executives who believed they could play by their own set of rules. In the end, they committed an enormous fraud and American taxpayers ended up paying billions for Bank of America's misdeeds."
Bank of America spokesman Robert Stickler defended the bank's former executives, calling the charges "regrettable" and "totally without merit":
"The evidence demonstrates that Bank of America and its executives, including Ken Lewis and Joe Price, at all times acted in good faith and consistent with their legal and fiduciary obligations," Stickler said. "In fact, the SEC had access to the same evidence as the NYAG and concluded that there was no basis to enter either a charge of fraud or to charge individuals."
Cuomo's investigation was conducted in conjunction with TARP Special Inspector General Neil Barofsky, who said the suit "should send a powerful message that we will work tirelessly to hold accountable those who have engaged in misconduct relating to the response to this National crisis."
A copy of the lawsuit is below:
Calling all HuffPost superfans!
Sign up for membership to become a founding member and help shape HuffPost's next chapter